I confess: there is nothing I like more than organizing a paddling trip for a group of six to eight people, especially if it does not exceed one week. But let's be clear here: the part I like isn't the packing or making sure that even the least experienced paddler of the party will remember to bring warm clothes, a hat, sunblock, sleeping mat and toothpaste. Rather, it is gathering the food (with a detailed list) and carefully planning the meals because it allows me to be creative. Since I've been paddling with the same group of friends for a number of years I take it as my personal challenge to provide them with new, delicious, surprising and nourishing meals each time.
Too many cooks... might leave the sauce home!
Over the years my fellow kayakers have come to enjoy my meals and they now give me "carte blanche". Not that they don't want to be part of the planning process. But they are people that my husband and I have brought to kayaking slowly, over time. Although nature lovers, most of them are not as passionate about paddling and kayak camping as I am; they'll usually paddle for 3 to 4 hours at a time and love to stop en route for a nice picnic (which I am too happy to provide!), but that's about it. They want to relax and have a good time… But each year, when I propose an all-inclusive gourmet camping package, they're thrilled to leave the comfort of home to follow us on the water for a longer period because even they love a little challenge from time to time. But I do know one thing for sure: if we want to go beyond boxed mac and cheese and cup-o'-soup type things I better organize our meal routine as well as the list of equipment to bring along. And I suggest you do just that for your next paddling trip: identify the best cook of the group and suggest he/she takes charge of the camp kitchen while the rest of the party shares other responsibilities. More importantly, this concept of one person in charge of the food also minimizes the risk of mistakes.
Location and Group
This year, we are planning our first multi-day outing in northern Maine, a region that's a mecca for sea kayaking. We will paddle from one island to the other thanks to the Maine Island Trail Association (MITA/membership required) and will use my friend Richard's skills at reading charts and GPS, which is essential in Maine, where fog, tricky tides and currents can become big concerns. We will be leaving in late June for a three-night, four-day trip, which, in my opinion, is the optimal time to try out with totally autonomous kayak-camping. It's also a timeframe that is easy to plan from a meal point of view because a vast array of items is available, most of them fresh. So you can have your omelet in the morning, your steak and veggies at night, and so on…
We will be a group of eight paddlers - three with plenty of experience and five with less, but all in very good physical condition and familiar with most paddling strokes and self-rescue techniques. We have planned for five to six hours of paddling each day and crossings from one island to another that are no more than three miles at a time, with plenty of places where we can stop for snacks and to catch our breath. But no fresh water and no food supplies are available along the way. The trip will be mostly in protected waters thanks to the numerous groups of islands we can rely on. Given the water temperature, it will be mandatory that we wear either wet suits or dry suits, along with spray skirts, paddling jackets and pfd.
With this in mind, here is what I have planned:
Day 1(leaving for paddling trip at 9:00 am) Breakfast: at restaurant near launching site Lunch: (12:30pm at campsite) Italian submarines (ham, turkey, salami, provolone, w/ lettuce, tomatoes, black olives & mayonnaise) Zucchini and carrot sticks, cranberry juice, plums

Snack 1: (4:00pm in the boat) Dried figs and chocolate-covered almonds

Dinner: (7:00pm at campsite; note: no fire pit available for cooking) Locally-bought scallops with fennel and lemon (roasted on griddle/double burner) Corn, bell pepper and onion rice (cooked in Dutch oven) Rosé Wine Rhubarb Camper's Parfait (plain yogurt, rhubarb compote, granola)

Day 2(leaving for paddling trip at 10:00 am) Breakfast: latte coffee topped with cinnamon Scrambled eggs with leftover cooked vegetables Toasted English muffins Honeydew Melon

Snack 1 (12:00pm in the boat) Homemade granola bars, dried apples, cheese strings

Lunch: (2:00pm at picnic site, on an island) Bagels with smoked local shrimps with cream cheese, capers, fresh herbs (parsley, chive, dill and mint) Vegetable juice, baby carrots

Snack 2: (5:00pm at campsite, before setting camp) Dried mangoes and chocolate covered almonds

Dinner: (7:30pm at campsite; note: no fire pit available for cooking) Wheat crackers with hummus (pureed chick peas) Cucumbers, celery and olives Marinated chicken lemon piccatas over zucchini couscous Homemade fudge (made in advance) Pinot Griggio white wine

Day 3(leaving for paddling trip at 10:00 am) Breakfast: (8:00am at campsite) Coffee, oatmeal cooked in soy milk, dried cranberries, walnuts, maple syrup

Snack 1 (11:30am in the boat): Dried apricots with cheese and sesame sticks

Lunch (1:30pm on the beach) Tuna salad wraps in whole wheat flour tortillas Bell peppers and cucumbers Fresh dates

Snack 2: (4:30pm at campsite) Apples, yogurt-covered currents, ginger snap cookies

Dinner (7:00pm at campsite; note: no fire pit available) Rice crackers, cream cheese, smoked oysters Celery sticks Orzo pasta with onions, carrots, zucchini in a white wine-egg-parmesan sauce Chocolate Soy Puddings Chardonnay white wine

Day 4Breakfast (9:00am at campsite) Coffee whole wheat burrito with shredded tofu, leftover vegetables and dried sausage Tomato juice

Snack 1: (12:00pm in the boat) Peanut butter granola bars Dry mangoes

Lunch (2:00pm on the beach) Orzo salad with celery, toasted almonds, olives, cannellini beans, lemon, olive oil and fresh herbs (mint, parsley, chives and thyme) Watermelon

Snack 2: (5:00pm at landing site) Oatmeal cookies, vanilla soy puddings
Detailed schedule of your trip
The first thing to do before planning meals is to create a detailed schedule that I call a "survival map" (see above). Not only will this schedule eventually include meal planning, but it will also add critical info about where we will be paddling each day, for how long and what conditions to expect, where we will land to settle camp, the duration of each segment of the trip and the type of camping facilities available. Determining the conditions of the paddle will allow you to decide the type of food you will bring along. I also keep in mind what my fellow paddlers like to eat, food allergies and the like (see my comprehensive list of items to bring along on any multi-day paddling trip and the best way to pack food).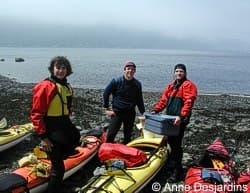 Choice of ingredients
To reduce bulk and simplify meal preparation, I usually pick no more than 6 to 8 varieties of vegetables on each trip. In this case, because the trip is short enough, I am allowing myself more fragile stuff: cucumbers, zucchini, bell peppers, plus onions, carrots, celery and fennel. (A longer trip would require sturdy veggies such as cabbage, beets, carrots, sweet potatoes or parsnip). Fruits usually include watermelon, plums, dried fruit and compotes. Proteins: freezing a percentage of your water and juice supply allows you to carry fresh meat or fish/seafood for two days easily, as long as you can place them in a collapsible cooler with ice underneath and over, which makes it bulky. Another option would be to freeze a large piece of meat for the third day and to surround it with blocks of drinkable frozen water. But usually, on day three I prefer to plan meals using cheese, beans, dried meat, tofu or canned meat/fish/seafood as protein sources. Remember that you will need at least 2 gallons of fresh water per person per day, including cooking and washing water.
Day One: Thursday, we catch high tide around 9:00 am, which gives us a bit of time to pack our gear. So we start the day at a favorite local breakfast spot, where we will gorge on blueberry pancakes and sausage. For the first day we have planned to paddle non-stop to our destination, which is a two hour circumnavigation and a one mile crossing. We should arrive at noon, right on time for lunch. Since we will still have to set up camp, I've planned Italian submarines, zucchini and carrot sticks plus cranberry juice and plums for dessert. After we have mounted our tent and kitchen, off we will go for another 3-hour paddle around nearby islands. Supper should be around 7 pm and will consist of fresh locally-bought scallops with fennel and lemon, accompanied by corn and bell pepper rice and a glass of good dry rosé wine (stored in a collapsible wine container). For dessert, How about a real treat for day one? Like rhubarb camper's parfait, made with layers of yogurt, homemade rhubarb compote and some granola for the crunch.
Proper packaging and portion control I'd like to emphasize the fact that although many touring kayaks have ample storage room, gear and food should be properly packaged to avoid bulk and allow you to bring along all the equipment you need. So start by removing cardboard items and place food in waterproof containers. Make sure that you calculate the right portions for each meal and add 20% to that number (paddlers tend to be very hungry at meal time!). You also want to plan at least one more day of meals than you really need in order to avoid bad surprises such as the loss of some of your food, having to stay longer because of bad weather or fellow paddlers with bigger appetites than planned. Also, make sure you bring enough fuel to cook your meals. Then add 20% more to that number as well.
Day Two The tide should be up at around 10:00, which allows for a good and filling breakfast before we pack. Since all the paddlers on this trip enjoy a good strong coffee, I'll serve lattes topped with cinnamon and made with my Aero Press. I find it's one of is the simplest and most delicious ways to make strong and flavorful java. And a great coffee can be an unexpected treat, especially on a wilderness paddle. It will be followed by scrambled eggs mixed with some leftover cooked vegetables (I always cook a little extra the night before) placed atop toasted English muffins. I will also make sure that everyone carries various snacks in the PFD's pockets because we will be in for our longest open water crossing and paddling session: 3 hours without touching land. Homemade granola bars, dried apples and cheese strings should do the trick to keep everyone properly fueled, even if conditions get rough and choppy (for more options on energy bars try my easy Apricot, Pistachio & Cranberry Bar recipe).
Fresh herbs on the go I have always posited that one can pack along a splash of flavor to make mealtime a special moment on paddling trips. And one of the best ways to get that extra kick is by using fresh herbs (see my list of Herbs that "paddle" well). So for lunch, smoked local shrimps mixed with cream cheese, capers and fresh herbs (parsley, chive, dill and mint) on bagels, along with vegetable juice and baby carrots; later on, for a snack, dried mangoes and chocolate covered almonds. Supper will be around 7 pm that night too and we want it to be memorable: for starters, wheat crackers with hummus (pureed chick peas), cucumbers and olives, followed by marinated chicken lemon piccatas over bell pepper and zucchini couscous.
Before leaving I made chicken cutlets by slicing 4 chicken breasts in two horizontally and I flattened them between 2 plastic sheets with a kitchen mallet. I marinate them for 12 hours in the fridge in a plastic bag with a dressing made with the zest and juice of two lemons, 2 tbsp of Dijon mustard, 2-3 cloves of fresh garlic and 8 sprigs of thyme plus salt, pepper and 8 tbsp of olive oil. Then, I froze the chicken with the marinade.
I always carry a two burner gas stove, plus one individual gas burner, which allows me to cook my chicken on a griddle placed over the double burners and to prepare vegetables and couscous or rice in a Dutch oven on the individual gas burner. A griddle is a great gadget and takes up less room than two skillets, while an aluminum Dutch oven is the easy way to create large quantities of one-pot dishes, such as soups, pastas and the like.
Water For this trip, we will have to carry all our fresh water (roughly 8 gallons per person, including cooking and washing water); so my planning has to take this into account and I must minimize bulky food items in order for us to have enough room. This means less prepackaged desserts… Luckily, most of us have large expedition kayaks with cavernous bulkheads for camping gear. But it is not always the case, so you might want to check the total volume capacity of your group's kayaks before planning any trip where fresh water supply must be carried along. I usually load 3 one-quart collapsible water jars in the back of my seat, plus 2 quarts on my kayak decks (for day use). The rest I squeeze between sleeping bags and the like, making sure it is placed equally fore and aft in the bottom of the boat for improved stability.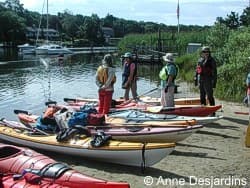 Day Three On Day three, everybody will wake up to the wonderful smell of oatmeal cooked in soy milk, laced with dried cranberries and walnuts (I even bring along a little maple syrup for my sweet-toothed husband). Lunch will consist of whole wheat flour tortilla tuna salad wraps and a garnish of bell peppers and cucumbers with fresh dates for dessert. I like to keep things simple, with a minimum of utensils and containers to carry. When I travel, I usually buy individual packages of mayonnaise that need no refrigeration and can be found in warehouse stores specialized in selling to restaurants. Snacks will be fresh apples, yogurt-covered raisins and ginger snap cookies while for dinner we're in for an appetizer of whole wheat crackers, cream cheese and smoked oysters plus delicious orzo pasta with onions, carrots, zucchini and an easy vegetarian sauce made with white wine, beaten eggs and parmesan cheese. Make sure to place your eggs in non-collapsible plastic containers to protect them. Again, I cook extra vegetables for the next morning and will set them aside in a plastic container kept in a cool place. Don't ask what will happen with the rest of the wine! Most dinners I plan during a paddling trip include wine in foldable containers. And again to satisfy our sweet tooth that night chocolate soy pudding will be just perfect!
Day Four Why not use our leftover vegetables to create a lovely whole wheat burrito by adding them when you cook up shredded tofu and dried sausage in a bit of oil? That way we will have enough proteins for the last long crossing of the trip. Again, in case of choppy waters that will require extra energy, pfd pockets will be filled with peanut butter granola bars and dried mangos. Lunch will be simple but delicious: I also cooked extra orzo pasta the night before to make an orzo salad garnished with celery, toasted chopped almonds and olives, canned white cannellini beans, lemon juice, olive oil and lots of fresh herbs (mint, parsley, chives and thyme). Then it will be another fun 3 hour paddle back to our launching point, where we will share pictures plus some oatmeal cookies and soy puddings for our last snack together.
Three nights and four days together with friends on the water: priceless!!!