This is Jodelle Fitzwater with Bic SUP and we're ready for part two of our core workout. [Watch part one here] We're going to be doing some seated postures as well as lying on our back. We'll be utilizing your paddle for a few of the exercises and maybe using some resistance bands if you have them available. So let's get started.

So we'll be starting our workout with our half roll up and our roll up exercise. The half roll up is a modified version and I'll be showing the full roll up as well. Go all the way down to your back, we're going to bend your knees softly. So you want to imprint your spine all the way down onto your board and hold your paddle just straight up over your chest. All you're going to do here is take a deep breath in and on your exhale curl forward, touch your paddle to your knees, and come all the way back overhead. Exhale as you come forward. Inhale back overhead. Keeping that low back down. But you are peeling your shoulder blades up off of the mat. Up off of the board, I should say. So just curling up, and rolling back down. You'll do about ten of those, and then you'll move on.
Now the full roll up is where you'll extend your legs. Kind of the same movement but you're coming all the way up to a seated position, and then rolling back down. Exhale as you come up. Inhale as you come back down. So again you're peeling each vertebrae up off the board, and then placing each vertebrae back down. Inhaling and exhaling. Try about ten of those and then we'll move on.
So for our next exercise we'll be doing the L-sit, which utilizes your resistance band or you can use your paddle. I'll be showing both variations, so choose which one is right for you. If you're using your resistance band, go ahead and set your paddle off to the side and reach forward for your bands. You're going to extend your legs out long and open your arms into a nice T-position. You're rotating to your left, then back to center. Rotating to the right. Back to center. So you're getting that core work to happen as you're drawing the waistline in and zipping up the low abs. Remember that drawstring and zip. Drawstring at the waist, zip up your low abs. Keep those arms reaching out wide in that T-position and you'll feel it in your back as well as your core. And relax there.
So if you're going to do it without the bands, in case you don't have the bands or the anchor point in front, you're going to take your paddles straight forward, pull the shoulders back, and you're going to be rotating to the left, pulling the abs in, back to center. Rotating to the right. Back to center. So just twisting in the waist. We're working the transverse abdominus, which is the muscle that helps to pull the waistline in. Keep those arms nice and long without locking out the joint. About ten of those in each direction and we'll move on.
So lying on your back with your hands up over your chest, holding your paddle. What you're looking for here is to only curl up where the shoulder blades come off the board as we did in the half roll up. So you're extending the leg, reaching the paddle towards the leg, and then coming back down. Only coming up to where those shoulder blades peel off the board. The tricky part is to hold those shoulders back so you're not overextending from the shoulders, and lifting the leg.
Now for a little more advanced movement, you can sit all the way up into the one legged V-sit. So you can peel yourself up, extending the leg coming back down. Switching sides. Extend, and come back down. Inhale as you lift, exhale as you come back down. And in either variation you're looking for about ten total, and that will really turn on those abs and get you that nice burn in there that you're looking for. I'm finished there.
Okay, so moving on to a little more lower ab work, I've set my paddle off to the side just momentarily while I put my feet into the straps of the resistance band. Now if you don't have the band, I'm going to show you the option of what you can do without the band. So we're laying down on our back. You're going to take your paddle up overhead. Just for the modification, you're just pulling against the band using your core towards the paddle that you're holding. So pulling in and releasing. Pulling in and releasing. You'll do ten on each side, using your core, keeping it tight, keeping that low belly engaged, keeping the shoulders down. And that's a nice one that you'll feel, and it's a nice modification for that as well.
So without the strap, just in case you don't have the straps available, you'll use your paddle and I'll be able to show you this in a couple different ways. You can just do it without the band, which is a nice gentle way to work the low abs, or you can have both legs up. Drop one leg, lift it up. Drop the other leg, lift it up. Inhale and exhale as you keep your low back down. Avoid letting the back arch up off of the board. You can modify this and bend your knees, keeping the low belly in, tapping the board and lifting. You can also make it a little more extreme by keeping the legs straight, and every time you drop the leg extend the arms, and pull back up. Extend the arms, pull back up. Extend the arms, pull back up. So I really feel that coming back up into my abdominals . Keeping that low back down. Try about ten, fifteen of those, and you will definitely feel that as well.
Okay, so moving on the the elbow crunches. We will be using your paddle for this one, but that's all you're going to need to feel a nice intense burn. Go ahead and lay down onto your back. Your legs will be straight. We're going to put your left elbow into the board, and the paddle is reaching straight up towards the sky. You're going to be using your elbow to help you come up and down. Just curling up.
The first couple of these you're thinking "What? She's having me use my elbow? This is like cheating." Just you wait, my friend. The burn is about to begin so we're going to do about ten of these on one side. Make sure you do ten because that's how you're going to feel it. Reaching up and down, just coming up to the height of the elbow. Don't allow the elbow to leave the board. And let's switch sides. So right elbow into the board, legs are straight, you're reaching up, only pressing up to the height of the right elbow, and then coming back down. Whew, I really can feel this already. My core is totally turned on right now. Keep that shoulder back, keep reaching up. You can tell by the strain in my voice that this is working my core like never before. And let's finish there. Make sure you get that ten on each side, and your core is complete.
Okay well that concludes our core workouts part one and part two. I hope you enjoyed it!
Related Articles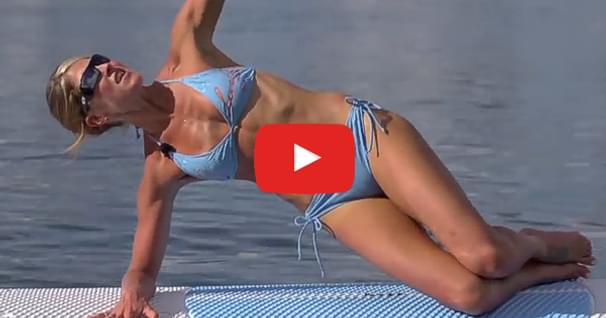 Ready to work that core like never before? This is Jodelle Fitzwater with Bic SUP and this segment is…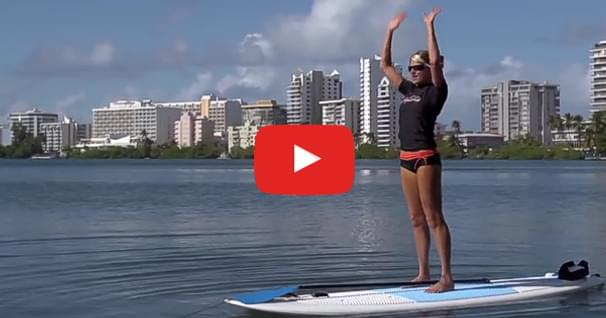 This is Jodelle Fitzwater with Bic SUP, and this episode is all about cardio. We're gonna get you…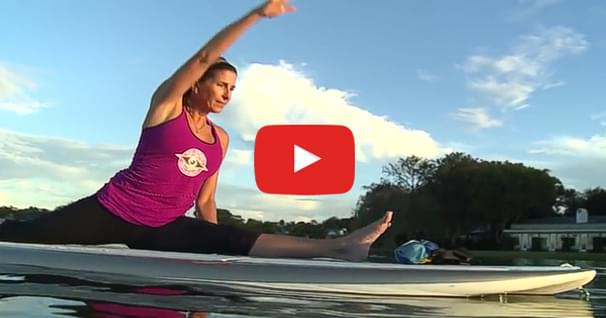 SUP yoga is exploding in popularity because anyone can do it, it's challenging, and it takes complete…