This article provides some recipes and instruction on how to fix easy and delicious cocktails that will impress your friends on the (water) trail.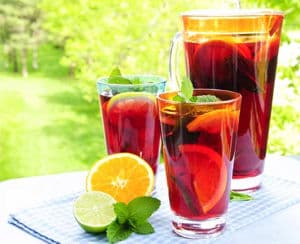 Picture this: it's mid-August, you have been paddling all day along your favorite coast with a group of friends. The breeze was light, the sun was strong and the spirits were high. You reached your camping destination in no time, pitched tents, installed your portable kitchen and even found an ideal spot to hang your brand new hammock. The only thing that's missing in this idyllic scenario is you holding a glass of your favorite drink while your best friend passes the pretzels. Well, think again! Who says you cannot have your cocktail and drink it too when you travel (as long as camping or other regulations allow alcohol). This also goes for paddlers who prefer a day-long canoe or kayak expedition or are planning an extraordinary picnic.
I've always said that paddlers are the luckiest great outdoors aficionados because they practice a sport which offers a lot of room to carry cargo. If you like to sip a drink at cocktail hour there is no reason that you should deprive yourself and your party of that pleasure. Many cocktails are easy to make because they don't require more than 3 ingredients. Of course, the major drawback is that you will have to learn to enjoy your beloved drink without ice. So, maybe we'll leave the frozen margaritas home, but other than that, you're good to go! Here are a few suggestions to transform your next paddling trip into a lounge delight!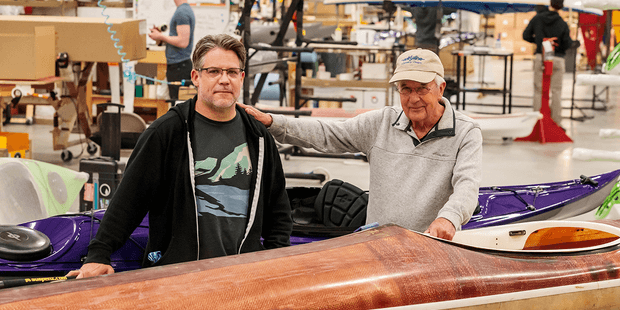 50 years of lightweight, maneuverable, high-performing kayaks.
Check out this interview with Tom Keane, Eddyline Kayaks Co-Owner, on their journey!
The best ingredients for the (liquid) road
Let's keep things simple. You must think of a cocktail that will not require many ingredients or equipment, nor a lot of time for its preparation.
Go fruity: nothing gives more flavor to a beverage than a good fruit concentrate. Cranberry, cherry, orange or pomegranate make a good base.
Forget about the usual cocktails made with ice in a shaker, like a gin gimlet or a mojito. They couldn't really do without the ice…
Not everyone likes alcohol or can have it. So, make sure that you can also cater to people who would rather go "virgin".
Even if you don't have problems with drinking alcohol, it might be a clever choice to opt for drinks that are not too strong. Remember: you've been paddling a long time under the sun, are probably tired and don't want to get dehydrated. Add more juice and mineral water or soft drinks to your drinks than alcohol.
Carry some rigid plastic or collapsible containers to mix your cocktail blends. Cool unbreakable cocktail or Highball glasses might make a big impression.
In many situations, you will be paddling in waters cold enough to keep your favorite liquids at appropriate temperatures. With a little help from your friends and some rope you should be able to let vodka, soft drinks or juices cool trailing behind you in the water while you paddle without compromising speed or security. This will make things much more enjoyable. And, who knows, maybe you won't miss your ice cubes at all!
Fresh herbs are always a nice addition, like fresh mint, which is sturdy, or cilantro. Carry them rolled in humid paper towels and wrapped in plastic bags.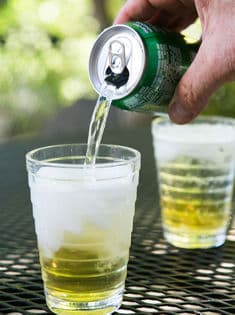 Recipes for Paddlers
Thirst-quenching panaché (4 portions)
Ingredients
1 small bottle of sugar-free Ginger Ale
2 small cans of beer
2 lemons
1 zester
In a plastic jar, mix ginger ale with beer. Zest the lemon peel and add to the jar. Squeeze the lemon and add the juice. Serve in large glasses.

** Virgin Version: Replace the beer with non-alcoholic beer.

---
"Iced tea" for grown ups
(4 portions)

Ingredients
4 cups boiling water
4 packets of your favorite tea
8 tbsp maple sugar
1/2 cup fresh mint leaves
4 oz vodka
8 oz cranberry cocktail
In the morning, before leaving camp, prepare tea by boiling water and adding tea packets. Let stand for 5 minutes and discard tea. Pour into a plastic bottle and let trail in water all day to cool.

Before serving, crush mint leaves with maple sugar in a jar. Add vodka, cooled tea, cranberry cocktail and mix well. Serve, garnished with fresh mint.
** Virgin Version: Replace the vodka with lime juice.
---
Glorious campers' sangria
(8-10 portions)
This recipe requires more ingredients but is very easy to make...

Ingredients
4 tbsp honey
4 oz orange liquor, such as Grand Marnier or Cointreau
1 bottle dry red wine
2 cups mineral water
1 cup orange juice
1 cup pomegranate juice
1 orange
2 plums (or 1 peach or 1 nectarine)
2 cinnamon sticks
In a jar, mix honey with orange liquor, red wine, mineral water, orange juice and pomegranate juice. Mix well.

Wash the orange, cut in two and slice thinly, with the rind. Add to the sangria. Slice the plums thinly and add to the sangria. Finish with the cinnamon stick. Let stand in a cool place 30 minutes to blend flavors. Serve.
** Virgin Version: Replace the wine with non-alcoholic wine.
---
Bloody Mary
(4 portions)

Ingredients
3 tbsp fresh chopped chives
6 oz vodka
3 cups tomato juice
4 oz lemon juice
4 drops tabasco sauce (or to taste)
4 drops Worcestershire Sauce (or to taste)
4 lemon wedges
Celery salt to taste
Black pepper to taste
4 celery stalks
In a large jar, pour all ingredients in order, except lemon wedges, celery salt, black pepper and celery.

On a small plate, sprinkle celery salt generously.
Humidify the glass rims with lemon wedges. Turn glasses upside down on the plate in order to cover the rims with celery salt.
Pour the preparation into the glasses, garnish with pepper and celery stalks and serve.
** Virgin Version: Omit the Vodka.
Variation: Bloody Caesar substitute clamato juice for tomato juice
---
Star-gazers cool coffee
(4 portions)

Ingredients
2 cups cold strong coffee (make it in the morning and let it trail in water behind your kayak)
1/4 cup chocolate syrup
4 oz Irish whisky
4 oz Amaretto (or double the Irish whisky)
8 oz light coconut milk
Mix all ingredients in a jar and pour in 4 large glasses.

** Virgin Version: omit alcohol and add more coffee.