Keane on Kayaking - Interview with Eddyline Kayaks Co-Owner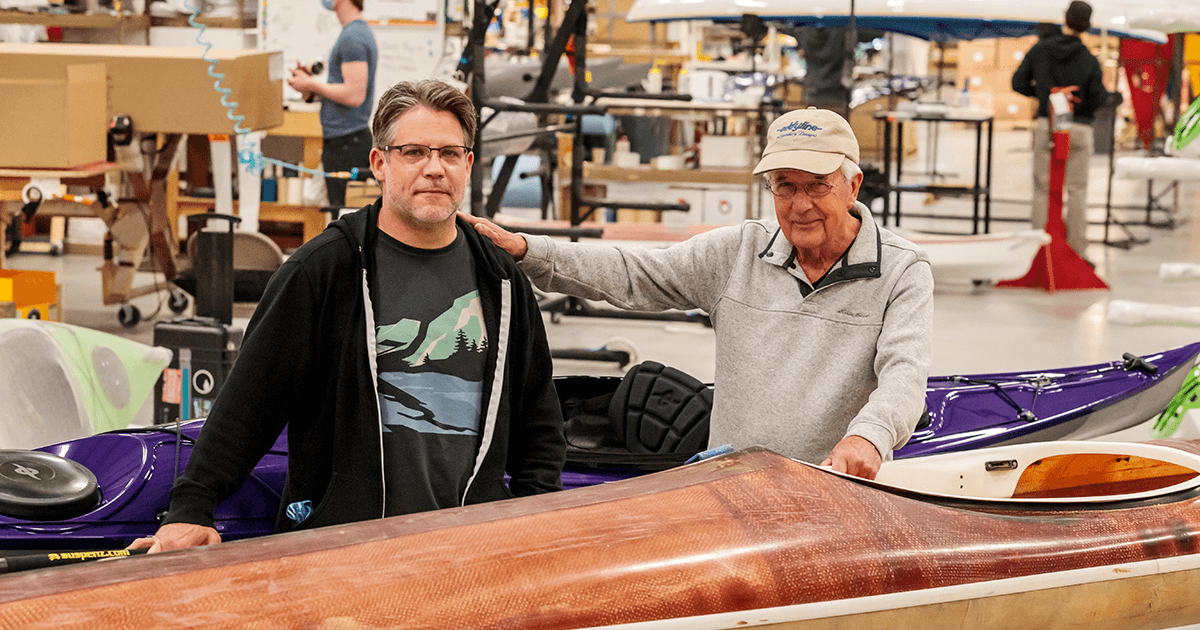 A 26 year journey from the shop to the top.
Think about where you were 26 years ago. In 1995 the Internet was still tying up the phone lines of only the techiest of techies, George Clooney and Chris O'Donnell were Batman and Robin, fighting crime to the tune of Seal's Kiss from a Rose and the Pacific North West 'Grunge' music scene was reeling from a loss.
For Todd Keane it was the beginning of his journey at Eddyline Kayaks. The company, started in 1971, had a reputation for hiring those with a passion for paddling, creating legendary comfortable kayaking experiences through revolutionary manufacturing techniques. It wasn't hard to see why Todd would find Eddyline appealing, and for him it might have felt like kismet.
"We spent summers out at the lake water skiing when I was like four years old. When I got a little older the family had a boat that we would spend all summers out in San Juan's so I was raised in a marine environment." Todd's life on the water began early, with his family always around boats, water skiing, kayaking…"[I had] the water bug when I was a kid, enough that when I was in high school, I was really considering joining the Coast Guard. I was always into boats in this area."
Life-changing Moments
Cut to 1995: Todd was working for a small family-run snowboard maker in the port of Skagit on a small industrial park. The snowboard group had just been acquired by K2 and signing on to corporate life didn't feel right to Keane, so he opted out and started to look elsewhere. The jobs he took didn't sit right, and it was back in that same industrial park that he found an opening at Eddyline, with an introduction to Tom Derrer, Eddyline's founder.
It was good, hard work. "I was 20/21 years old…I started as the low man on the ladder." Whether Todd was sweeping the floors or sanding fibreglass, his willingness to "do whatever" and his curiosity meant he soon learned all of the steps needed to bring an Eddyline Kayak to life.
"While my responsibilities have changed as I've stepped into the role of general manager and co-owner with Scott (Holley) and Janet (Sutton), I still like to work on the floor daily." Going hands on with the crew building boats, getting his hands dirty is something that's unlikely to change for Todd. With a passion for building boats and "not doing the office stuff", he prefers to leave this to his business partners and co-owners; it's clear that Eddyline has had as much of an impact on Todd as he has had on it.
It wasn't a short journey; despite his unending enthusiasm for boat-building that endures to this day, he had to work his way up. Training on the job he found his education, taking what he had learned in snowboard manufacturing with fibreglass, resins, and compression molding, and putting it to work with his teachers on the shop floor.
Todd's path to the top wasn't pre-ordained, but it was planned. "I remember early on when I was kind of a cocky young guy, I had like my first review with Tom Derrer. Tom said "Where do you see yourself [in the future]?"
Todd replied glibly: "I see myself having your job one day."
Tom's response: "…that's the long way around."
For Todd, though, the trip has been worth it. When Tom retired it was an easy choice for Todd to take up the mantle along with Janet and Scott.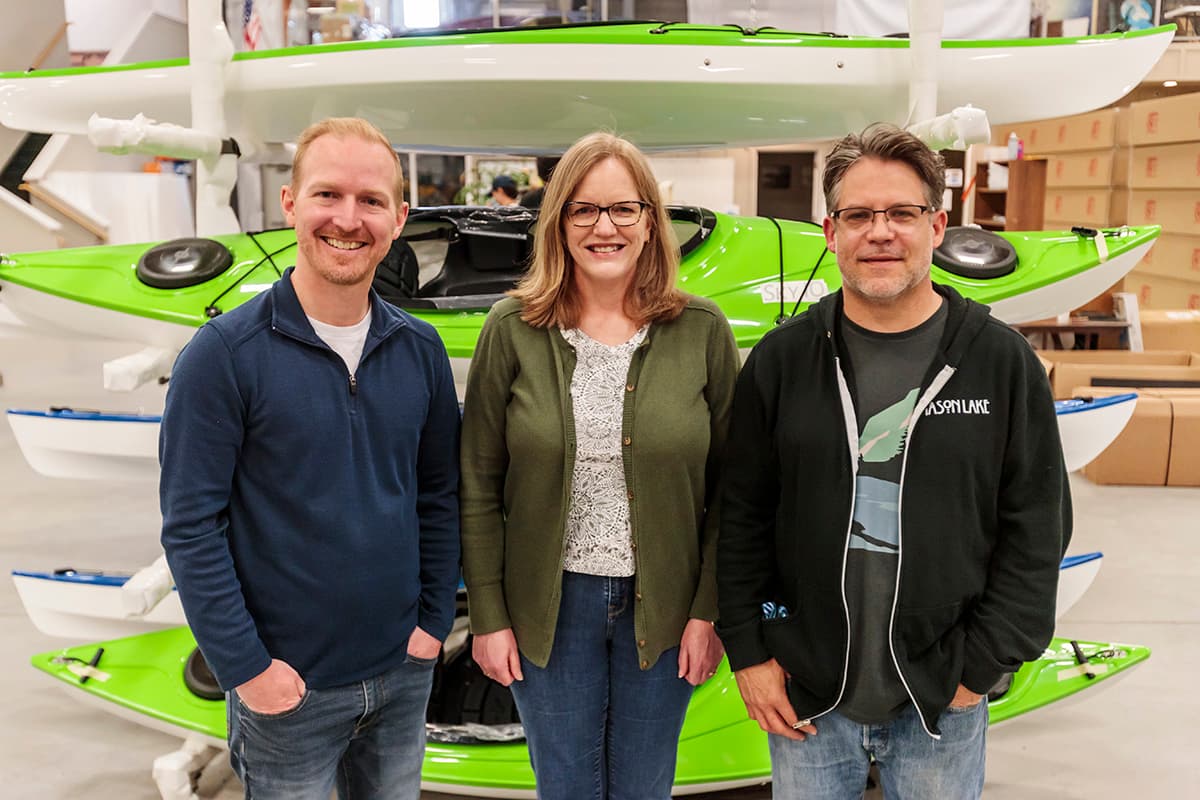 Todd Keane joined the company in 1995 as a young man fresh out of school. He showed an aptitude for the work, but with the attitude and a bit of temper common in youth, a trait that almost got him fired on numerous occasions. As he matured these experiences led him to be something of a counselor to the "young men" we hired as they followed similar paths. Todd was smart and quick to learn and became essential to the company as well as a good friend. It is a great pleasure to me that he carries the title of general manager and is now a co-owner as well.
-Tom Derrer (Eddyline Kayaks Founder) on Todd Keane

Living the Eddyline Way
When asked about why Eddyline stands apart Todd has two direct answers. "A commitment to quality and customer service," he said simply, with a follow up of "We're still a family owned company. We've got roots here in the Pacific Northwest. When we started to grow we talked with the crew to let them know that we'll always be Eddyline; our culture wasn't going to change."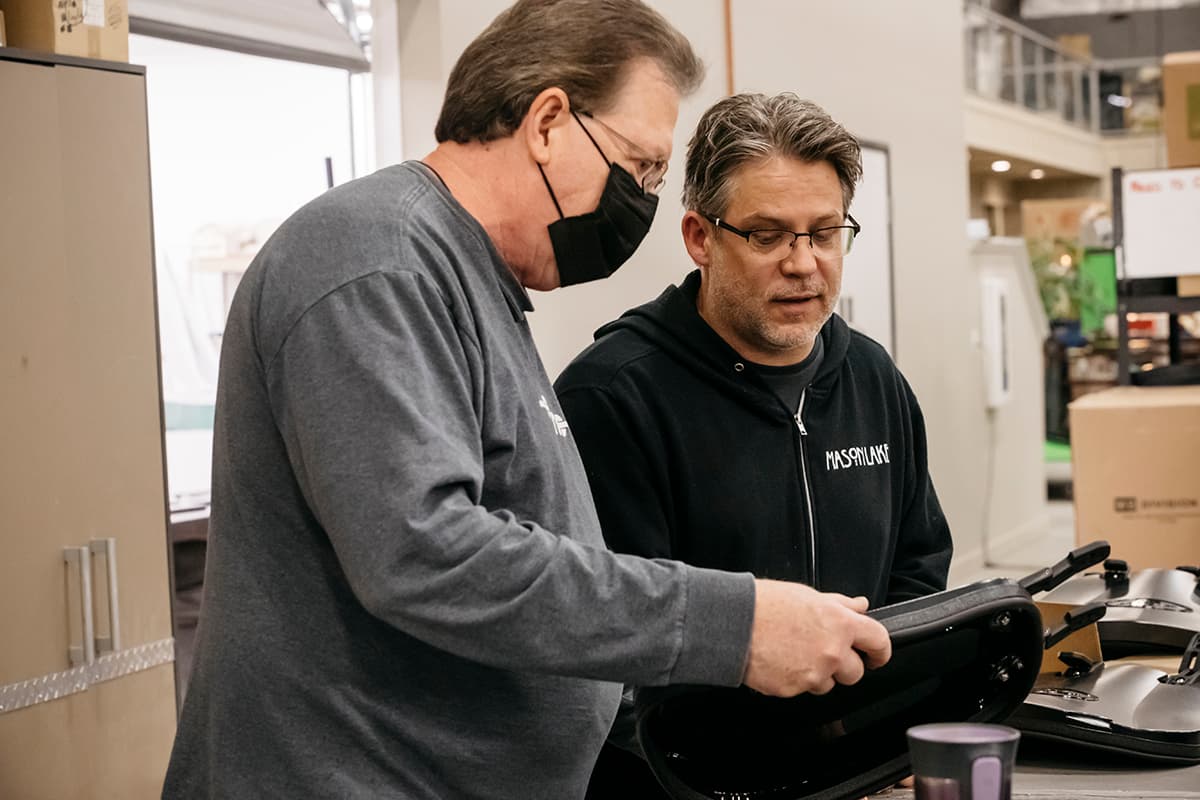 "I think our customers know that. You can call here and you talk to a person. You can talk to one of the owners, you're not stuck in a phone tree. If you've got a problem with your boat you can talk to the person who put the seat in." Todd isn't alone in his passion for customer satisfaction at Eddyline; it's an unwavering characteristic of everyone on staff.
With a shift from delivering kayaks on the floor daily to owner/manager, Todd continues, "the toughest part of me moving from the employee/manager to co-owner is I always saw myself as as part of the crew. I am so proud that we still are building the best engineered product we can without changing our shop and Eddyline culture."
The growth of Eddyline has been steady, and while any expansion comes with growing pains, the shift to a new facility and a larger team has been handled in stride.
How paddling has changed… and how it's stayed the same.
"We're (kayaking) still a tiny industry," Todd delivers with a laugh, "but paddle sports are growing. Back then it was all touring boats, you didn't see a lot of recreational kayaks out there. I was out paddling last weekend at a quiet lake up by Glacier Washington there were eight other paddlers out there. I think for me that's a big change is that the sport doesn't seem like it's niche anymore, and I love that."
For Todd, the friendly, welcoming paddling community can be credited for some of that growth, along with the tight relationship Eddyline Kayaks has with its customers and dealers. Whether it's past employees who deliver rave reviews about their time with Eddyline or the way customers connect on social media or here on paddling.com, that growing market isn't losing its values.
Being a good corporate citizen
"We're doing work to respect and preserve the environment we love. Between work with Save the Manatees to clean water projects and picking up garbage will out on the water, the leave no trace philosophy that Todd lives everyday has permeated into the fabric of the company, and it's finding resonance with customers too."
For the future it's something finding traction with Todd. "I would like to be more involved with our leave no trace efforts. There's a lot on social media about people picking up garbage, you know waterways are very polluted and it doesn't take much when you're out of the water to clean up after yourself or after others, too."
How Eddyline has changed?
The push for a greener world is crystal clear on the Eddyline shop floor. When Todd joined Eddyline the manufacturing process for gel-coated composite kayaks, with its spray-coated open molds, led to wasted fibreglass and chemicals.
"The shift to thermoform kayaks is cleaner. It's a cleaner work environment for our crew, we recycle all of our scrap plastic to keep it out of landfills, and we're far more efficient than we've ever been." While it used to take up to 35 hours to build a single touring kayak, that time has been cut down dramatically to just 3-4 hours. "Faster. Cleaner. Environmentally friendly. It's just awesome," he continues.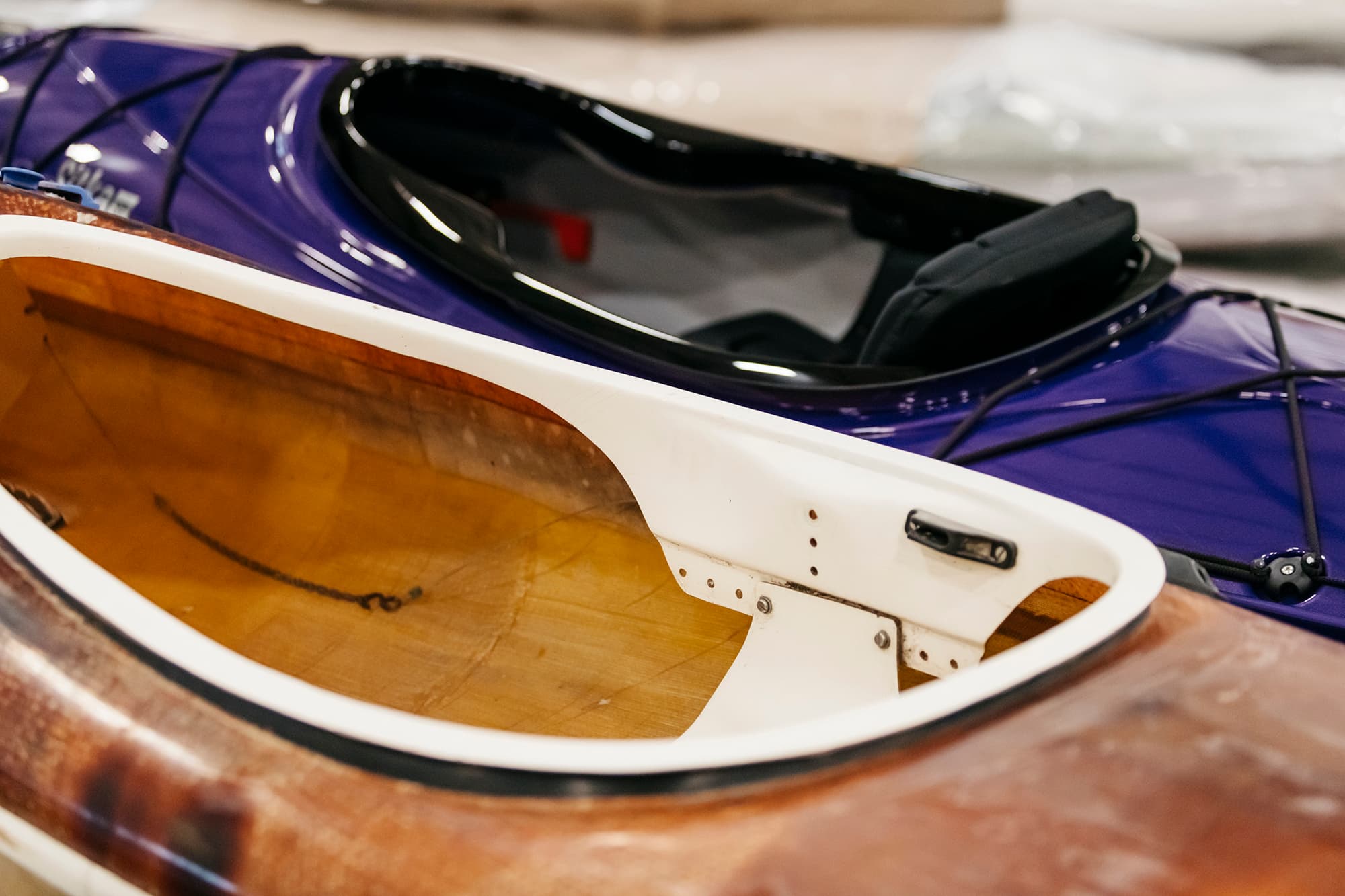 Playing favorites
When asked to name his favorite Eddyline Kayak model, Todd both can't and won't: "it's like trying to pick your favorite kid!" He protests. While he spends his time equally with the boats he loves, he did let slip that he has a one-of-a-kind Sitka in seagrass color over black built with a prototype test material in the very definition of a limited edition.
As for favorite places to paddle, there's no hesitation: Mason Lake, by the family cabin, kayaking in the quiet early morning before everyone wakes up. It's a call back to trout fishing with his father, sometimes as early as four o'clock in the morning he says finishing wryly with "…early bird…".
Speaking of his own son, he muses about a "great moment in the San Juan Islands" while the Eddyline crew were shooting a video for the Chasing Waves video series: "…my son was out paddling in at in Roche Harbor and I think that was the first time he'd been out solo. He was probably six or seven years old, out there by some boats moored up out in the bay. He was paddling from boat to boat talking to people. It was incredible to see him becoming more independent, doing it on his own."
Paddling abroad
Like many, Keane is anxious to get back out into the world. When asked on where he'd like to paddle next, the answer is vague but understandable: "…anywhere tropical, I've never paddled anywhere with turquoise water." He finished with a slightly more definitive "the Caribbean" with a grin.
What's next for Todd and Eddyline?
While the explosion in outdoor sports that has come with the dramatic shift in our lives was powerful, Todd doesn't see it slowing down, and for good reason. "I know in my life with my family it's been so refreshing to be able to take a step back from the pace of today's society and get back to your roots. Paddling almost has a sense of innocence to it."
For Todd it's important that the future of kayaking is accessible and equitable. The water is a great place for people to come together to enjoy not just kayaking but other paddling sports too; the emergence of paddle boards and other new avenues offer great ways for like-minded people to meet each other.
One thing not on the radar is sacrificing Eddyline's dedication to quality in the name of profit. "I don't ever want to print a cheap product," he says without pretension.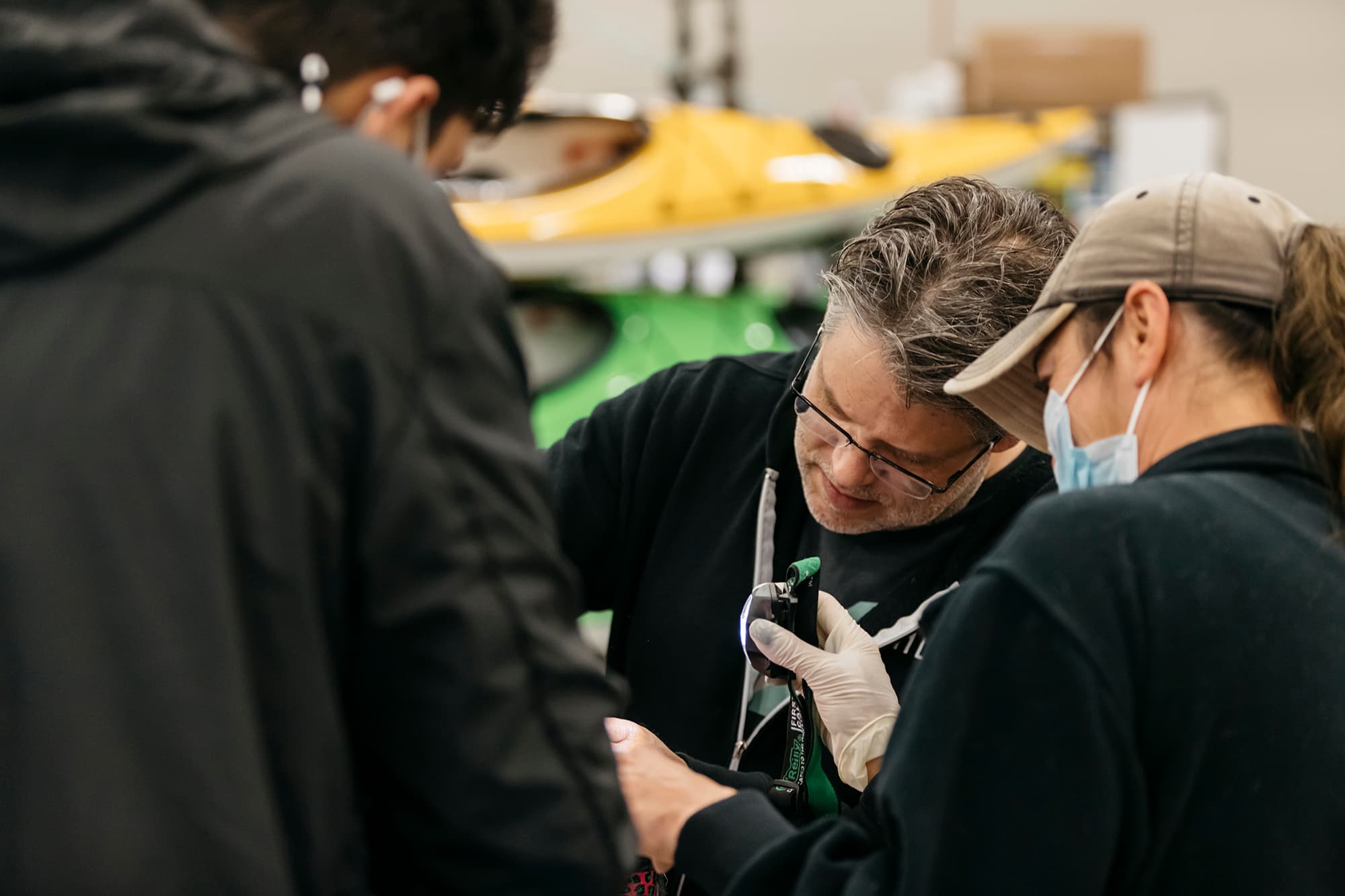 New construction methods are enticing, however. "We've always strived for innovation; I don't think there are limits on what we can do… but I think that getting more people out on the water is just as important as any technical innovation that we could chase."
There's a sense of purity to Todd's pursuit of the sport. "I leave my devices at home, except for my camera. It's nice that my camera has a way to call emergency services built in to it now," he laughs, pointing at his cellphone. He's clear, though: when he's on the water, unless it's needed in such an emergency, the phone is in airplane mode. Returning to a previous point he says "what we can do to improve our prospects for the future as an industry is being good stewards of the environment and providing access to the waterways."
Staying safe
There's one final point that Todd wants to make, and it's an important one. "Education," he states, thinking of all the new paddlers out there. "It's hard to think about the avoidable events that put people in danger. I think we, as an industry, need step up on personal flotation devices. There are some unforgiving situations out there on the water, and we can mitigate most of them if we agree–as manufacturers, as dealers, as consumers–to take them seriously and always boat safely with the right equipment."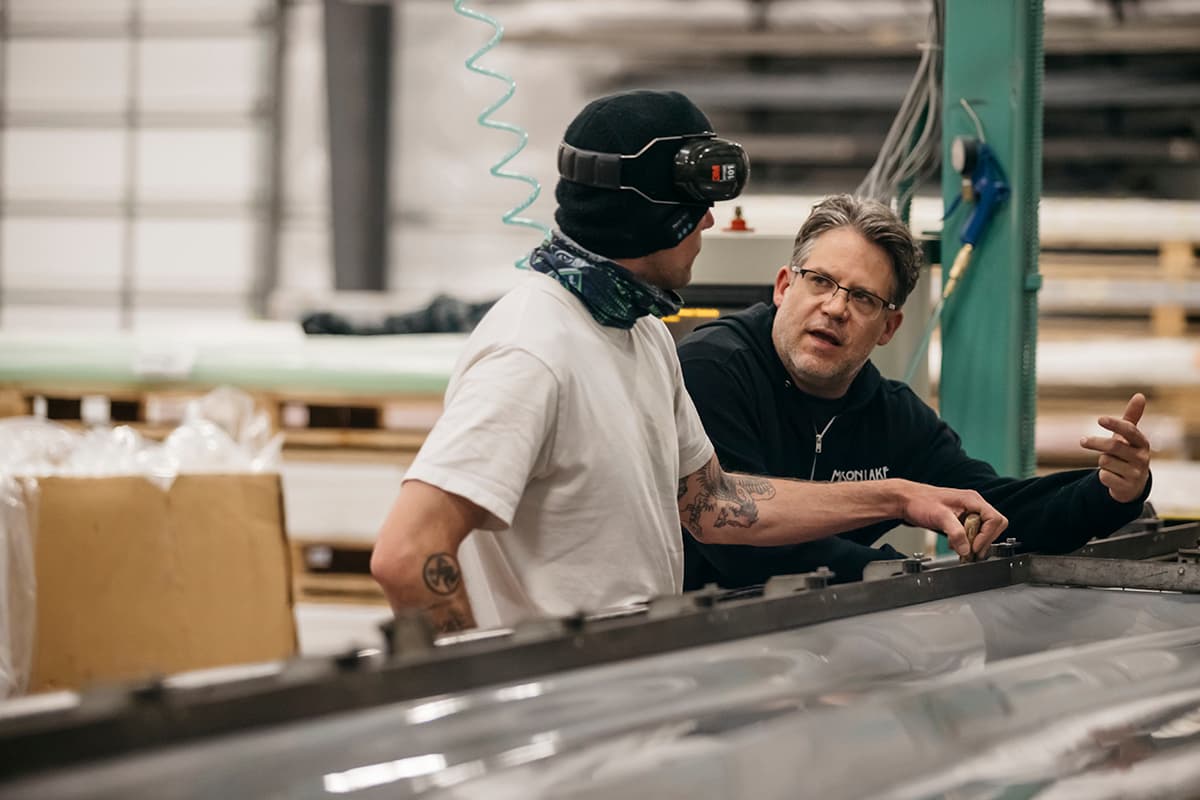 What's next for Todd?
The last question might be the hardest. When Tom Derrer asked Todd where he saw himself he answered, half-jokingly, "with your job." Now that he has that job, what's next? "I'm young enough that I'm still enjoying what I'm doing! I love being a part of it. The most satisfying thing, in my opinion, is seeing how much it's grown both as a company and with our customers. After 26 years I don't feel like I have a job because I enjoy what I do."
When asked for parting words, Todd is succinct. "Wear a PFD. Help keep our waterways clean. Thank you to everyone who has helped Eddyline grow to where we are, and I hope you'll join us as we continue to deliver the paddling experience we all love for the next 50 years."