Wisdom can sometimes be found in some of the strangest places. Recently we made a trip to Key West for a long weekend. Since it was my first time, we did the Duvall Street thing, lunch at Margaritaville, nabbed a hat from Hogs Breath Saloon, and took pictures of roosters and 6-toed cats at Hemmingway's. As we walked down Duvall admiring t-shirts, we passed a guy that was selling tickets to go on a "ghost tour". Now, it's easy to sell a cold beer in Key West, pretty easy to sell a t-shirt as well. Not so easy to sell a "boo" though. I could tell he was tired of making his sales pitch. I can relate … I was a telemarketer for 89 days, so I felt his pain. It ain't easy being sleazy. But as we passed he made a very profound statement:
"… c'mon, spend some money, take the tour …"

We didn't take the tour. But this did make me think a bit.
Sometimes, spending a little extra money can greatly elevate an experience. Case in point: the cheeseburger. I present for your review, the McDonalds Double Quarter Pounder combo with cheese vs. The Boardwalk burger with beverage: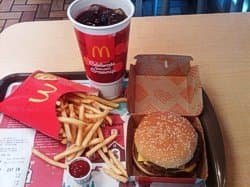 STATS
McDonalds Double Quarter Pounder w/ cheese combo meal with fries
Meat: 8oz, origin unknown, cooked until gray
Drink: Diet Coke, free refills
Price: About $8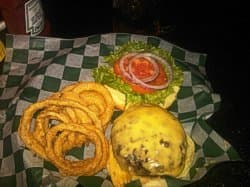 STATS
Boardwalk Cheeseburger (choice of cheeses), fries, tater tots or black beans and rice
Meat: 10 oz, made fresh when ordered, cooked as you like it
Drink: Whatever is on tap served in a frosted glass
Price: About $11
If you've been fishing all day, hungry and tired, then the McDonalds drive-thru is the place to go. Spend $4, stuff your head full of carbs, and be on your way. But other times, spending a little extra can give you a lot. If I have time to sit down at McDonalds, I have time to sit down at Boardwalk (and I'm sure you have a similar favorite spot). Spend a little, get a lot.
Our sport is relatively cheap, in that we can do a lot of the things that our powered brethren do on a fraction of their cost. That enables us to splurge on better gear. In this installment, we will visit some gear upgrades that will provide an exponentially higher return than a "bargain" investment.
LIVE TARGET BAITS: We all have what we consider "confidence" baits - lures that we can repeatedly throw accurately, and consistently produce (when feeding fish are present). We all also have trays and trays of lures that we *thought* we'd need, only to discover that they don't get a lot of water time - we have no faith in them. And, in the long run, that's money wasted. Look in those tackle trays and imagine a $5 bill in each of those spots rather than a lure - it adds up.
I submit for your review the line of LiveTarget Saltwater baits and LiveTarget Freshwater baits. The two baits I got to demo are the Mullet (pictured on left) and Scaled Sardine (aka "Greenback") "wake" baits.

They retail for $16 each, which is about double the price of similar lures. But, the difference comes from better hooks, better looks, and better performance. I've only had these lures for a short time, and have only tossed them a couple of times - strikes on all occasions, even in February. But the action is great and to me, they look very realistic in the water. They're heavy so you can toss them a *long* way which will enable you to make a lengthy presentation. These are big lures, so it only stands to reason that big fish will be the ones to take a shot at them. I've caught a lot of small/average fish over the years. Maybe it's time to concentrate on some trophies and elevate my catches as well. All of that gives me confidence in the lures, makes me want to throw them, and for me, that justifies the cost. Their mouse was a big winner at ICAST 2011, so they definitely know how to make a quality lure.
There are a number of other high end lures out there, so give them a look before you buy more of the same.
NOT SEEING IS BELIEVING: That high end lure won't reap its just rewards if you scrimp on other details. You want the fish to see the lure and not the line. So, it will pay you to front that lure (or any lure) with some good fluorocarbon leader. I must admit I was a little leery of spending $10 for 30 yds of fishing line in the past, but I do believe it has paid off as I do seem to be catching a few more fish now.
I've also scaled down on the size fluorocarbon leader I use. 2 years ago I was using 30# for everything. Now I use 15# unless I'm around docks or other structure. Then I may go up to #25. Less will give you more here.
Finally, be confident in your line-to-leader-to-lure knots as well. It's a sobering sound to hear that telltale *tink* as your poorly executed knot comes undone and your pricy lure heads to the depths.
SOMETIMES YOU GOTTA PAY FOR IT: The Key West trip made me realize something else too. Nothing makes you want to go fishing more than having a great day of fishing. And sometimes, that simply means paying for a charter. Ideally for me, that would involve hiring a kayak fishing guide. But in this instance, a buddy and I contracted the services ofDream Catcher Charters in Key West. I admit we got lucky. My buddy caught a big bonefish, on a MirroLure Provoker (bones prefer live bait or maybe a well positioned fly), next to the mangroves (they prefer the flats), in January (they definitely prefer warmer weather). Made no sense at all, yet, the catch still happened.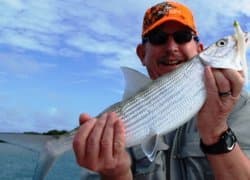 So now, I'm on fire to go fish. And it doesn't matter if it's from the kayak, or a seawall, or wading … I just want to go. If it wasn't 57 degrees and 30 mph winds today I'd be out there right now. I caught so many quality fish on this trip my hands hurt - no lie. I didn't notice until later that evening during dinner.
While resting my hands and enjoying a frosty cold adult sport drink, I also took advantage of the captain's knowledge and learned what I could about the area, tactics, gear, you name it. It's interesting to hear how someone that fishes everyday goes about the JOB of CATCHING fish everyday. You can certainly glean what you need and apply it to your home waters and style of fishing. NOTE: As a result of this trip we've already tentatively booked another trip next year. Only this time, we will be taking our Hobie's on a larger boat and taking them to The Marquesas. I'm really looking forward to writing that article!
REEL FACTS: On this charter, I got to use some great gear - gear that I certainly wouldn't buy for myself because of the price tag. But, time to do some math again. Rods are a personal choice because of all the different flavors and designs. But reels are very similar to me. Their sole purpose is to apply drag to fight the fish, then take up line during lure retrieval and after the "lift" while fighting a fish. But as paddle anglers, we need a little more. We need a reel that will stay smooth after receiving more splashes and outright dunkings than would be expected from a boater. I got to spend some quality time with such a reel … that being the Daiwa Certate (around $470). How many reels do you own that cost that much? I didn't think so - me either. But this guide had 3 or 4 of these for me to choose from. They were smooth, and did the required jobs nicely, like many other lower priced reels. But, they're engineered to never need lubricating because they're completely sealed. Translated, they will probably outlast 3 less expensive reels. In addition, knowing how durable they are, there's a confidence in dependability level there as well. I'm sure I have enough invested in all of my reels to have a couple Certates, and I rarely take/use more than 2 combos when I go fishing.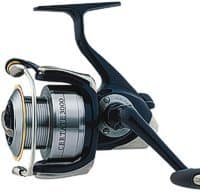 BUYING A HIGH END FISHING KAYAK: The past 10 years has been great for kayak fishing because there have been some steady improvements to fishing kayaks. The latest craze has been models that offer non-traditional means of propulsion - pedal power. But those Hobie and Natives are crazy expensive, right? Well, maybe not after the math is done.
I have a Hobie Revolution, and will use that for my comparison because I'm familiar with it. I paid about $1800 for it, and we bought 2 of them at once. Man, what a chunk of change. But when you consider what all you get, being able to fish hands free becomes pretty affordable, or at least cheaper than it seems. Let's go deep.
For the sake of comparison, let's let the Ocean Kayak Prowler Trident (MSRP $975) and the Wilderness Systems Tarpon 140 (MSRP $950) be our token "paddle" kayaks. Both are big sellers because of popularity and functionality, and no doubt they are fine boats - no rocks being thrown here. But let's do throw around some numbers and guestimates.
Disclaimer: I did some Internet price recon, and snagged some generic prices here and there. What you see below are estimates and averages, and a little shooting from the hip. So watch your feet.



So, is the ability to peddle and fish hands free worth around $182? Not sure? Maybe you need to go to the Boardwalk, have a cheeseburger and a beer, and see if you can then answer the question. Spend another buck and upgrade to their beer battered onion rings for enhanced mental clarity. The "best bang for the buck" doesn't always mean price divided by quantity. We are a group of minimalists. So, we can afford (and deserve) to have a few really nice things that enrich our time on the water. We're coming out of Winter. Spring will soon be here with warmer temperatures and fish ready to chew the bottom out of the boat. Let's get ready and make it a great fishing season. If that means spending a little money, then let's do our part to keep the economy strong. Wow - that little speech ranks right up there with Patton and Braveheart. Think I'll go fish a while … See you out on the water …
"Many men go fishing all of their lives without knowing that it is not fish they are after" ~ Henry David Thoreau