Paddling.net has always given me plenty of room to not only discuss paddle fishing things, but other worldly things as well. So, with colder weather upon us and fewer fishing opportunities available, I figured I might as well take full advantage of that luxury and devote an installment to those "other" things. You know, like politics, religion/faith (the huge difference between them), family, crime/punishment, and why Kiss still isn't in the rock and roll hall of fame.
Winter weather may run us inside, but that doesn't mean the sport sleeps. Those "other things" I mentioned will be covered when I write my book, but for now they will have to wait. In the mean time, let's discuss some other "deep thoughts". Or should that be "thoughts about the deep"? Or maybe it would be "I thought this water was deeper". This article is about depth finders, or more commonly called "fish finders". In this issue, we'll discuss your options when it comes to selecting one of these gadgets, along with tips for temporary or permanent installation.
THE LIMBO: How low can you go? Or, how low do you need to go? This is an important question you need to answer. If you don't need to see what's 1000 feet below you, they you can certainly save yourself some money. You did save the gift receipts for those much_appreciated_but_unwanted Christmas gifts, didn't you? Before we take the drill off the charger, let's ponder some options and then work backwards to determine what your needs/wants/limitations are.
NO INSTALLATION REQUIRED: That got your attention, didn't it? If you're on a budget, and don't want any sort of permanent installation mods to your boat, the Humminbird Smartcast series may be your answer. You simply cast the green transducer to the spot where you want to investigate, and the signal comes back to the wrist module (RF30) or the traditional display model (RF15). This series doesn't have a lot of bells and whistles, but for my kind of fishing/paddlecraft, it may be a great solution.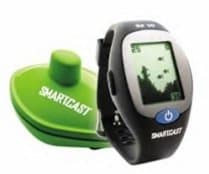 If I'm scouting a new area I won't know anything about what sort of structure is ahead until I paddle over it, blowing out any fish that may have been there. With this little guy, I could cast it to the spot, get a read on what's below and proceed. And, you have the luxury of retrieving it slowly to see bottom contours between you and that fishy spot. There have been a number of occasions when I've made numerous casts at a fishy looking location (without any luck), only to paddle over there and discover that it was 10" deep, nobody home.
These units are battery operated and the signal is transmitted back to the receiver. So, don't expect a lot of range or HD resolution. But, if you simply want to know how deep the water is ahead of you so that you can make better choices, this is it. For me, I would need to cast it with a rod/reel loaded with heavy braid. The areas I'd likely cast to would hopefully hold big snook and in the spring they love this color. I don't want the "dog ate my homework" story to become the "snook ate my transducer" story.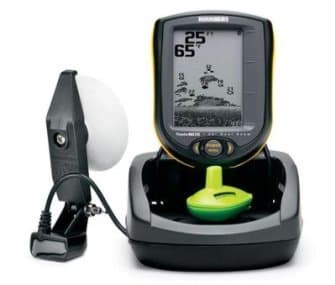 NO PERMANENT INSTALLATION REQUIRED:
Enter the Humminbird Fishin Buddy series. These units are also self contained, but offer a slick mounting system. If you have a canoe or hybrid kayak, you can simply clamp it on the side and go fishing.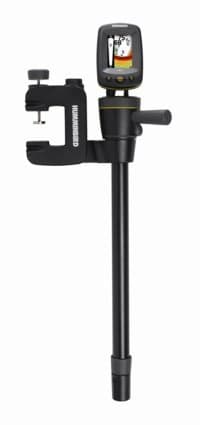 PERMANENT INSTALLATION: I say an installation is permanent once you start drilling holes. A permanent installation will require you to provide power/wiring, physically mount the transducer, and mount the fish finder itself. A few years ago, these things were a lot tougher to do - similar to baking a cake from scratch. I don't like the notion of "trial and error" when I have a drill in my hand. But now that our sport has become more mainstream, products are being offered specifically for kayaks, and fish finder installation can be so easy, even Betty Crocker could do it.
I discovered a couple of great installation videos, and a couple of great solutions, depending on how far you want to go with your electronics.
BABY STEPS: You don't have to spend a ton of money or be an engineer to get your kayak electrified. Here we have the Lowrance X50DS. The fishfinder and the installation kit will run around $250. Look at what you spend for a rod/reel/braided line, and you'll find this kit is certainly affordable. The display is 4-level grayscale, and the battery pack contains AA batteries. However, what it may lack in fashion it makes up by function. The battery pack goes in a dry bag, and the unit itself is easily removed at the end of the day. It features a built in temperature sensor and 120 degrees of wide angle coverage.
Here is how the unit looks, and also gives you a pretty good idea of what the possibilities are when you pair the unit with a Ram mount system (limitless mounting possibilities, if you've ever browsed their catalog). No worries securing it to the handrail of a Hobie Pro Angler.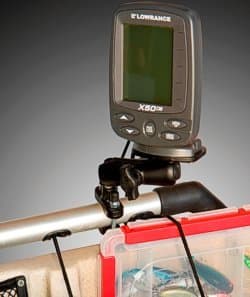 Out in California where Hobies are born (and where there is some pretty deep water), a unit like this could certainly make you more productive.
For a more traditional installation, here's a video on how you would do it:
Installation of a Lowrance X50DS on a Hobie Outback, with the Hobie installation kit (see video)
ONE SMALL STEP FOR MAN, ONE GIANT LEAP FOR PADDLING_KIND: In the 2009 ICAST article, I mentioned a combo system that was in the new products exhibit, but wasn't available at the time of the show. It's most certainly available now, and that unit is the Humminbird 385CI. Like us, fish seek comfort, safety, and food. This unit will allow you to gather "data" that you can process in to fish finding "information".
When I asked the folks at Humminbird for some pictures, they obliged, and they called this one a "beauty" shot. Nope, can't argue that one. Here it is, the Humminbird 385CI Fishfinder/GPS.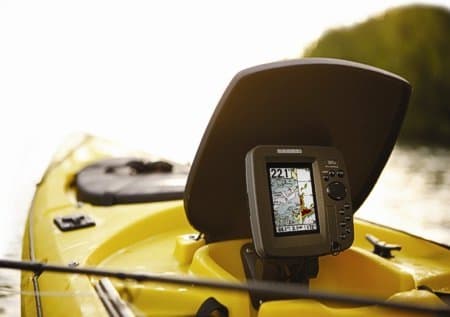 Here's what you get:
Humminbird 385CI Combo fishfinder (color 320V x 240H 3.5" display, advanced DualBeam sonar with 2400 Watts PTP power output, and GPS Chartplotting with built-in UniMap)
MHX-XMK Kayak transducer installation kit
12-volt (7 amp hour) battery
Battery charger
Battery dry bag
Quick disconnect protective cap
Unit cover
Here's what the combo kit will look like. The battery and head are easily removed as needed.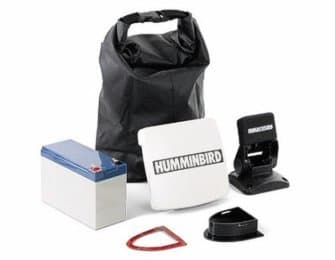 In summer and winter, water temperature is very important - these units will help you discover areas that should be comfortable for your target species. Safety is found in structure, for prey and predator alike. The illusion of safety for baitfish equates to food for prey. So locating proper structure is certainly important. It's been said that 90% of the fish can be found in 10% of the water. Believe it. If you're fishing structure in the middle of a lake or a man-made reef, knowing what's below you is important. Now you know.
Having a GPS onboard is something I've wanted for a while, so that makes the Humminbird 385CI a powerful combo to me. I love "jungle fishing", getting back in mangroves and other areas that are loaded with structure. It's also easy to get turned around in those areas because if you're concentrating on fishing it's easy to lose track of where you are, where you've been, and how to get back to the launch. Obviously, this will help. Between having built in navigational charts and doing your own recon concerning tides for the day, you can make better choices as to where you want to fish.
OK, that's all fine and good, but how do you get these things installed?
MOUNTING THE FISHFINDER: Cockpit space in any paddle craft is premium real estate, so definitely do some planning before you do some drilling. The carpenters pencil is your friend in this case. I suggest that before you drill/cut, you spend some time on the water and use that pencil to mark up potential mounting spots. You have to be able to see it well and to reach it, but it needs to be out of the way when you cast, land a fish, or get in/out of your boat. If your boat has some sort of console, that's an obvious mounting choice. But, if you don't then Ram Mounts offers a number of multi-position solutions that will allow you to mount it just about anywhere. Once you decide where it will go, you have to get the wiring to the battery and to the transducer.
WIRING: It's like Christmas lights … once you get a good power source you can really go crazy. I guess that's one of the reasons I've never added a power grid to one of my boats. Sure as I do, I'll have dash lights, bow/stern lights, and an 18" subwoofer (though a pair of 10's would probably work just as well). Once you are set up with a 12 volt system, anything that will connect on a go-boat will now connect in your row-boat. Those are scary possibilities indeed. You'll need to keep the battery stationary, as dry as possible, and make it easy to get at for removal and recharging. The easiest choice would be to mount it in the front hatch area. The battery is actually pretty small, so you won't need a lot of room.
INSTALLING THE TRANSDUCER / INTERNAL: This is the most important part of the installation, because this is where the signal is sent and received. Poor quality here is only amplified as the signal is digested. The transducer is glued to the inside of the hull and the signal is shot through the plastic.
INSTALLATION SUMMARY:
Drill a hole for the wiring to reach the head
Glue the transducer to the hull
Mount the head
Connect the wires to the head
Connect the wires to the battery
Go fish
So, you don't believe it's that easy? I don't blame you. But luckily, you're not alone in your installation. Here's another video of actual installation (see: Video: Ocean Kayak Installation of a Hummingbird 385CI kit.)
Note: This process will be similar depending on what sort of fishfinder/kayak you have. If you already have a traditional fishfinder all you need is a hull-thru transducer and you can rig it all up in a similar fashion.
I love a good gadget as much as the next person, and can always justify the "need" for a new one. In the writing of this article, I have most certainly justified my need for one of these. Seriously, I need one.
BUT DOES A FISHFINDER REALLY FIND FISH? Does a woodchuck really chuck wood? Sorry jackwagon, I had to go there. A fishfinder works on the same theory as deep space telescopes identifying distant stars. It doesn't see "fish" but it does see things that don't look like water. Once the data is processed, the resulting image is therefore labeled fish. Therefore, these units absolutely process the data and tell you if fish are in the beam. But alas, they don't know what they're eating, or if they're even in the mood to eat. But, I do believe that fish will almost always eat if given the right offering. But, you have to find them first.
KISS (the hottest band in the land): OK, maybe this won't be covered in my book, so I can talk about it now. I still can't believe that Madonna is in the Rock And Roll Hall of Fame, and Kiss is not. Kiss hasn't sold more albums than Madonna - not even close. Kiss hasn't collected more gold albums than Madonna - not even close. I guess Gene Simmons' "Family Jewels" really doesn't factor in to the overall calculations. Correct me if I'm wrong, but I don't think Madonna has ever used the words "rock and roll" in the lyrics of a song. Kiss, on the other hand has almost abused the phrase. But then, that's what a rock and roll band is likely to do.
Kiss has collectable action figures. Does Madonna have action figures? Eh, better not answer that one. Back in the day, I was a member of the Kiss Army. What sort of fan club does Madonna have? Better step away from that one too. Pluto will always be a planet to me, and Kiss is already in *my* rock and roll hall of fame. I love the smell of flamethrowers and flash pots in the morning … smells like … victory.
See you out on the water …
"Many men go fishing all of their lives without knowing that it is not fish they are after" ~ Henry David Thoreau