Risk management while canoeing comes down to knowing your own skill level and that of your group; assessing the objective hazards-weather conditions and the difficulty of your route; and the quality of your group's equipment. Your bet can be hedged for the latter by bringing the right equipment every time you're on the water and knowing how to use it. Following is a list of essential safety equipment.
Type III PFD
Lifejackets come in different buoyancy weights, some as high as 24 lbs. and some as low as 14 lbs. Choose a high float for better buoyancy
Float bags
Float bags make self-rescue easier by increasing the buoyancy--and hence, maneuverability--of your canoe. Carry as much flotation in your whitewater canoe as possible. Careful outfitting of the float bag cage is also important so the flotation doesn't create entanglement possibilities or come out when you really need it.
Helmet
Make sure your helmet is functional first and a fashion statement second.
First aid kit
Make sure your first aid kit has all the essentials for treating everything from heavy bleeding to broken bones. Also, carry a rescue-breathing mask in case the need for CPR arises. Even more important is the knowledge to use this stuff-take a Wilderness First Responder class.
Throw bag
For our canoe school, we use throw bags with at least 60 feet of line. Spectra cord is the strongest. Throw bags only work well in the hands of an experienced user--so practice using it before you take to the river.
River booties
Open-toed sandals are the rage these days, but wear a river shoe that protects the whole foot from rocks, logs and other objects often encountered while canoeing.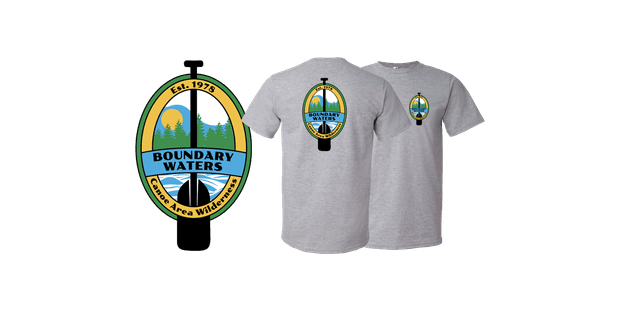 ~Get the BWCAW Tee~
With over 1,090,000 acres of wilderness area, the BWCAW is a paddler's paradise.
Spare paddle
If you lose or break a paddle and are in a remote canyon 20 miles from the take-out you could be in serious trouble without a spare. Bring one always, and make sure it's easy to reach in an emergency.
Water
Dehydration is a serious condition. Always carry water and/or water filters for you and your group
Bail bucket
In many places you need to bail before the next drop but there isn't a place to drain your boat. That is when that old orange juice container or milk jug comes in handy. Bring a bailer on every trip
Pulley
If you've ever been in a situation where you needed to pull a broached boat off the rocks, you know the value of a pulley sized to work with your throw rope. When rigged correctly, each pulley halves the effort when rigged for pulling (one pulley gives a 2-to-1 advantage, two pulleys provides a 4-to-1 advantage, etc.).
Dry suit or top
Hypothermia is a river runner's worst enemy. Cold water and cool air are the perfect recipes for this condition. A dry suit or top is essential if you want to paddle in early and late season. Breathable fabrics like Gore-tex work far better than simple coated nylon, in which perspiration will defeat the suit's purpose.
Floating painter lines
Painter lines on the fore and aft decks are excellent for lining and tracking, and are essential in self-rescue situations. Make sure your canoe has them on both bow and stern.
Repair Kit
You never know when your boat will get damaged. To fix most things that might arise on the water, we keep wire, duct tape and a float bag repair kit with our first aid kit in a dry bag.
Douglas Wipper, a former director of the National Canoeing Schools of Canada, is the director of the Steamboat Springs Canoeing School in Steamboat Springs, Colorado. He has instructed canoeing for universities and private camps for more than 30 years.