No, I'm not speaking of jet skis, charter captains, air boats, and tourists. OK, they all can fall in to the category from time to time. But for today, I'm talking about soft baits (aka "jerks"), and jigs (aka "hard heads"), and how they're deployed. You can spend a little money and cover a lot of water with these baits.
BASS FISHIN' - Carolina style: I grew up fishing fresh water in South Carolina. SC is largemouth bass country and for that, you need a purple worm. For some reason, I never liked working those lures. I was more confident with a Rapala lipped plug or a Little Cleo spoon. As a result, I didn't catch many bass. I did catch a lot of stumps and tree limbs, thanks to those treble hooks. I also lost a lot of lures.
BASS FISHIN' - Florida style: The target species are now snook, redfish, and trout. But fish are fish, and these fish can still be targeted as if you're bass fishin'. I'm still addicted to hard baits, and will occasionally toss a spoon. But I've more than made friends with the salt water equivalent of the purple worm. That new friend takes the shape of weedless jerk baits and anything that will fit on a jig head. And, many of the baits I use are actually fresh water bass baits. Fish can't read the packaging, it's OK.
CHOICES: If you don't believe that lures catch more fisherman than fish, take a look at the soft bait selections at your local tackle store. It's hard for me to walk past that aisle and leave empty handed. Luckily, for the price of 1 hard bait you can get a bag of 10 or more soft baits. The variety of colors, shapes, and sizes mean that "matching the hatch" can be done very effectively. All of the colors of the rainbow are represented, so don't be afraid to also nab something in neon pink or chartreuse. Real men know what color chartreuse is but only because of lure colors - that's my story.
JIGS HEADS:
A jig is nothing more than a hook with a lead weight, simple. Thread a soft plastic bait on the hook and go fish. For some reason, I've always used red head jigs. I'll use jigs if I need to get to the bottom or if the current is strong.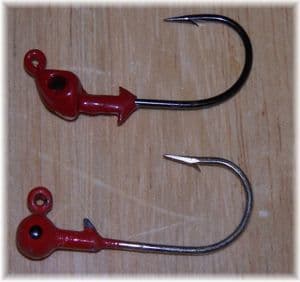 JIG BODIES: I mix it up with various body shapes, but I normally want the bait to do something on its own.
Lots of swimming action = curly tails. A little action = shad tail. Vibration = paddle tail.
I tend to stick to more natural colors and patterns, but sometimes something white or flashy will also do the trick.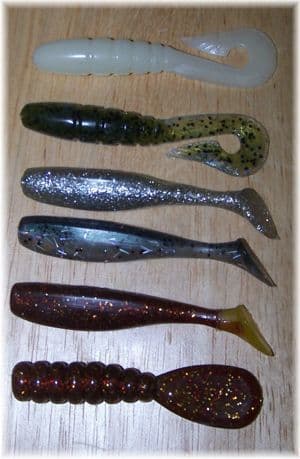 JERK HOOKS:
My favorite type of fishing is using a top water lure. I can still cover this segment of the water column by using a jerk bait with little or no weight. The depth in the water column I fish is simply determined by the amount of weight on the hook. I'm also sold on red hooks, though I don't know if they help my angling skills.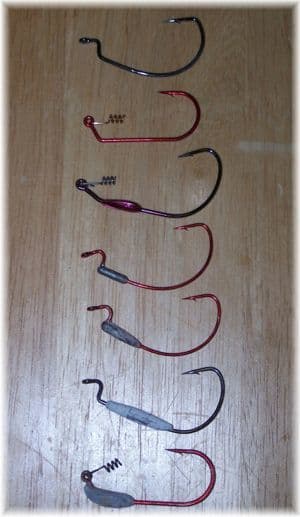 JERK BODIES:
Jerk bait bodies don't impart a lot of action on their own, hence their name. You must provide the jerk. The idea is to mimic a wounded bait fish.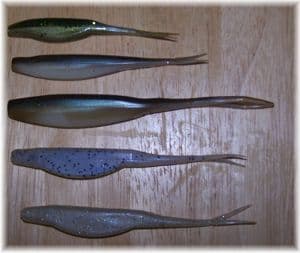 Here's a little trick I use. Most jerk baits have a channel for the exposed hook to rest in. I will get the very tip of the hook and run it back in to the bait. If a fish strikes, the hook will have no problem finding its target. But in the meantime, the bait remains weedless. During certain times of the year, there will be lots of grass in my waters. So fishing a weedless jerk bait is about your only option, if you wish to keep your sanity.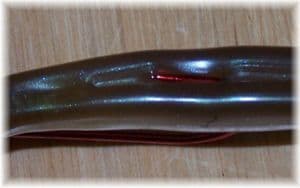 Rigging a jerk bait is something you just need to practice in order to perfect. Ideally, the bait will jerk in a straight line and not spin. I'm still learning.

ACCESSORIES:
Shimano (for one) makes a neat bag to carry soft plastics. I think it came with 5 pouches and I bought several more. You'll want to keep baits of similar colors together because colors will bleed or fade on soft baits. As you can see, I'll stuff several styles of soft bait in pouch as long as the color similar. I have this bag stuffed - when zipped it looks like a football. And I still have bags of baits that have yet to find a home.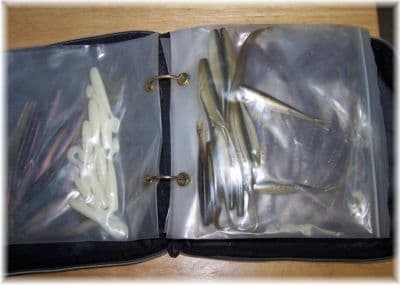 READY TO GO:
So, here's what I'd typically take with me. A jig to get to the bottom, a unweighted small jerk bait for top water, and a larger weighted jerk bait for the middle of the water column.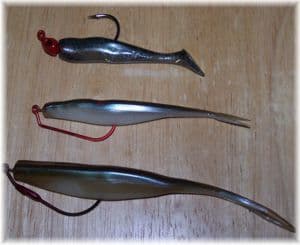 MORE ABOUT CHOICES: Are your colors and body styles not working for you? Change them. That's another one of the glorious things about soft plastics. You can make the change easily without retying. I'll normally have a shirt pocket full of "alternates" in case I feel the need to change. Plus, small fish will sometimes nip the tails off, so it's good to have spares. Just remember to take those baits out of your pocket before the shirt heads to the laundry basket. Soft bait + dryer = not good.
THAT MAKES SCENTS: Nope, not a typo. I'm talking about scented soft baits. Most are lightly scented and I have no issue using them. Then there are the "Gulp" products. No doubt, they work. For me, one of the great things about fishing with artificials is that there is little clean-up. Not the case with these things. Go fishing with these and *everyone* will know you've been fishing.
STEALTH: This is our big advantage over other water craft. Soft plastics also add another level of stealth because they make less noise as they enter the water. They can also be "skipped" under branches to get where the fish are. And, should you encounter one of those branches, carefully pull the bait out of the woods and let it flop in the water. However, if you get hopelessly hung up and lose the ensemble, no tears. It's not like you lost an $8 hard bait.
Simple, affordable, and productive. Go make friends with the jerks and hard heads. Might as well give the soft baits a try as well.
See you out on the water!
"Many men go fishing all of their lives without knowing that it is not fish they are after"
~ Henry David Thoreau