Canoeing wilderness rivers in northern Canada and Alaska is the same as paddling in the lower 48, with these exceptions: the water is bitterly cold - a capsize can be serious; the rapids are often longer, wider and much more powerful; portages aren't marked or cleared, and many dangers aren't defined on maps.
The bottom line is that you must "get it right" the first time because there are few second chances.
Here, in no particular order, is my top ten pick of things I value most on a wilderness canoe trip: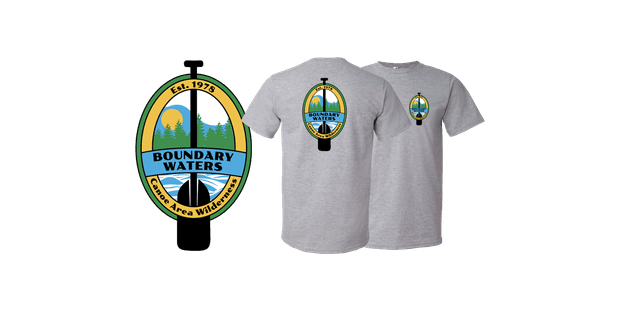 ~Get the BWCAW Tee~
With over 1,090,000 acres of wilderness area, the BWCAW is a paddler's paradise.
A CAREFULLY OUTFITTED, HIGH-VOLUME, HIGHLY-ROCKERED CANOE WITH SPRAY COVER.

Seventeen feet is ideal; 16-footers don't hold enough gear and 18 footers don't fit well on float planes. Depth-14-15 inches. Royalex gets the nod for durability and insulation from cold water. makes the best spray covers. A padded yoke, knee pads, lining holes at cut water and 25-foot tracking lines are essential.




TUNDRA TARP.

If you value your sanity, you'll bring a bug tarp! Cooke's largest model has room for ten and stays rock-solid in 40 mile per hour winds.




A BOMBPROOF TENT THAT HAS A HUGE VESTIBULE.

Nothing beats the no longer manufactured Cannondale Aroostook, with its attached fly, twin 6-foot long vestibules and it's three minute set-up time. The (already discontinued) Eureka! Tundraline is a superb copy, and an even better storm tent, but it is too bulky to fit inside a pack. I recently purchased a Swedish Hilliberg Kaitum 3, tunnel-tent and am very pleased with it. The Kaitum defies high winds and blowing rain; it's very light (under seven pounds complete), very compact, and extremely roomy. Hilliberg tents are all constructed from silicone-treated nylon, which is not fire-retardant (like, who cares?) so they cannot be sold in some states.




TWO IDENTICAL, POWERFUL, GASOLINE STOVES.

I still like the long gone Optimus 111B, but these ancient stoves have grown tired. My current favorites are the Primus Omnifuel® and Optimus Nova® (Brunton), both of which have reliable 111B-style metal pumps. I've had bad luck with plastic stove pumps. Forget butane; it's inefficient when it's cold and the fuel containers are frightfully expensive.




GOOD FOOTWEAR.

I bring three pair of shoes: Knee-high Chota® Quicklace neoprene mukluks for paddling; Chota® Quetico Trekker's for hiking and lounging; felt-soled neoprene booties for negotiating slick rocks.




WARM CLOTHING.

Except for a porous nylon wind-parka and two pair of nylon river pants, my wardrobe consists entirely of high grade wool. I choose silky-soft Icebreaker®, Smartwool® and Klar® Ullfrotte merino wool for long johns and mid-layers. Shirts are garage-sale Pendelton® and Filson®. Despite the ballyhoo over synthetic fabrics, nothing works as well as wool.




KILLER RAIN-GEAR.

For years I wore a heavy-duty foul weather sailing suit. Now, I've switched to lighter gear. When rains begin, I put on a light Marmot Precip® zip jacket under my PFD. If the storm worsens, I slip a Precip® anorak over the PFD. The anorak doesn't have those awful pit-zips which leak. This twin system keeps me dry-and mobile-in any weather.




TOOLS TO CLEAR A PORTAGE.

Minimum is a hatchet and folding saw. Better, is a three-quarter axe and two saws, plus a compact machete or Woodmans Pal®. Gransfors® of Sweden (www.gransfors.com) makes the best axes on the planet.




POT COZIES.

speed cooking time, keep food hot long enough for third's, and save many times their weight in stove fuel. You will be amazed at how much fuel a cozy saves (see my books, "Expedition Canoeing" and "Basic Illustrated: Cooking").




AN INSULATED MUG WITH LEASHED COVER.

Plastic or stainless, your call. A cover is essential to keep out mosquitoes which otherwise will flood your coffee. Without a leash you'll lose the cover.



Cliff Jacobson is a professional canoe guide and outfitter for the Science Museum of Minnesota, a wilderness canoeing consultant, and the author of more than a dozen top-selling books on camping and canoeing. www.cliffcanoe.com