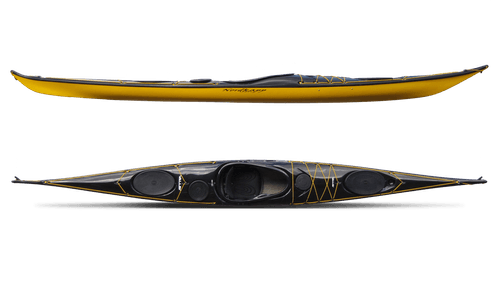 Nordkapp LV Options
This Product Has Been Discontinued
Nordkapp LV Description
The Nordkapp LV was developed to meet requests for Nordkapp handling in a boat suited to more modest loadings than the full size version requires.
The legendary Nordkapp, re-scaled to develop a sprightly sibling. Designed due to criticism that the full size Nordkapp only suits bigger paddlers unless laden with gear, this LV version provides for the smaller paddler looking for a lively expedition-capable sea-kayak more suitable to their stature. Alternatively an averagely built paddler who doesn't require the loading capacity of the full sized kayak will find the Nordkapp LV an agile and nimble boat for more general paddling.
Read and submit reviews for the Nordkapp LV.
Nordkapp LV Specs and Features
Structure: Rigid / Hard Shell
Cockpit Type: Sit Inside
Seating Configuration: Solo
Ideal Paddler Size: Smaller Adult/Child, Average Adult
Skill Level: Beginner, Intermediate
Ideal Paddler Size: Smaller Adult/Child, Average Adult
Skill Level: Beginner, Intermediate
Read reviews for the Nordkapp LV by Valley Sea Kayaks as submitted by your fellow paddlers. All of the reviews are created and written by paddlers like you, so be sure to submit your own review and be part of the community!
I've had this boat for about…
I've had this boat for about 3 years now, and I love it more all the time. It does everything quite well (fast cruising, surfing, camping, rock gardening), although it is not a specialist at any one of these things. It is, however the best boat I have ever used for a day paddle in varying conditions; it basically handles better and better the rougher it gets, and it is so much fun in wind, currents, and waves! While others are struggling, the NordkappLV seems to zip along effortlessly. It just makes kayaking all that much more fun, and it certainly makes me a MUCH better paddler! My absolute favorite kayak!
PS, I am female, 58, 155 lbs.
I bought one in early…
I bought one in early September, so it's been only 3 months now. For reference I am 5'8" and 200 lbs. I have been paddling a plastic PH Capella for 4 years. I've paddled friend's boats and tested several others over the past year searching for a new one; including: PH Cetus, Impex Cat 4, Capella 173, NDK Explorer, plastic Valley Avocet, a full size Nordkapp and WS Tempest 170. The Nordkapp LV stood out dramatically from these others. As always, these observations are mine and I may be crazy.
In three months I've had the boat out in a variety of conditions, including: 1 to 2 foot wind slop, clean 6 to 8 foot ocean swells, surfing 2-3 foot breaking waves, and a lumpy tide race east of Fisher's Island in LI sound. I've paddled with winds up to 25 kts coming from every direction.
Sitting still, the boat definitely has less initial stability than all of the other boats I've paddled. However, the lack of initial stability translates into much finer control in conditions. The Nordlow feels like a coiled spring full of potential energy, like it is just waiting for you to tell it to do something. Paddler input is instantly rewarded with a crisp response. It reminds me of a high performance sports car with really tight suspension and steering, any tiny movement of the steering wheel and the car responds instantly, no sway, no slop, no delay. Exhilarating, but pay attention!
As far as I can tell, there basically is no secondary stability; it'll edge over as far as you want to take it. Combine this with its very narrow ends and high rocker and the boat can be turned very fast. With some speed, aggressive edging and a solid low brace you can stand the Nordlow WAY up on edge and whip it around really quick for a 17 1/2 foot boat.
On a 3 mile crossing we had a 20 to 25 knot tail wind and surfed 3 foot swells all the way across. The boat was very well behaved. No sign of yaw from off angle waves, no difficulty keeping it on track. Counter intuitively, the lack of stability while sitting still on flat water translates to good behavior in random, confused waves. Those waves quietly move under the hull without affecting the boat's equanimity or path. Quartering headwinds will cause weather cocking that is easily eliminated with a little skeg.
In larger ocean swells (6-8 ft) the boat again proved to be very well mannered; in fact, surfing steep, nearly-breaking 8 footers was one of the highlights of my kayaking career. I can't quite say the same for surfing smaller, breaking waves. In steep 2 -3 foot breaking waves I had some trouble keeping the nose out of the water. When the stern is lifted and the boat picks up speed down the wave, the narrow, needle-like bow wants to pearl. Much of that may be my lack of skill, I'm still trying to figure out the positioning and timing needed to surf a longboat. Still, I seem to surf better in the Explorer, Tempest and Avocet; all show less tendency to pearl in breaking surf than the Nordlow. It is fine and fun in smaller, breaking 1 to 2 foot waves.
It rolls very easily. Despite the fact that I've been rolling in the Capella for 4 years I find it much harder to roll than the LV. The Explorer rolled almost as easy for me as the LV.
The most obvious characteristic of the boat is its speed- it is fast! None of the boats mentioned responded as quickly and efficiently to a forward stroke; it jumps forward. Once at cruising speed it feels much easier to maintain the pace than most of the other boats. The Cetus felt pretty efficient at cruising speed as well but was nowhere near as quick or responsive (although it'll easily carry a month's worth of gear which the LV won't.)
Overall my impression is that the boat requires more attention than the other boats I compared it to but the benefits are that it is faster and responds quicker than any of them. It also handles rough, confused seas and high winds at least as well as any of the other boats I've paddled. It is probably not the best choice for long-boat surfing or long distance camping but it is serviceable for those activities. I love the boat.
I've now had a Nordkapp LV…
I've now had a Nordkapp LV since October 2007. My Nordlow is beautifully made and, though a standard layup with keel strip, it weighs notably less than my 2004 ProLite lay-up Aquanaut. I have paddled the boat in an array of conditions on the coast of Maine and on Lake George, the Hudson, and a few other inland waters.
The Nordkapp LV accelerates faster than any other boat I've paddled. It responds effortlessly to corrective strokes. It comes about more adroitly than my Romany. It is a fairly tender boat when at rest and firms up noticeably when moving through lumpy seas. The Nordlow rolls faster than nearly any other boat in my experience. Having gotten spoiled by my Romany, I have window-shaded the 'kapp LV more than once.
The Nordlow is not a novice's boat. The 'kapp LV is by far among the more demanding and least forgiving of the sea kayaks I've paddled. When Peter Orton states "…for the advanced and advancing paddler" he is being honest and accurate. This boat has challenged my equanimity more than once.
I've lowered the seat a half inch which has improved the boat's stability a bit and made the cockpit fit more comfortable for me. I wish the rear of the coaming was at least an inch lower. A 'rolling' recess would allow for more comfortable laybacks while keeping the aft deck high enough to not scoop excessive amounts of water.
The most complete review of the 'kapp LV I've found is Douglas Wilcox's:
http://seakayakphoto.blogspot.com/2007/01/valley-nordkapp-lv-test.html
This boat makes a very responsive and quick day boat for someone my size – 6', 180+ pounds. The Nordkapp LV is a fun boat for those times one is on top of ones game.
Wow! I just picked up my new…
Wow! I just picked up my new Norkapp LV "Pro-Kevlar" boat and that's the first thing that came into my head, Wow.
First, I should tell you I am moving from a plastic Current Designs Storm, which in all fairness, has been a very solid dependable boat, and I gave it a beating. But, with an improvement in skills (hopefully), I felt it was time to get into a real kayak. I am 5'10", 165 pound male, who's been paddling for just over 10 years. I think I test paddled at least 10-12 boats, of many styles, and almost was sold on the Impex Cat 4. But then, I decided to paddle one more, and I fell in love with my Nordkapp LV.
It is quick getting top speed and a dream at cruising. My normal evening 8 mile paddle was 15 minutes faster on my first trip. As stated by previous reviewer, it was definitely twitchy at the start, but I expected that when I moved to a narrower boat. It literally turns on a dime when leaned, and I can't wait to go out during the day to roll. I've never used a skeg, but I was in some serious wind, current, and chop, and was able to track effortlessly with just a little skeg.
The fit and finish of this boat is amazing and the fit is almost perfect. With my size 10 Keenes, it was a little tight getting in, but once under way, I was fine. I have not tried a wet exit yet, but am not anticipating any issues. I chose the "Pro-Kevlar" (Kevlar/ Carbon hull)to save the weight, since getting on and off the car is the only part of this sport I don't like. The deck lay-out is well thought out and I love having the day hatch for my small odds and ends. Since I have actually only been out twice, I don't think it fair to give a 10, but I'm certain after a few more paddles, I will be updating my review.
I have now paddled my…
I have now paddled my Nordkapp LV since august and feel ready to write a review about it.
I am 182cm high and weigh about 80-85kg with paddle gear. My shoe size is UK size 8 or 9 I think. My boat I custom built and the forward bulkhead is moved aprox. 15 cm towards my feet. I have no footrests on the sides so I use the bulkhead as a footrest for now. The boat has keel reinforcement strip from the manufacturer. First of all the Nordkapp LV is a beautiful boat tho look at.
Volume:
Since I have a custom built kayak I get a lot of space in the forward compartment. There is no problem to take this boat on longer trips as long as you are willing to sacrifice some of the luxury goods. On weekend trips the space should give you the ability to carry what you need and more. The rear compartment is low and therefor a bit difficult to pack. I have experienced that it is easy to overload the front. Especially since I have a front compartment which is easy to pack big things in. Great with big hatches both fwd and stern. I have removed the sea padding to get a more comfortable position when paddling. Smaller paddlers would not have to do this.
Turning ability:
The boats shape makes this a very maneuverable boat. It reacts quickly to edging and combining edging with forward rudder makes it turn VERY hard. When leveling the boat after a turn it quickly gains a straight line again. I have not paddled any other boats that is that good at handling.
Surfing:
The boat is fast and catches waves from behind very good. Using stern rudder makes the boat great to control when surfing. The Nordkapp LV is a magnificent boat in rough sea. It handles good and takes head on waves great. Like all Nordkapp's it's a pleasure to paddle this boat in big waves. When having the sea from the side I usually give it a couple of cm of skeg and it then cruises in a straight line. I have had some hard landings on cliffs and "undersea" rocks and the keel reinforcement strip takes on most of the beating. I strongly recommend this for paddlers who like to take the boat out for rock-hopping and surfing at places with danger for smashing into rocks. When paddling into rocks under the water the hull flexes. This makes the chance for the gelcoat to crack smaller. I have no complaints about the finish of the boat. Can't find any errors.
The bulkheads are DRY! But the hatches are sometimes annoyingly hard to take on/off (cold fingers). But I rather want hatches that are hard to handle as long as there is no leak.
Summary:
The boat is quick and reacts excellent on different steering techniques. Excellent in rough sea.
This is a six month update to…
This is a six month update to my "first Impressions" review of the Nordkapp LV. Now after maybe 200 paddles the twitchiness has disappeared although on occasion it will still get my attention. It responds to the slightest paddle stroke and taught me fineness along with bracing on my forward stroke. It feels more stable as the conditions get bigger and is beginning to be a blast in the open ocean. It is more of an active paddlers boat not that well suited for bird watching. I still have a hard time stargazing without going for a swim.
The LV is very maneuverable and efficient. It is very easy to maintain a good cruising speed that continues whether loaded or in conditions. I would say it is skeg dependent in flat water and lowering the skeg an inch makes it into more of a point A to Point B boat., like having the best of both worlds. The skeg slider is easy to sight and the skeg is very effective and linear. If you have ever been caught in a storm you know it is nice to have a boat that will turn into the wind without a battle.
The fit is geared to the smaller to medium paddler and although there is plenty of foot room the thigh braces may be a tight fit for the large and best to try this boat on. I did remove the seat pad to lower my CG a bit but the seat and backband remain very comfortable. The construction is still flawless.
I've taken it camping twice and with my weight and 80lbs. of gear it was still lively and one of the fastest boats on the trip. I especially appreciated the larger front hatch and loved having my first day hatch.
This is a spots car and not a family sedan so if you want to paddle it for paddling sake this is a fun boat that will enhance your paddling skills.. Can't wait to see what the next six months bring.
Boat: Ultra Lay-up 43lbs.
Me: 5'11" 185lbs.
This is a first impression…
This is a first impression review of the Nordkapp LV. I normally wouldn't review it for maybe a year but as it is a new model and there aren't many to demo in the U.S. at this time, I'll do a little one.
I am 5'11' 185 lbs. 31" inseam, 60+ Y.O. and have been paddling 5 years. This is my eighth kayak and now I get to paddle about five days a week. Most of my paddling has be in a CD Caribou and the Pygmy Arctic Terns.
My search for a light, efficient, fun dayboat led me to demo a standard Nordkapp LV. I liked it and fit in it with a little room to spare. I do not have large thighs and paddle in warm water gear. My size 10 feet have plenty of room. I ordered one in the Ultra lay up which is Kevlar/carbon hull, deck and bulkheads, this saves around 10 lbs. a bit pricey but worth it for these old shoulders. No other options or special placement of bulkheads were ordered.
The boat that arrived is near perfection. Fit, finish and construction is the best I have ever seen in a kayak. The outside seam is very smooth and at first I thought it was the rubber molding type. I could find no excess resin anywhere and it weighed in at 43lbs. with hatches and compass. The seat is very comfortable with padded seat pad, matching hip pads and backband. I will leave these in for now. The Valley thigh braces are set more aft than I an used to but my knees and lower thighs have a grip under the cockpit recess. I will add a Minicel skin in this area just to improve my grip. The LV is not a tiny boat just a lower volume Nordkapp with the middle weight range being 180lbs. I can enter butt first and pull my legs in although it takes a little finesse if the boat is floating.
As other have said this boat is twitchy, I agree. Some if it may have to do with Nordkapp genetics but a lot of it is that I am coming from hardchine stable boats and some of it might be attributed to the fact that this boat is 10lbs. lighter than the boat I demo'd and 17lbs. lighter than the prototype that Sea Kayaker magazine reviewed.
I paddled it seven days consecutively and on the third day greatly relaxed in it. My confidence greatly increased when I hesitantly took it out in over 20kts. wind and wind driven white caps. The bow rode gently over the waves and to my surprise beam and rear quartering seas had almost no affect on the boat. They seamed to just pass under the boat. The skeg was very effective and the boat would instantly respond to slight changes. The boat felt more stable in conditions.
This boat turns very quickly and at first I found myself initiating my turns too soon and would crash into the mangroves before my intended turn. Even with the maneuverability it tracks fairly well and just a bit of skeg will make it a point A to point B boat, but that's really no fun. The LV feels very quick. It accelerates instantly and has an efficient very respectable cruising speed that holds up well in conditions. It doesn't have flatwater racer speed but neither do I.
As a dayboat it is a fun pure paddling boat. It will not inspire confidence in beginners but will reward those with established strokes and braces. This boat resounds instantly to any input and I quickly learned that finesse gets much better results than a heavy hand. It makes me look better than I am and after seven days the love affair has now begun.
Update in a year. Oh yeah, I'm not rating it, so you will just have to paddle it yourself...
This is not a full review as…
This is not a full review as I was only in the Nordkapp LV on flat water and not in conditions.
My main issue with the Nordkapps I'd paddled before was their volume. I felt I was skittering on top of the water. At 6' 165-170 lbs I found the Nordkapp LV a pleasure to paddle, brace, scull and roll. The boat is quite lively.
The boat accelerates nicely, responds to ruddering adroitly and rolls effortlessly.
The boat is not as reassuring as an Explorer or even an Aquanaut. It's stability curve feels like a Nordkapp. It is livlier than either Explorer or 'naut. It feels faster than an Explorer but not as fast an an Aquanaut.
The Nordkapp LV is the most fun 17.5' boat I've paddled. If I didn't already have a Romany, I might buy the Nordkapp LV as my day boat. I am giving it a 5 because I did not have enough time or conditions to rate it overall. Someone with real time in the boat will have to do a fuller evaluation.
IMHO the Nordkapp LV is a stunning looking boat as well...