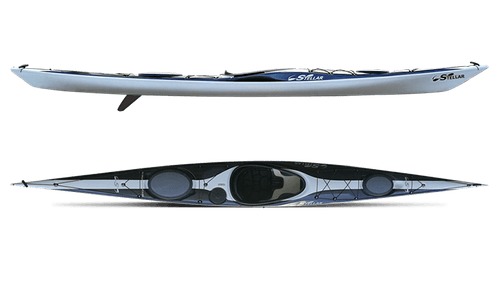 Intrepid LV SILV Options
Intrepid LV SILV Description
The new Stellar Intrepid LV SILV is a British Style sea kayak with a hint of Greenland in it. The fully outfitted expedition kayak has 3 hatches, a retractable Kajak-sport skeg, deck lines, bungee and sealed bulkheads. Sized for the smaller to mid-sized paddler the cockpit, seat and thigh braces, are optimized to increase comfort and performance. The hull, with hard chines and some rocker, allows for play in surf, races and rock gardens while the defined keel combined with a modified water lines have increased the efficiency of the hull making a smooth paddling kayak that edges nicely. There is plenty of storage for multi-day trips and an integrated rudder tube for those that prefer using a rudder.
Intrepid LV SILV Specs and Features
Structure: Rigid / Hard Shell
Cockpit Type: Sit Inside
Seating Configuration: Solo
Ideal Paddler Size: Average Adult
Skill Level: Intermediate, Advanced
Ideal Paddler Size: Average Adult
Skill Level: Intermediate, Advanced
Read reviews for the Intrepid LV SILV by Stellar Kayaks and Surfskis as submitted by your fellow paddlers. All of the reviews are created and written by paddlers like you, so be sure to submit your own review and be part of the community!
This kayak is a dream. I'd…
This kayak is a dream. I'd say it's slightly more advanced than intermediate due to the narrow beam and hard chines. The narrow beam also limits the kayaker size accommodation (I'm 5'7" 160 lbs F and just fit). However, the SILV performs beautifully and looks and feels like a racer. The hint of Greenland in the rockers allow it to efficiently slice through the water, and it rides the waves like a surf ski. I have the Mutisport for using in both oceans and rivers; the standard sketch plus a rudder make it more versatile. This low volume kayak still has plenty of storage and is light enough to lift onto an SUV roof. I just love, love, love my SILV!
The Stellar SILV is sleek,…
The Stellar SILV is sleek, fast and beautiful. Took it on its maiden voyage, a 20-mile upstream paddle on the Tennessee-Tombigbee Waterway. The boat performed beautifully. It tracks well without the skeg, When the wind kicked up, I deployed the skeg slider only an inch and the SILV ran unwaveringly straight. For my 165 pounds, the cockpit is a snug but not uncomfortable fit. Attention to construction detail is superb. At 43 pounds (Advantage layup) the SILV is easy on the back and shoulders when loading out.