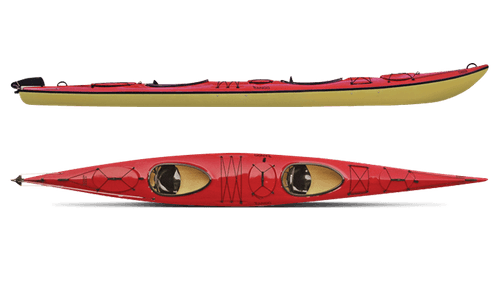 Tango 21 Options
Tango 21 Description
The Tango is a full-sized tandem kayak popular with guides and outfitters for its speed and cargo carrying capacity. The seats are spaced far enough apart to facilitate asynchronized paddling, and this also allows the addition of a 3rd watertight storage compartment amidships. Designed with a flared bow and continuous V bottom, the Tango provides added stability and reserve buoyancy. With numerous race wins in rough water conditions, the Tango has become a solid choice for adventure racing as well. A large Feathercraft™ K2 tandem rudder is included.
Read and submit reviews for the Tango 21.
Tango 21 Specs and Features
Structure: Rigid / Hard Shell
Cockpit Type: Sit Inside
Seating Configuration: Tandem
Ideal Paddler Size: Average Adult, Larger Adult
Skill Level: Intermediate, Advanced
Ideal Paddler Size: Average Adult, Larger Adult
Skill Level: Intermediate, Advanced
Read reviews for the Tango 21 by Seda Paddlesports as submitted by your fellow paddlers. All of the reviews are created and written by paddlers like you, so be sure to submit your own review and be part of the community!
I've had a Kevlar Mango Tango…
I've had a Kevlar Mango Tango since 2001. I've sailed & paddled it all over Maine with hand-held sails I made....once 13 miles. I'm in my 60's (female) and can get it on top of my lifted Toyota Tundra TRD on to foam blocks on my Yakima rack. This is one of the "best" purchases I have made in my life. Thank you Seda!
We've had our Seda "Mango"…
We've had our Seda "Mango" Tango Kevlar Kayak (mango for the color, Kevlar for the hull) for a few years now, taking it on varied adventures from gulf and ocean to lakes and channels. It has brought us joyous experiences, been rocked and bumped by a startled manatee - and not rolled over! - caught flying kamikaze fish, been the paddling plaything of comic cormorants, the companion of dolphins and sea turtles, enabled us to watch flying stingrays and hunting sharks up close, weave our way through tight twisting mangrove channels decorated with little crabs, - ah the list is endless! It remains in excellent shape, and was built back in 2001! Anyone out there know what these originally sold for?
I purchased a used Seda Tango…
I purchased a used Seda Tango after reading all the good reviews online. I just have to say I absolutely love it, everyone is right about the speed and stability, it is amazing. Mine is Fiberglass, and isn't the lightest or smallest boat to carry, but where it really performs is in the water.
I highly recommend this boat to people looking into tandems.
MANUFACTURER'S RESPONSE To: Peter - Alaska Sea Kayakers I am sorry Alaska Sea Kayakers…
MANUFACTURER'S RESPONSE
To: Peter - Alaska Sea Kayakers
I am sorry Alaska Sea Kayakers experience with the Tango was not satisfactory. In our private emails and phone conversations, we agreed that the boats did not meet your expectations in a number of ways. While all companies can find room for improvement, it is inaccurate to say that we refused to acknowledge any defect or to imply we did not respond to your issues.
The boats actually shipped up to Alaska and were in service the summer of 2007. Over the 2007 season, we communicated about a number of issues ranging from minor to a couple significant ones. In our email of 12-05-07, Seda offered to take any or all of your Tangos back under warranty after you finished the season, which you declined. We continued to communicate with you for the next few months focusing on resolving specific issues you identified, such as revising the keel strip. We also provided a financial credit in compensation. Our understanding was that our two pronged approach of hands-on service and financial payment both acknowledged and resolved the issue to your satisfaction, and this was confirmed by your payment of the balance of your account.
Our last email received from Alaska Sea Kayakers is dated 8-28-08 and we've heard nothing from you until today. It's now late summer 2011, and I certainly would hope that 5 seasons of outfitting use on Alaskan shores would leave your boats serviceable, but unfortunately we're not able to take them back on warranty. I hope you and the Paddling.net audience do not find that unreasonable.
As you bring up other earlier Seda production years in comparison, I'll clarify that the Tangos shipped in 2007 boats were built as Deluxe layups, a lighter build. Your older boats may have been outfitter or standard layup. We are certainly capable of building a heavier boat on request for those that will use them commercially.
Cheers,
John @ Seda
2008 model Seda Tangos are…
2008 model Seda Tangos are unserviceable junk and are for sale cheap. (We own 25 other Tangos purchased in 1996 and 2000. These are still sturdy serviceable kayaks.) The 2008 boats are extremely brittle, due to an overly hot layup during manufacture. Seda refused to acknowledge the manufacturing defect.
Caveat emptor.
So far so good. I'm only 3…
So far so good. I'm only 3 weeks into owning this boat and have taken it out in the ocean twice. I will follow up at the end of the season with my observations.
If my Nordkapp is like riding a dolphin then Seda Tango is like riding an Orca.
This is a big boat. Big to cartop, big to handle. But surprisingly, given it's length it is still relatively light. Two people will carry this boat just fine. It is probably between 80 and 90 lbs. This is my first boat I use the kayak wheels for moving it around. It does take two people to cartop this thing safely. But hey - it's a boat for two. I did try to paddle it alone and without a rudder it takes forever to turn this beast into the wind. With the rudder deployed however it is great. This boat could be a great fishing boat for one angler. I plan to try this. This boat will take you far in conditions and it is still stable enough to cast a fishing rod. Just put a neoprene cockpit cover on the front seat and off you go.
I'm taking one point off the rigging arrangements. For a boat this size it is surprisingly unproductive in arranging your gear on deck. For example to stow away my paddle while sitting in the rear seat is not particularly easy given the bungee arrangements. Also, in either seat, twisting around and stowing stuff on the back deck under bungees is surprisingly cumbersome. The bungees on the hatch covers don't provide enough versatility either. For this, I'm taking one point off my current review.
The Tango is 21' long and 29 inches wide. It could probably lose 2 inches in width and still perform well (maybe better). I'm no boat designer but I did stay at Holiday Inn Express once.
My major objective for this kayak is to use it with a second paddle who is either a novice or relatively weak to go considerable distance with a paddling group. Tango delivers here. Big time. I have paddled with my 10 year old son in choppy seas into 20kt wind and we were still able to make a headway. Speed - two of us can look like heroes along with decent paddlers. Tango is confidence inspiring especially for my 10 year old son. We paddle in bigger conditions that would scare him away in his single kayak.
Basically this boat is a lot of fun when going out with my son. I'll check back here in the fall of 2010.
We have been using our kevlar…
We have been using our kevlar Tango four years and it is a valuable part of the kayak fleet. Wonderful for big waves in Lake Erie, yet still manages exploring in smaller creeks. Great for taking friends not experienced in paddling. The lightness of this boat always amazes people and the speed is great.
I have had my Seda Tango…
I have had my Seda Tango double kayak since 1992. I have found no equal and it is the fastest double I have paddled, and I have paddled many doubles. Lots of room for gear and about the most stable kayak in the entire fleet of doubles... or my wife would not go out with me!! I paddle in the Pacific North West and the Tango handles about as good as you can get under severe wind conditions [get the rudder with it]. It is also a very stable fly fishing platform.
I purchased my well used and…
I purchased my well used and somewhat abused Tango a little over a year ago. This fiberglass model had seen its fair share of beach landings, and even some part time use as a rental boat for guided tours. No, matter, she's scuffed and abraded but perfectly serviceable, and despite owning several performance oriented boats, she may be my favorite of the quiver. From outings with my daughter and her friends on the local lake, to summer excursions out to the Norwalk Islands and secluded beaches on the Cape, to a circumnavigation of Manhattan in the Mayor's Cup Race, she does it all.
First and foremost, the Tango is supremely stable. My tandem partner and I were tossed like a cork in the East River through 5-6 foot refracting waves, and never felt in danger of capsize. On one rogue wave thrown by a DEP barge, witnesses on the CG cutter next to us noted that my tandem partner was clear out of the water with nothing but daylight showing beneath, and all the time we were whooping and hollering. She goes to conditions extremely well. The deep V of the hull slices through waves, and the high bow ('prow' is perhaps a better descriptor) makes for a dry ride. You get the impression this boat was designed for big water. On a calm lake it's sheer overkill, like piloting a war canoe on a duckpond. It will complacently plunk around, but it always feels a little bored, if personification is admissable. It wants to head to the open water.
The big Feathercraft K-2 rudder takes a solid bite, and will turn this behemoth quite quickly for its length. In narrow tidal marshes, it capably maneuvered through the tight switchbacks, despite 21'of length, and rarely ran aground in as little as 6" of water. Surprising. Without the rudder, it's a lot of boat to attempt to lean or correct its tangent using paddle strokes alone. The sliding footpeg system works adequately, although the hull is very wide and your legs are far apart; I'd like to see a brace/gas pedal system on this boat to provide a more solid platform to push against, along with offering a variety of foot positions. Using the aluminum Yakima slotted sliders instead of the cheesy plastic tracks contributes a far more solid feel. Normally, such a wide stance could contribute to pressure on the sciatic nerve, but surprisingly, the seating front and rear on this boat is supremely comfortable. I suffer from sciatica in all my boats, but the Tango is the only one that I can go 4-5 hours in without a worry. It's exceptionally roomy-you can practically sit cross-legged in the thing, wonderful for changing up seating positions and stretching while on board. You do sit deeply in the boat; the cockpit coaming comes up high around you. Some have likened it to sitting in a bathtub, but I have no complaints here-keeps you high and dry. Due to the width of the hull, and my acclimation to narrower hulled craft, I do paddle strike quite frequently, which can be annoying. I'd like a narrower catch, as with two partners both swinging wings, you can make this baby go. While we're at it, some recessed fittings for the decklines would be nice-maybe the newer versions have this to avoid the occasional knuckle strike when your hands dip lower as the day wears on.
The Tango is surprisingly fast for its width, as one reviewer noted. At even a conversational pace, it is quite easy to gain on and pass singles, who will be more than happy to sit on your considerable wake. Paddling with my daughter, who's prone to laying down her paddle, swinging her legs over the side and just taking in the sights, I'm amazed at how easy it is to paddle her solo-the boat is well balanced, and maintains a good clip with only the power of one. Last year on vacation, this was the scenario, along with a tow belt line to my wife's single. when you've momentum built in the Tango, she just glides along.
The hatches remain dry through all manner of spray. the neoprene covers do a good job of sealing out even minor weeping. The fiberglass covers are a bit awkward to shoehorn on and off wedged under the bungees the way they are, and will sink when released without a stock tether to prevent this happening. Bungee placement is a bit strange due to hatch location; I do miss having bungees right behind me for drinking bladder use. The storage capacity is immense. Like a huge SUV, you'll be tempted to bring everything along just because you can. Just keep this in mind when it comes time to pull it up on shore.
The weight. I wistfully imagine what a new kevlar version of this craft both looks and feels like. My fiberglass layup probably weighs in at close to a hundred lbs. Thankfully, by positioning myself by the center hatch in the middle of the boat, and grasping the front and rear cockpit coamings, I can fairly easily move it around. Its length and bulk make loading it on the roofrack a prop and slide affair; I use a roller to assist, but there are always a few moments of 'focus' when the deep 'V' bow wants to flop from one side to another when on the roller. It goes without saying that front and rear tiedowns are de rigeur.
In closing, if I could afford a new, all kevlar version, I'd go for it. Ultimately, I'd like to see it a little less beamy, with some of the aforementioned items from my wish list as noted above. That said, it's clear this boat is meant to move two people along at a more than respectable clip for long expeditions, yet it is not limited to this purpose. The folks at Seda are always more than helpful at sourcing parts or assisting with questions. While no boat in my eyes is perfect, I have to say I do love this one.
Here's the background: two…
Here's the background: two years - self taught intermediate paddler with decent paddling technique / skills. I weigh about 200#s. I bought this boat for adventure racing, training and to take either my 5 year old or wife out paddling on occasion. This boat has not disappointed. I'm reviewing a fiberglass model that weighs about 80#s, I got lucky and found a couple year old used yak. Where do I start...
Storage - Taken enough gear for a long day trip, with room to spare
Cockpit - lots of room inside, ridden both the front and rear. despite a 33 x 16" hole, my teamate who's like 6'1" and 220+ has no problem fitting in. Seats are comfortable, I don't get any numbness in my rear or lower back pain when on the water 4-5 hours.
Stability - Initial stability is great, secondary stability is good. I would have to do some thing really stupid or have both paddlers leaning to one side really hard to tip this thing.
Weight - It's a tandem and weighs a lot, yet I am able to load it on top of my truck by myself with some effort - I use a thule goal post on the rear hitch. For a smaller person or someone who has full and high rooftop, you should probably invest in some rollers to load this thing.
Turning - As you know, paddling a tandem is a different breed of cat, lean is pretty much n/a but the K2 rudder works well and is responsive. The Werner sliding foot braces work well, but take some getting used to.
Windy Conditions - I wish I could comment more, but I haven't had to paddle this thing in more than 10 knot winds. The boat tracks extremely well because of the V-shaped hull (and rudder). I'm particularly picky about zig-zagging as it's basically wasted effort.
Rough Seas / chop - very good. I don't find myself bracing that much or at all, it's possible it's because the combined weight of both paddlers helps keeps things stable.
Finish, deck gear, hardware - perfect, boat looks great, ergo handles make the boat comfortable to grip and carry, plenty of bungees for stowing gear, hatches don't leak.
Speed - This is a relative term I guess and the underlying premise is that you give up speed for stability and vice versa. Well for as stable as this boat is, it's pretty fast. There are faster boats on the market - I've paddled a sisson, but naturally they are much less stable. This boat works for my purposes of being able to take my family or beginner/intermediate paddlers on.
Example: Me and beginning adventure racer - combined weight including our packs 460#s (yes heavy) started 9 minutes late on a 12 mile paddle. Made ups some time, caught a lot of teams. We finished 3rd, right behind a veteran team paddling a seaward and another team paddling a tandem surf-ski. I can also paddle this thing solo. I've thrown my 5 y.o. son in the front or my wife (both of who don't really paddle so it's like paddling solo) and can still keep a good cadence with the boat moving 3-4 knots. I have surfed this thing in 3-4 foot doheny and it is capable. Felt like an outrigger in waikiki.
If I had to find any negatives about the boat, I'll just say that the length and weight of the boat make it hard to handle by yourself and a kayak cart is a must. Also finding indoor storage space in a garage for a 21'+ boat is very tough!
Lastly, I'll say Seda customer service is great. They are always willing to take the time to answer all your questions about your boat and gear. I've been restoring a mid 90's glider and Seda has been extremely helpful in making sure I get all the right parts in a timely manner.
I have owned the Seda "Tango"…
I have owned the Seda "Tango" since Nov. 1992 and LOVE it ! It is the most stable double Kayak I have ever paddled. In the beganning I rented many, many different doubles prior to buying the Tango and found it to be the FASTEST and STABLESTY double of them all. My wife and I are not strong paddlers but no one, yes no one has beaten us yet, including another double with two big strong male paddlers trying as hard as they could. If you want a fast, easy to "get going", stable, easy to paddle, with excellent initial stability, the Tango is in it's own class;especially if you have a wife that is as skittish on the water as mine is ! ! I paddle in the Pacific North West and it is stable in the winds and waves and tracking is as good as it gets.It has sound fiberglass construction, with lots of storage capacity , two 33"x13" cockpits and third cock-pit for a child, or a dog, or more "stuff".
Only problem is that secondary stability "isn't there". It's long [22 feet]so the rudder comes standard and is needed for the turns; It is a bit too heavy [95lbs.] unless you get the $$ Kevlar; although the price of the fiberglass is a real buy.
The Tango is a peach of a…
The Tango is a peach of a boat and one of the fastest doubles on the water. She has been in competition dozens of times and if she does not win she comes in very close to first place. The one I have used is the Kevlar model, which makes it very light for such a large boat. The design is well thought out with sufficient space between the seats to prevent paddle clashes. This space is used for a covered storage which makes it a fine expedition kayak. I paddle mostly in San Diego and nearby Mexico, which means open ocean. She enters and exits the surf gracefully, and is fast enough to stay very close to the grey whales when they migrate through. The whales average six knots, so you have some idea of the speed that this boat can travel with two good paddlers. If you want a good looking, fast and light double this is the boat.