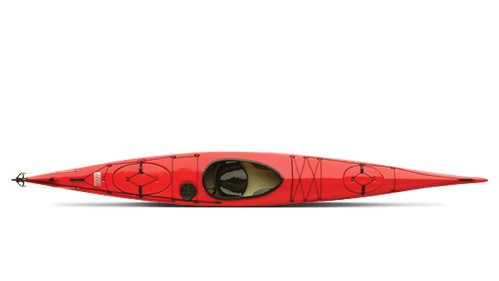 Swift Options
Swift Description
If one needs a fast intermediate touring kayak with more initial stability, the Swift delivers. The latest version of this venerable design incorporates flush hatches and fittings while allowing for an optional day-hatch for easy gear access. A popular choice with intermediate paddlers, the Swift is ideal for those ready to step into a longer, faster kayak. It possesses a beautifully flared bow combined with low-profile fore and aft decks that keep windage to a minimum. Fast and easy to paddle, the Swift excels at covering miles quickly and efficiently.
Swift Specs and Features
Structure: Rigid / Hard Shell
Cockpit Type: Sit Inside
Seating Configuration: Solo
Ideal Paddler Size: Average Adult, Larger Adult
Skill Level: Intermediate
Ideal Paddler Size: Average Adult, Larger Adult
Skill Level: Intermediate
Read reviews for the Swift by Seda Paddlesports as submitted by your fellow paddlers. All of the reviews are created and written by paddlers like you, so be sure to submit your own review and be part of the community!
I bought a used 1998 Swift a…
I bought a used 1998 Swift a couple years back as my first "grown up" boat, and have paddled it all around the Seattle area. Big fan of this boat. It feels speedy, handles chop well. The cockpit is fairly comfortable. Thigh braces are well-placed. The boat feels very stable in my opinion -- I've never come close to tipping despite being a relative novice.

Maneuverability is OK, I do have to take fairly wide turns. Although it's 48 lbs, in my comparison shopping that was a pretty good weight for an inexpensive 17 foot kayak.
The seat could use some work, I'll probably pad that eventually.
Overall an excellent boat that I hope to use for many years.
My wife and I bought our…
My wife and I bought our Swifts in 1997,have used them all over California lakes and ocean bays and inlets. They are stable and fast and comfortable. We've never regretted our decision to invest in them. You can't go wrong with the Swift!
I had never seen a Seda kayak…
I had never seen a Seda kayak before mine (2006 Swift, kevlar) arrived. I made the choice based on lots of research and networking, and I am incredibly pleased with my new Swift.
When my Swift arrived and we unpacked it on the front lawn, I was very impressed with the quality of construction and the attention to detail. I have seen competing boats from the well-known brands, and the Swift really looks much better. The fabric layup, glassing, and trim look absolutely perfect.
I've now had a number of paddles in a variety of conditions, and the Swift is everything it claims; great stability and really fast. The glide is unbelievable! I paddle with a club (45 kayaks) on Hilton Head Island, and the Swift has moved me from the middle of the pack to the front! I tried a dozen different boats before choosing the Seda Swift, and it is the most comfortable, most stable, and fastest. And drop-dead gorgeous.
I bought the Seda 17ft…
I bought the Seda 17ft "Swift" this spring 2004, and have used it all summer and into the fall in Pacific Northwest waters. It is easy to get underway and very fast if you want too. I have the deluxe [lighter] fiberglass option and it is light enough [47lbs] for a 69 year old to car-top. It is a good boat for the beginner as well as the more advanced paddler. It is quite stable [24" beam] for such a fast boat, and has very good initial stability. I had the factory rudder installed as I would not be with out one in heavy waves/chop in a Pacific NW gale! For the price it's a fantastic buy. I even let my wife use it!
Just traded for this boat and…
Just traded for this boat and find it fast and fun. No rudder, but does not need it. Fits me ok (5-11, 190 lbs)but my wife (5-2, 105) loves it and has taken it over. No problem -- I have my Cape Horn Pro and we fly together.
Took a long demo paddle last…
Took a long demo paddle last month. Loved the boat; it was going to be for wife, but she found it a bit too advanced for her. It fits my needs greatly, and would highly recommend it. Very stable once underway, and seemingly almost as fast as their glider...not quite, but fast enough to be lots of fun. I have another kayak, so did not buy. It is a great value, fast, and comfortable. The Seda people are wonderful; helpful and patient. It is definitely on my short list when and if I buy a new kayak for myself.
Just got a 7 year old Swift.…
Just got a 7 year old Swift. It's very stable and tracks well even w/o the rudder. Even as a beginner, on 2-3 ft swells, I never felt off balance. On the minus side, the gel coat seems to scratch off very easily. Also, the interior isn't smooth, so no matter how much I hose out the cockpit, there's still a lot of sand stuck to it after it dries. Otherwise, a very good boat
I have just bought a new…
I have just bought a new "swift" from SEDA, the "2001 swith" is great they redid the front deck, doing away with the man hole type front hatch and did a real nice job of a flush hatch (neo/fiber glass cover) some of the glass work a little ruff, but a great fast, and fun yak.
Lightweight kevlar layup, no…
Lightweight kevlar layup, no gelcoat, no rudder. Weight around 38 pounds. Used mostly for day paddles up to and including open ocean conditions. I have owned a Swift since 1997 and use it almost exclusively even though I also own a Gypsy and an Impulse. My personal opinion is that the Swift is the best boat in the Seda lineup, all things considered. Its stability is similar to the Gypsy's (read: very good) but it is much faster than the Gypsy - much closer in speed to the 18' Seda Impulse. I think the Swift's speed is partly due to its full bow and stern (high prismatic coefficient); the high-volume stern reduces the boat's tendency to squat under power compared to the Impulse (which has a finer stern) and allows the Swift to maintain a longer waterline at speed. In addition to being fast, the Swift is comfortable and much more turnable than the Impulse - particularly in windy conditions. At the same time it tracks well. Build quality is very good. (Seda recently adopted a new seam which is esthetically nicer than his old seam although I don't know if it's any stronger). All in all the Swift is a fine design and IMO one of the better singles on the market. Personally, there is very little I don't like about this boat.
Decent kayak. Stable enough…
Decent kayak. Stable enough for a beginner, yet interesting enough for those with polished skills. The one I've been paddling is borrowed from a friend, but I like it. And definitely a good value. Nice boat.