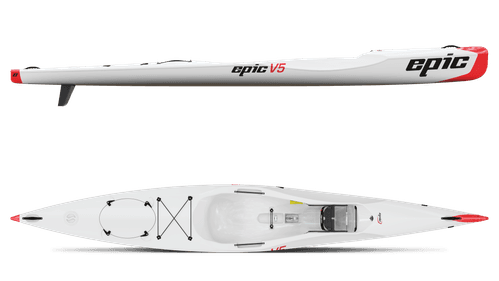 Epic V5 Surfski Options
Epic V5 Surfski Description
The Epic V5 is now available in two lightweight composite layups, the Ultra and Performance, as well as the extremely durable Rotomolded layup. Excellent stability allows beginners to jump on and paddle with confidence and give more experienced paddlers a short, stable surfski to use in big or rough conditions. Sleek lines and Epic's comfortable surfski cockpit make the V5 perfect to learn downwind paddling and great for playing in the surf zone. The V5 composite, with its lighter weight, is even easier to carry to and from the water and unload from your roof rack. The V5 comes standard with under hull rudder, adjustable foot brace (including pedals that automatically adjust line length), rear storage compartment, bow and stern handles, center carry handles, water bottle holder and Epic's patented bailer. An optional stern kick up rudder can be added to the Rotomolded version with no modifications needed to allow the V5 to be paddled in shallow or rocky areas.
Epic V5 Surfski Specs and Features
Structure: Rigid / Hard Shell
Cockpit Type: Sit on Top / Open Cockpit
Seating Configuration: Solo
Ideal Paddler Size: Smaller Adult/Child, Average Adult
Skill Level: Intermediate
Ideal Paddler Size: Smaller Adult/Child, Average Adult
Skill Level: Intermediate
Additional Attributes
Under hull rudder
Adjustable Foot Braces
Rear storage compartment
Bow and stern plus center carry handles
Optional stern kick up rudder
Read reviews for the Epic V5 Surfski by Epic Kayaks Inc. as submitted by your fellow paddlers. All of the reviews are created and written by paddlers like you, so be sure to submit your own review and be part of the community!
I have a V5 in performance…
I have a V5 in performance layup. I custom ordered it with no rear hatch. The performance layup, no rear hatch, the short length makes for a durable ski for surfing reef breaks. I do use it mainly for surfing, but it also fast enough for open ocean paddling and riding ocean swells. One hell of a durable, super stable, good fun machine. My V5 and SLS10 both in performance layup are my "crash and burn" surfing skis. I have yet to "snap" these in surf. A little more weigh to manage on land compared to the Ultra or Elite layup skis I have and had, but all's good once the boats are in the water.
Ridiculously fast and fun for a fourteen footer!
Here is my video review:
https://www.youtube.com/watch?v=y-jLe8_m6Ms&t=4s
Having been a long time Sit…
Having been a long time Sit On Top paddler I had always yearned for something faster and sleeker then the barge like SOTs available. I had read reviews on the many surfski's out there and thought this would be the next step in my evolution of kayak purchases. The downside to what was available was the stability, price and materials used. I paddle mainly rivers and bays in NW Florida and like to launch and land frequently and the thought of grinding the carbon/fiberglass bow repeatedly on the shores made me cringe, plus I wasn't able to plunk down the 2k-3k premium. The other issue was stability; the positive aspect of the current range of SOT's was the extreme stability provided by a 30" width, so moving to 20"+or- width seemed daunting. So when Epic announced their creation of a rotomolded surski at an affordable cost I was excited for this proposition. After researching and talking with several dealers I decided on the Epic V5. Kayaktrader.com delivered the kayak and after work I was on the river.
Pros:Great entry level surkski! rotomolded plastic, light weight easy to handle at 14' and 46 lbs can be put on top of car and carried by yourself. Great stability for a surfski, I have a large frame @ 230lbs and haven't toppled out yet even through boat wake and small rollers, haven't paddled through beach surf yet but I anticipate it to be manageable. Optional drop down skeg was purchased for it and it makes it nice to be able to pull up to shore without worrying about damaging fixed skeg under the boat. Speed is a definite plus, the design of this boat is made for just that. Cuts through the waves/water and is easy to get onto plane with an efficient stroke. Cost- at $1,495 it's a much more affordable way to experience a high quality surkski.
Cons:Boat comes as is, no booklet to read about how to adjust foot braces or using bailer. They are somewhat intuitive but recommend reviewing videos by Epic or Kayaktrader to adjust braces for best fit etc. Be prepared to get wet, waves will come in, just the design of it so learn to use bailer.
TL;DR - Great boat, great price, very stable, fast, good weight, great first surf ski, can be a wet ride.