A trip to Hawaii is towards the top of pretty much everyone's bucket list. These isolated volcanic islands in the middle of the Pacific Ocean offer endless opportunity for those seeking tranquility, beauty, culture and adventure. It also happens to be one of the best locations for watersports in the world. In fact, surfing originated in Polynesia and was made famous by Hawaii's own Duke Kahanamoku.
But surfing and SUP boarding are not the only water activities that attract tourists from around the world to its welcoming waters. Both outrigger canoeing and kayaking are wildly popular throughout the islands. While some areas experience dangerous winter swells, and others have dangerous shore breaks and hazardous cliffs, there are still some truly spectacular places to launch a boat and paddle out in this island paradise. There are too many hidden gems spread among Hawaii's 8 islands to mention, so we have composed a list of the top 11 spots that you should try your best to explore when you make your way to the Aloha state.
1. Na Pali Coast, Kaua'i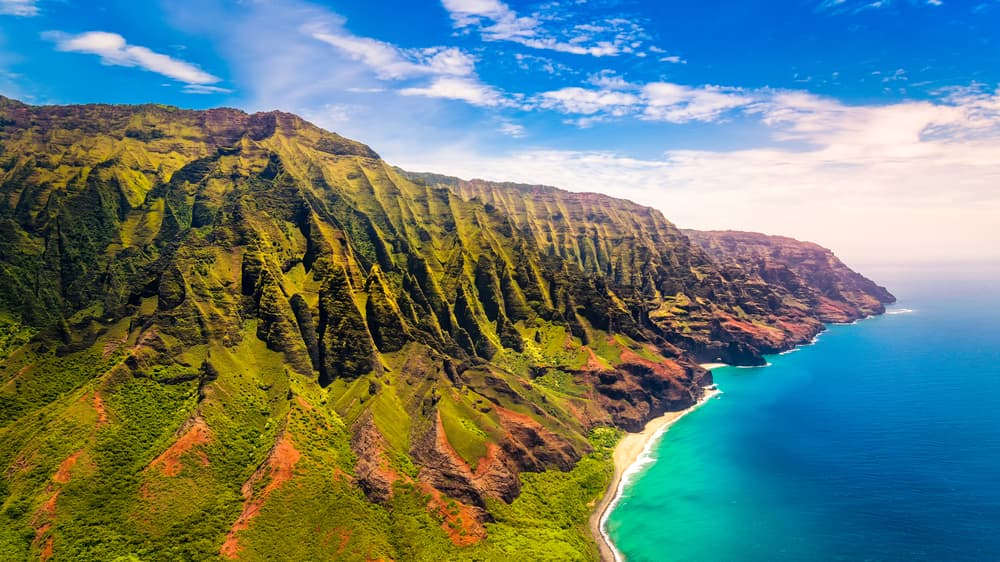 If you are looking for that once-in-a-lifetime paddling adventure on your trip to Hawaii, look no further than the Na Pali Coast. This protected mountainous strip of land along Kaua'i's North Shore is one of the most famous stretches of coastline in the world. Its beauty has been featured in such films as "Jurassic Park" and "King Kong," but is best seen in the midst of a bucket-list-worthy 17-mile paddle.
You need a permit to camp at the stunning Polihale Beach Park, where you can enjoy the remote beach, complete with plunging waterfalls. This paddle is only accessible during the summer months, and is best experienced through an organized tour. Between October and March (or even later), waves can be 20 feet or higher on the North Shore of the island, making kayaking impossible.
2. Lanikai Beach To Mokulua Islands, Oahu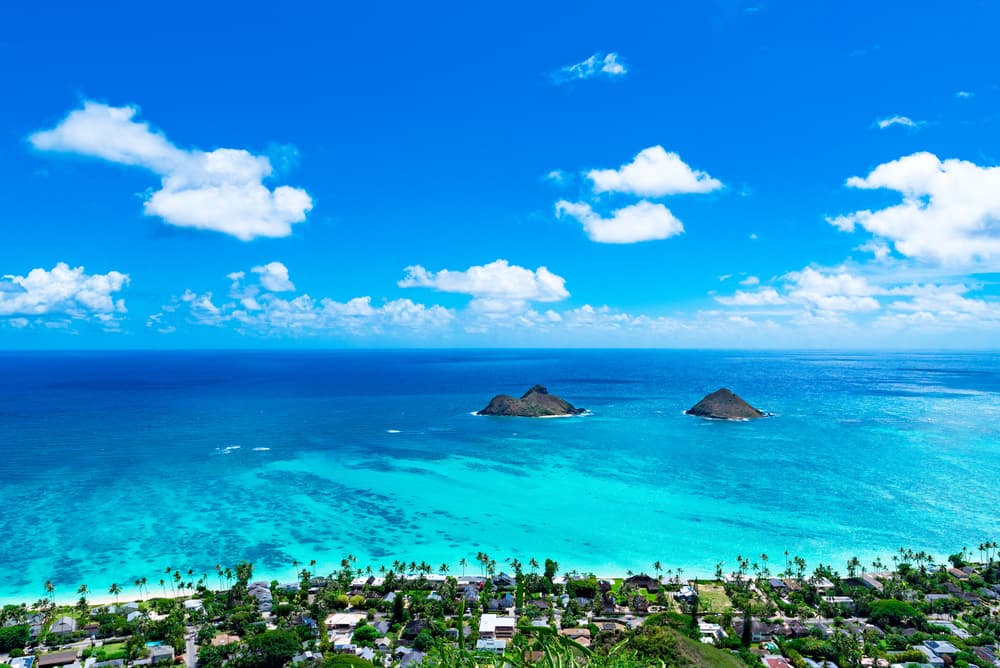 Arguably the best day paddle trip on Hawaii's most popular island, Oahu, is a paddle from Lanikai Beach to the Mokulua Islands. These islands are referred to as "The Mokes," by locals and stand out as stunning pieces of landscape jetting out from the otherwise endless pristine waters of Lanikai Beach. The paddle can be done any time of year, as long as the winds are not too strong.
You can easily rent kayaks from a number of vendors around Kailua Beach Park. The kayak journey out and back can be accomplished in a morning or afternoon. Pack plenty of water and snacks to enjoy as you explore the islands. Best of all, when you return after a nice kayak workout, you can lay out on Lanikai or Kailua Beach, with its powdery sand. The Kailua and Lanikai beaches are some of the absolute best in all the Hawaiian Islands.
3. Makena, Maui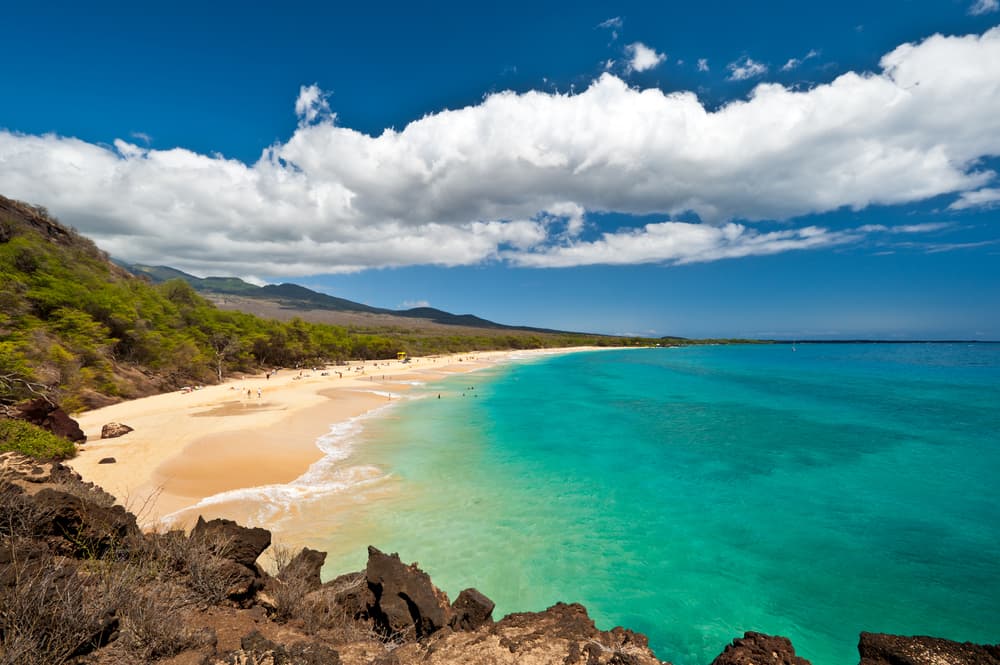 Makena has some of the most incredible and sought after sections of coastline on Maui. It's no wonder why The Four Seasons Resort, Waldorf Astoria and others chose their locations just down the road in Wailea. But Makena has more than just luxury to offer. It is also one of the best places on the island to paddle.
There are plenty of sandy places to launch, and lots of untouched rugged coastline to paddle close to, as these waters are generally well-protected. There are tons of sea turtles swimming in these waters. In fact, the long stretch of coastline between its unique Black Sand Beach and Nahuna Point is referred to as "Turtle Town" because of its thriving turtle and sea life population.

4. Wailua River, Kaua'i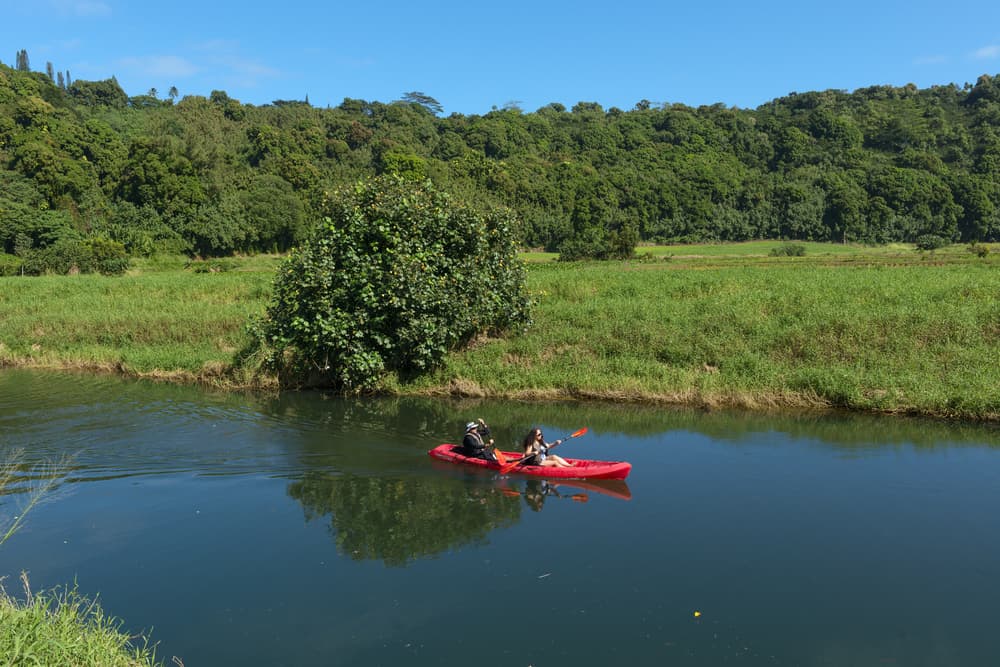 While many of Hawaii's top paddling destinations reside along protected reefs and in the crystal clear ocean waters, Kaua'i offers a magical fern and jungle exploration along its famous and important Wailua River.
This 2-mile stretch offers so much for those who paddle its waters. There are rich cultural discoveries found nearby including Kamakila Hawaiian Village, and an ancient Heiau, an archaeological site that is the remnants of an ancient Hawaiian temple.
There are also some spectacular natural sights that you won't see on an ocean paddle. Among them are a storybook-like fern grotto as well as several waterfalls including Opaekaa and Wailua Falls. This is a fantastic jungle adventure for those who aren't afraid to get a little muddy and up-close-and-personal with Hawaii's flora and fauna.
A Wailua River trip is a great day trip for those who are also kayaking the Na Pali Coast or Hanalei Bay (or are unable to do so because of weather).
5. Kaneohe Sandbar, Oahu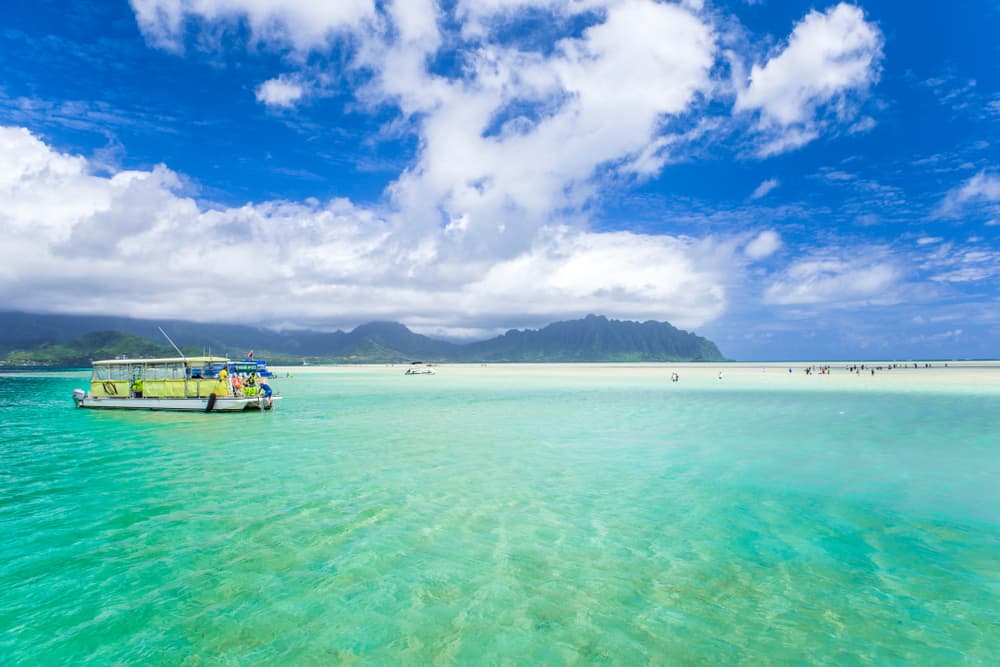 If you are looking for a great way to incorporate a day at the beach with a day at the bar, and also a day of paddling in a kayak, look no further than the Kaneohe Sandbar. Located about 1.25 miles offshore from Oahu's Kaneohe town sits a giant shallow sandbar. As low tide approaches you will find powerboats, catamaran tours, kayaks, sup boards and even swimmers relaxing along the edge of the sandbar.
People bring chairs, coolers, even grilles to the sandbar, creating a disappearing beach and tailgating experience. It is a truly unique paddling adventure that is best enjoyed with a group of friends. It's a great way for an adventurer to get a solid paddle trip on the way to a social event. If only every barbecue could work this way!
6. South Shore Reef, Molokai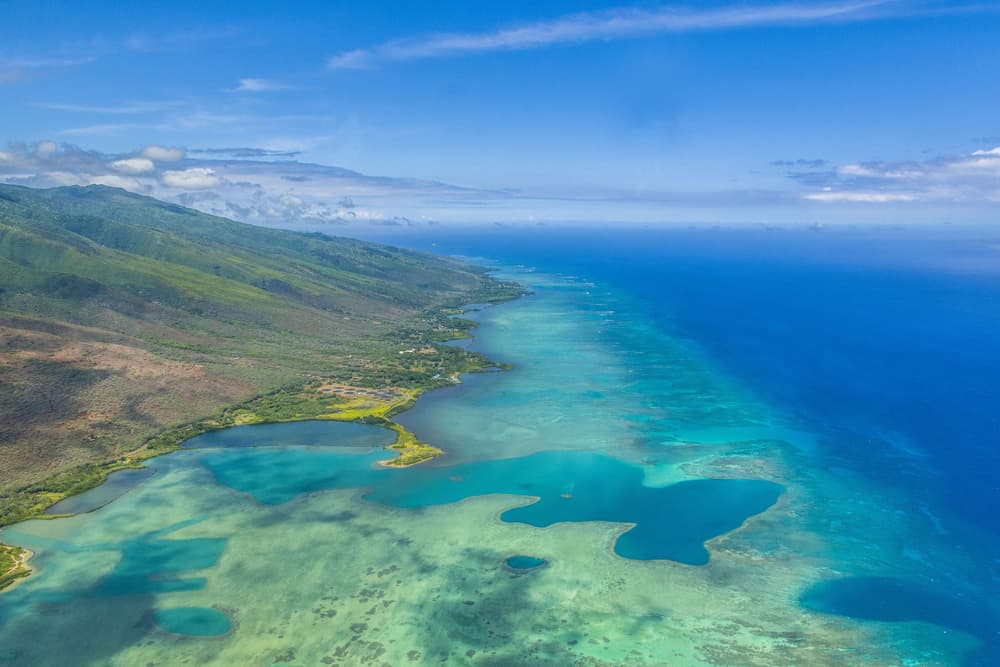 Molokai is a stunning, scarcely populated and rarely visited island in the Hawaiian Archipelago. While the breathtaking cliffs of Kalaupapa (so of the highest in the world) get the most attention from adventure seekers, the island's south shore is a hidden paddler's paradise.
Molokai's South Shore Reef is the longest barrier reef in the Hawaiian Islands. It offers spectacular protected paddling and snorkeling opportunities. It is a great place to kayak in tranquility and feel at one with nature, as it is not frequented by tourists.
You can take a ferry from Lahaina, Maui to get to Molokai. This paddling destination is a great add-on to a Maui trip as it gives you a chance to truly disconnect from modernity and society, with the luxury of Maui just a ferry ride away.
7. Kealakekua Bay, Big Island, HI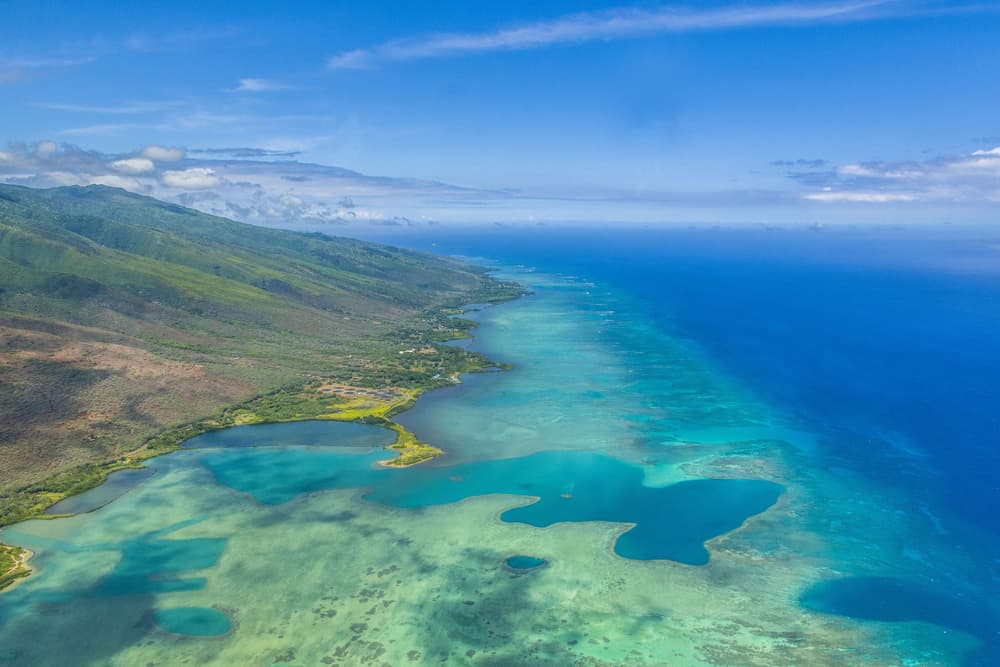 Kealakekua Bay is both stunning and rich with history. Paddle from the shores of the bay to the Captain Cook Monument, a large obelisk on the shore marking the spot where Captain Cook was killed in 1779. In addition to this being the location when Captain Cook arrived and died, it is also near where Hawaii's great ruler King Kamehameha III was born.
You can soak up all this history and folklore on a guided paddle expedition, or do your own research and explore at your own pace. Either way, make sure you embrace the beauty around you as well as the past.
Kealakekua Bay is one of the best places to snorkel on the Big Island, and its waters are well-protected for most of the year, making it a great activity for beginners and families. Keep your eyes peeled for Hawaiian spinner dolphins, monk seals and sea turtles.
8. Hanalei Bay, Kauai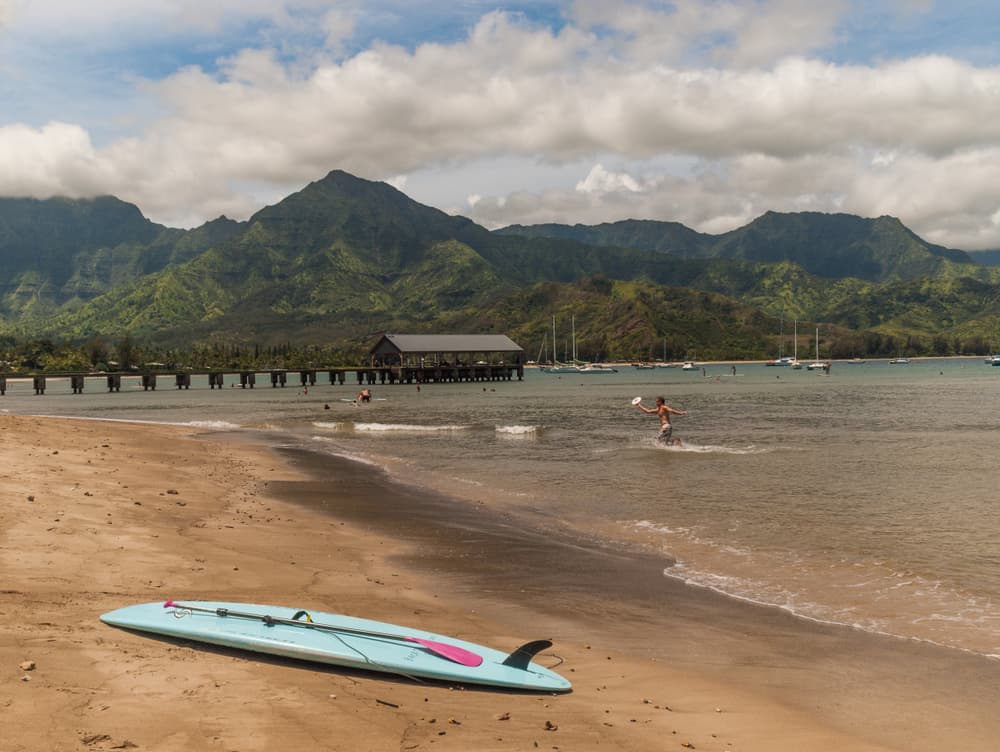 If you want to explore the majesty of Kauai's North Shore but aren't able to make the 17-mile Na Pali Coast adventure, don't panic. Hanalei Bay and its surroundings offer incredible paddling opportunities as well. Hanalei Bay is known for its adorable surf-style beach town and epic winter waves. But when summer rolls in, the waters flatten and make for perfect beach days and amazing paddling opportunities.
You can paddle on your own or with a guided tour. Explore all around the bay past the Hanalei Pier and head over to Queen's Bath, a nature-made watering hole used by royalty in the ancient days. You can even go up the Hanalei River, which you can explore along a few routes that stretch upwards of two miles. The Ocean and river combination is a great way to see several different natural environments on this lush tropical island.
9. Molokini Crater, HI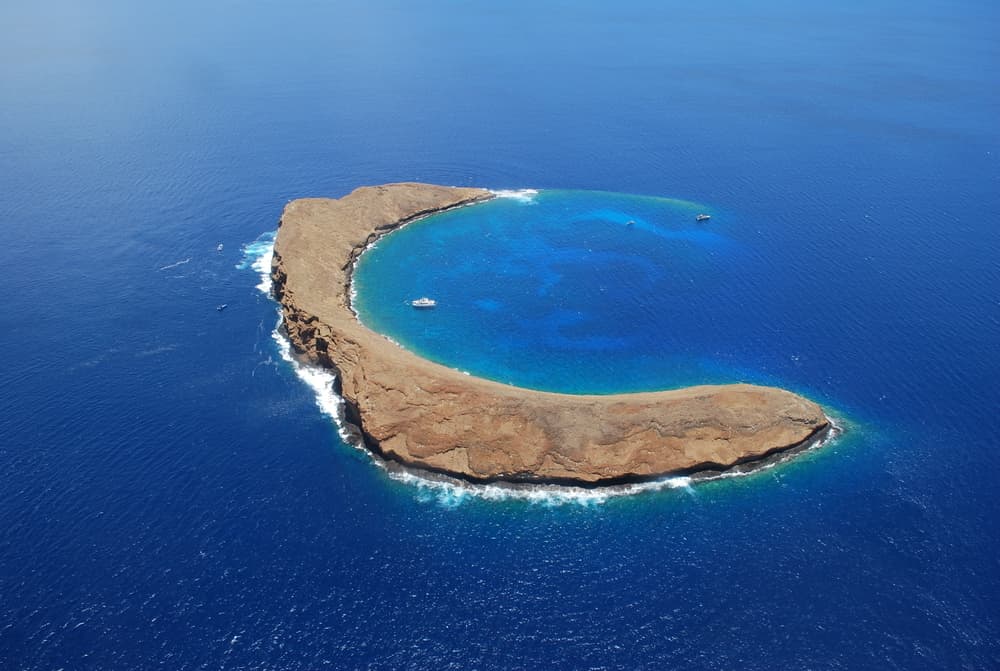 Molokini Crater is a marvel to witness from above. Shaped like a crescent moon, this remnant of a volcanic crater is one of the top snorkeling and watersports destinations on Maui. Located 2.5 miles off the coast of southern Maui, the most common way to reach it is through a chartered boat or tour. But there are also several kayak tours that venture out into the open waters and head to this sliver or paradise.
This paddling experience is not for beginners or children. But if you are a confident paddler, it is perhaps the best and the most adventurous way to make your way to Molokini Crater.
10. Kailua-Kona, Big Island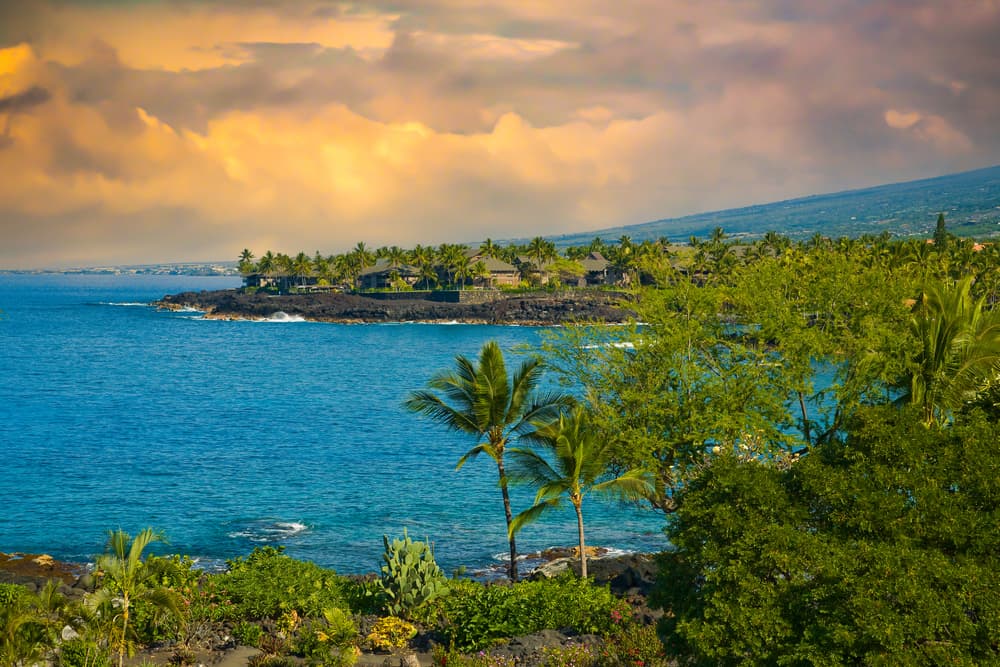 Kailua-Kona is one of the most popular town to visit on Hawaii's Big Island. The town itself is quaint and adorable, and it's resorts are plentiful and peaceful. Best of all, the paddling opportunities are fantastic and bountiful. You can paddle with expert locals on an outrigger canoe, soaking in local history and learning the local paddling methods.
You can also kayak throughout Kailua-Kona, which is one of the best ways to explore its often jagged and sharp coastline. You can find protected coves and tide pools, spot sea turtles, thousands of fish and even whales. You can rent a kayak or join small group paddling expeditions led by local guides who can take you to caves and hidden spots known only by locals.
11. Waikiki, Oahu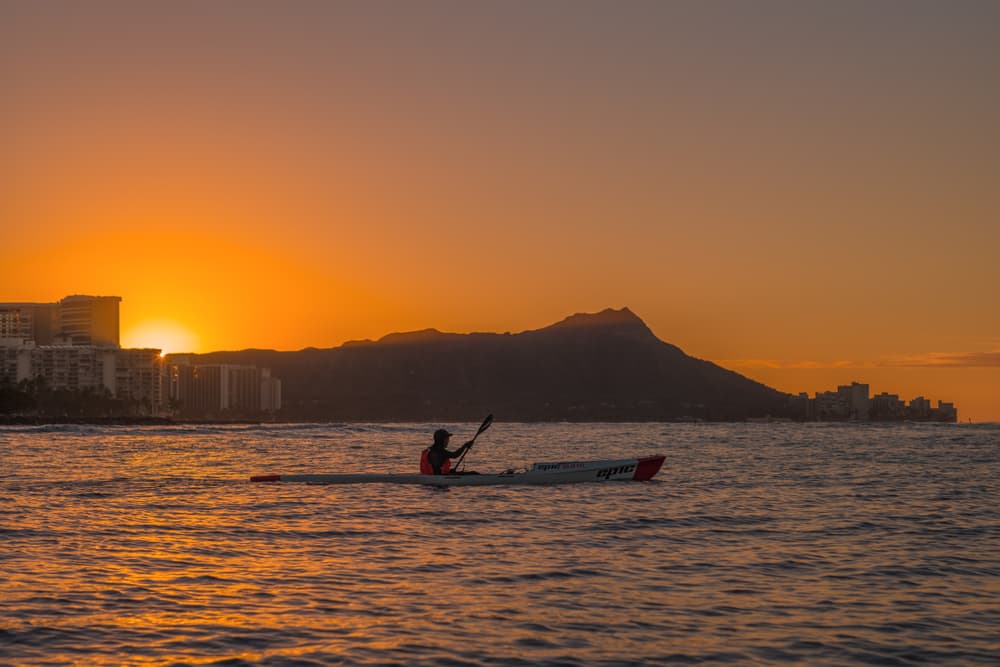 Paddling an outrigger canoe on a wave in Waikiki might feel a little cliche, and it is. But just like poolside mai tais and lava flows, some cliches are worth embracing while staying within Oahu's tourist metropolis. Take a break from your day at the beach, pool or tiki bar and see this truly spectacular town on the water.
Dodge the local surfers and unaware snorkeling tourists as you ride waves on a 6-man outrigger canoe. Or rent a SUP board and paddle out, making friends with sea turtles along the way. While paddling in Waikiki is not exactly the most remote and off-the-grid experience, it's one you'll cherish forever.