Are you thinking of signing up for a kayak class? If you are, congratulations! It's one of the best things you can invest in if you really love being on the water. Paddling instruction can help you paddle longer, paddle stronger with less effort, and boost your confidence when it comes to off-water stuff like carrying your boat. Even if you've been paddling for some time and think you know a lot, it's amazing how many tips and techniques you can pick up from a good instructor.
If you haven't considered instruction here are some reasons why you may want to think about signing up for a class. If you feel like paddling is strenuous a good instructor can give you tips on how to make your paddling feel effortless yet powerful. If you have a fear of tipping over a good teacher can work with you to help you get over your fear and have more fun on the water. And, they can also teach you self-rescue techniques like how to get back into your boat from the water. If you've had a 'negative' experience kayaking with a group that didn't feel attentive or supportive, then a good leader can re-charge your confidence and remind you why you started paddling in the first place. These are just some examples of how a good kayak class can help you.
Here are some things to consider when searching out instruction and some tips on what to expect.
When it comes to kayak instruction it's important to distinguish between a demo and a class. The purpose of a demo is to provide a time and space where people can try boats and gear out before they buy. Although some retailers do a great job of bringing in big name instructors to their demos and shows, not all of them do. Don't expect instruction at a demo, but if it's available that's a bonus. Most paddlesports outfitters have staff on-hand that are qualified to teach, but it doesn't hurt to ask about the staff's teaching experience if you have doubts.
Club outings and community paddles are a fantastic way to meet other paddlers, get out on the water and tap into decent instruction. Be aware that when a club organizes an outing, it may just be to get out and paddle informally and may not be geared toward providing instruction. You'll want to check in with the organizer first to find out if you have the appropriate skill level and if instruction is available.
For basic recreational kayaking you don't need to take a weekend or week-long course like you do in sea or whitewater kayaking. You can easily get all of the information and technique that you need to have fun on the water in one day. Some instruction programs include a lesson followed by a fun, informal paddle. In this way you can practice and process the techniques that you learned earlier on in the day while you're out paddling and enjoying the scenery.
A good class will give you instruction on proper stroke technique, edge control, carrying your kayak, sitting properly in your kayak, self-rescue techniques, getting in and out of your kayak, gear suggestions and information on trip planning, safety and gear. If you're interested in learning how to roll your kayak (if you have a touring kayak with a sprayskirt) you may need to look into more discipline-specific courses such as sea kayaking or whitewater kayaking, or you'll want to attend pool rolling sessions hosted by your local kayak club.
If you have specific paddling goals that you want to achieve then scheduling private, one-on-one instruction is a great option. Privates tend to cost more, but they are worth the price because you can learn so much more in a shorter amount of time.
Good kayak instructors are friendly, patient and enthusiastic. They are also attentive to their student's needs (within reason). Be wary of teachers who claim to have the only teaching method that works. There isn't just one right way to teach or learn and it's beneficial to try different techniques to find the one that resonates most with you. A good teacher is adaptable and able to tailor instruction to the student.
Women's specific kayak clinics are wonderful opportunities for female paddlers to learn together, meet new friends and enjoy a highly supportive learning environment that promotes confidence. Most women enjoy listening and sharing and can gain valuable insights, not only from the instructor, but also, from each other's experiences. Taking a women's specific course can build your confidence and skills to the point where you feel self-assured paddling with any group.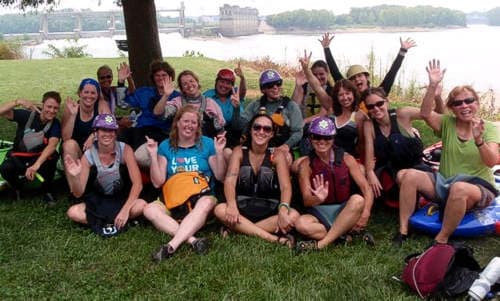 No matter what type of instruction you decide on be sure to remain open to possibilities and to what the instructor is saying. A friend of mine once said that it's a good idea to 'check your ego at the door.' If you knew everything there is to know you wouldn't need any instruction and I know very few, if any, kayakers that know everything there is to know about paddling. Even professional paddlers and instructors are interested in learning.
The other tip I have, especially for female paddlers, is be gentle on yourself when you're learning! It's ok if you don't get the stroke technique perfect the first time you try it. The instructor is giving you feedback to help you, not to point out your shortcomings. Allow yourself time to process and perform the techniques being learned.
To close I'd like to mention that spring is on its way and some of the bigger retailers are hosting big sales events, shows and demos, like Canoecopia in Madison, Wisconsin. These events include a plethora of highly qualified instructors and speakers from diverse backgrounds and are very valuable for gathering information on gear, instructrion, trips and more.