The sport of river paddleboarding is growing rapidly among SUP enthusiasts from the advanced to beginners looking to expand their horizons into a challenging adventure. With over 250,000 rivers in the US alone, you can usually find a good clean river near you. Paddling down a river is a lot of fun but, before you strap up your board, take time to know the river and prepare based on your skill level.
First of all, you will get wet! So, depending on the time of year, prepare for a cold water dunk. Most river boarders will wear a wet or dry suit, water shoes, gloves and in areas with rapids, headgear. Rivers have accessible sections for all skill levels. Talk to the locals and hike the river first to scout out the section you feel comfortable with. If you're looking to do a lazy river paddle where you can play tunes, crack open some wine and drift to abyss with your significant other, find a section that flows but has no rocks or rapids.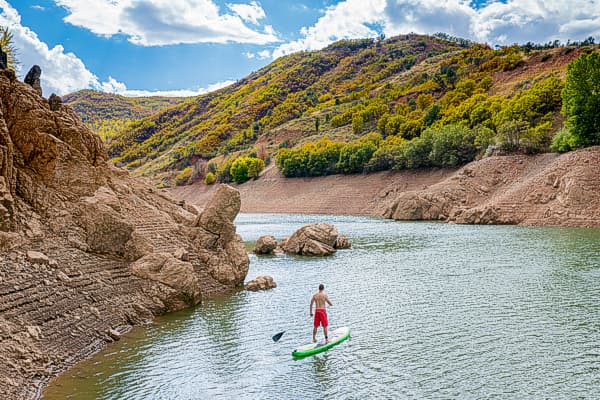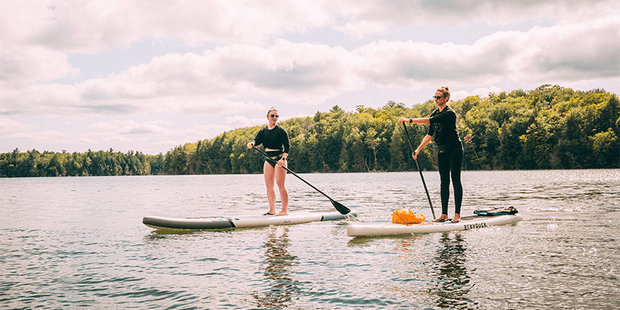 ~Shop Grey Duck SUP~
We make being on the water more fun, accessible, and enjoyable. Come with us on this journey, you won't be disappointed.
River currents are unpredictable and have under tows that can pull you under, or send you off in the direction of rocks, falls or fast flowing water. Therefore, you should wear a personal floatation device (life jacket) and helmet. If you do fall in, don't panic. Lie flat on your board and use your hands and feet to move to the side of the river away from the flow. You should purchase a quick connect leash that attaches to your personal floatation device. Ankle leashes can get caught up and can be difficult to disengage from your foot.
Once you found a part of the river that you are comfortable with, there is still some prep work. Obviously, you must get back to your original spot where you parked the car. Similar to river kayaking or canoeing you will need a partner and a partner car. Once you pick your spot, remove your gear and place it in a secure location. Now you are ready to follow your partner down the road to your end location to drop their car off. Once back and all your gear is still intact, you can now start loading up your board with any provisions you may have brought. Many boards come with bungee cords on the front and or back of the paddleboard. These are great for storing your gear but you need to put whatever gear you don't want to get wet in a waterproof floatable unit. Also, if you have glass on board, secure it safely so it doesn't end up in the river.
Always make sure your gear is stored under the bungee and is centered, secure and won't tip the nose or back of the board. Too much weight and the board will not float you well and hamper the performance of the board. Once on the river, use the buddy system. Always be aware of where your partner is. Keep an eye on areas you can float to and get back on your board easily. If you do fall off, don't try to get back on in the current.
River SUPing is fun and relaxing. Many often find a spot to set up camp and enjoy the water, eat some lunch and listen to music. Many companies manufacture waterproof Bluetooth speakers that can attach to your board with a clip or suction cup.
Now that you know the basics, enjoy your adventure and always be sure to clean up your trash!
Written by: Ed Miles, Keeper Sports Products