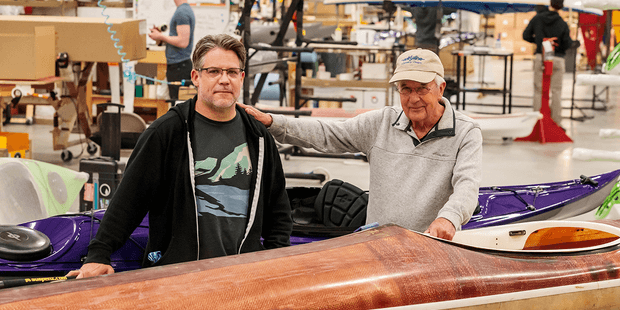 50 years of lightweight, maneuverable, high-performing kayaks.
Check out this interview with Tom Keane, Eddyline Kayaks Co-Owner, on their journey!
Understanding Kayak Stability
The "stability" of a kayak refers to two distinct and inter-related aspects of how steady/stable the kayak 'feels': 1) when initially at rest on flat water - it's primary stability; and 2) how stable it is when up on edge/leaned to its side (usually in rougher seas) to a point up to its capsize threshold - it's secondary stability. This can be deceiving for beginners who presume the initial security of a boat with good primary stability is the more stable kayak.
In actuality, a boat that is initially "tippy" is the better choice for rougher sea conditions. A forward-thinking beginner who is serious about becoming proficient at kayaking should consider a boat with better secondary stability and grow into that more responsive boat. Initially stable boats are best suited for protected inner waters and activities such as kayak fishing.
Cross-sectional hull design offers insights into a boat's inherent stability. Four basic shapes/configurations suggest how a boat will react on the water:
Flat bottom - very stable, typically wide boats used for casual, recreational use on small bodies of calm water; ride "on top of the water";
Round bottom - displacement hulls with more secondary stability, typically faster hulls, can be leaned into swells, waves for better control and stability;
V-bottom - good tracking, better secondary stability; most often combined with rounded hull to give kayaks their classic cross-sectional profile;
Pontoon/Catamaran - Very stable, slower, with some secondary stability characteristics, most common shape for SOT, fishing and other recreational "kayaks".
Some hulls feature a notable "chine", the distinctive hull edge on the border between the bottom and the sides. A hard chine helps the paddler 'edge' the kayak on a lean for better control and turning.
A dealer's "demo" event is a great, instructive opportunity to compare the stability of different kayak hulls.