Wow! Have things ever changed for keeping your gadgets charged out there on a canoe trip. It wasn't that long ago (mid-1990's) I was carrying a 50 pound car battery across an unmaintained portage in remote Wabakimi in northern Ontario to keep our camera battery charged for filming a documentary on the park. Not only was it heavy and awkward, it was darn dangerous. We needed a separate pack to carry it and I had visions of battery acid flushing down my shoulders every time I took a tumble on the trail. We eventually went to using solar chargers by the late 1990's but they weren't quite powerful enough for the space they required in our packs.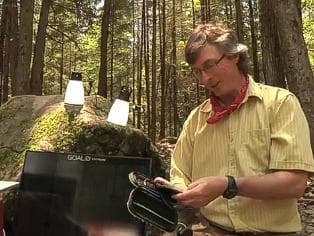 We eventually turned to carrying multiple camera batteries and hoped they would last the trip. Solar systems improved eventually but the cost didn't. This year, however, I tried a somewhat new solar system called Goal Zero (www.goalzero.com). I saw the product line at the 2011 Spring Outdoor Adventure Show in Toronto and not only was the weight attractive, the price matched my wallet as well.
The system we used for charging our film cameras was titled the Sherpa 50 Adventure Kit ($450 Canadian). It consisted of a four panel solar device (Nomad 13.5) and the Sherpa 50 power pack. The panels themselves are not as flexible as some other designs I've tried in the past, but the monocrystalline solar cells make it a far more product for power. It charged completely in about 6 hours in full sun and 10 hours in cloudy conditions. Then there's the power pack itself, storing 50 watts of power (equal to 30,000 AA batteries). We also packed an additional Sherpa UI - a 100 watt inverter which allowed us to use a universal plug. That meant that if we couldn't make use of the USB connector on the battery pack, we could simply plug the camera directly into the system. A full charge kept our camera batteries going throughout the day. It even gave us over 2 hours of battery time on our Mac laptop. And it all weighed in at 2.2 pounds. Amazing. We spent a solid eight days on a canoe trip and filmed some amazing stuff - and never worried once about running out of battery life or having extra weight slowing us down on the portages.
We also purchased the Extreme 350 Adventure Kit ($770 Canadian). This system is for the campground camper. It can run your lap top for over 10 hours and keep you supplied with fresh ice all weekend long. But it's also a heavy duty battery system, so there's no way you'll want to pack this thing into the interior. However, if you want full electrical service at your site and not pay for it, this system will definitely do the job.
Now that I'm totally addicted to this gadget system, I also purchased the Guide 10 Adventure Kit for my latest canoe trip (a lengthy "lost" canoe route north of Sudbury, Ontario) and for an upcoming 10-day family canoe trip down the Ottawa River. Priced at $140 (Canadian), this thing weighs .36 kgs. and allows me to keep my GPS, (new) SPOT Connect, i-pod for my Spot Connect, cell phone or satellite phone and flashlight batteries all charged up. It consists of the Nomad 7 compact solar panels (2) which charges my battery operated gadgets directly from a USB and 12 volt DC charging port. Or by using the Guide 10 battery pack I can charge AA or AAA batteries from the sun in about 1 1/2 hours, which can also be used as a separate battery pack.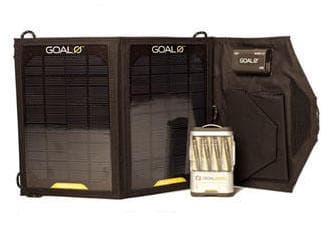 Of course, the only issue I have now is not letting my six-year old daughter realize we now have the ability to keep her gaming systems charged. Yikes! Luckily, she hasn't figured it out quite yet, and she's still planning to pack her standard deck of playing cards and a fold-up checkerboard; add a few miniature Polly Pockets figures and she'll be fine.
Kevin Callan is the author of 11 books including "Wilderness Pleasures" and "The Happy Camper." A regular keynote speaker at major North American canoeing and camping expos for over 20 years, he has received three National Magazine Awards and four film awards, including top award at the prestigious Waterwalker Film Festival. Callan lives in Peterborough, Ontario, birthplace of the modern-day canoe.