Every spring I do an annual canoe trip with friends. One year we chose "Big Thicket National Preserve" on the Texas/Louisiana border. My friend, Larry Rice, canoed this route 30 years ago and deemed it delightful. Larry said the river was clear, the water quality good and there were abundant campsites with numerous sandbars. He described the scenery as more Louisiana than Texas, complete with water snakes, alligators and bald cypress trees. Big Thicket was (is) the last place where an Ivory Billed woodpecker was supposedly sighted. We figured to keep a ready camera — a photo of the big "double-tap" bird would net a fortune. There was also the thrill of knowing that during the Civil war, confederate deserters hid out in Big Thicket, where they vanished from society. Maybe we'd find some old war artifacts! It's easy to get lost in Big Thicket; just walk out of camp without your compass and you may be a statistic.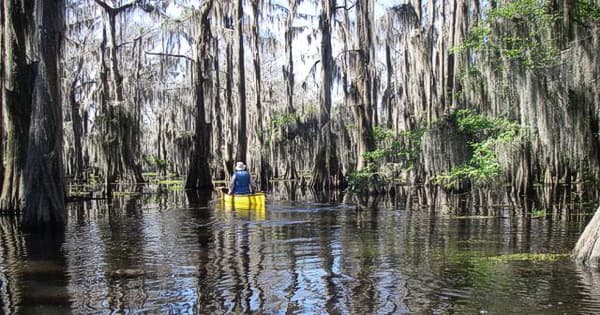 In January, a month before our trip — Village Creek, which flows through Big Thicket – was too low to canoe. We hoped for rain, but if not, we'd go anyway and just drag and cuss. Then, a week before the wheels rolled south, the clouds opened up and rain flooded the area. Indications were that the east Texas rivers were too high to paddle. But we'd planned this trip for a year and as experienced paddlers we figured we could handle anything.
First stop was the Big Thicket ranger station where we inquired about water levels, camp sites and bugs. Park authorities didn't have a clue. We wondered if they ever went in the woods. They suggested we contact Perry Humphrey, a popular local canoe outfitter - so next stop: "Easttex canoe livery and shuttles".
At the outfitter, Perry said the river was very high and suggested we'd have trouble finding places to camp. The first night we found a small, burned spot about 50 feet above the river. We set up our tents and tarp and settled in. The following morning it began to rain — like half an inch per hour! It stopped around noon so we packed up and headed downstream. The river continued to rise all day. Around 4:30 we spotted a nice campsite about seven feet above the river. There was space enough for three tents and our big tarp. The river had been rising all day—up maybe two feet in the last three hours. Could it rise enough over-night to flood our camp? We debated this for some time but it was late and campsites were almost non-existent, so we decided to keep an eye on the water and take a chance.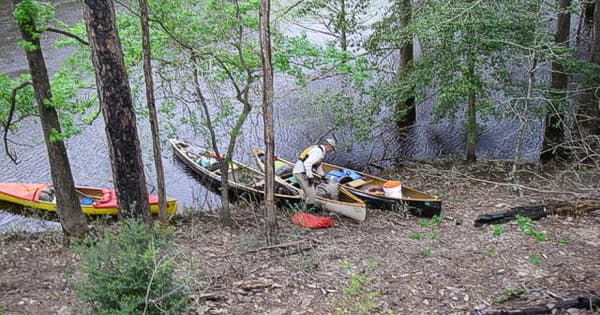 By seven PM the river had come up another foot. When we retired at 9 it was up still another foot. Five feet more and our tents would be underwater; another two and our tarp, which was on higher ground, would be submerged. We slept lightly, with an agreement to check the water level every hour.
At 6:15 I peered out of the vestibule and observed water lapping at the corner of my tent. In minutes we were out and packed and had retreated to the tarp on higher ground. At 8 am when we finished breakfast, water was oozing inside the tarp. We loaded the canoes and got out of there just in time. We figured the river had gone up about seven feet that night.
What to do? We had driven 1000 miles to get here only to discover that we'd have been better off to stay at home and canoe in Minnesota. There was a heat wave in Viking land and temperatures were about the same as Texas. After some discussion we decided to stay at a motel and do day trips in the area. But the Big Thicket rivers continued to rise and after a few days of fast-floating through log-choked, hard-to-define bloated channels — and relying on our GPS for the way to go — we abandoned Big Thicket for another plan.
Caddo Lake is the only fresh water lake in Texas. It's located along the Texas –Louisiana border about 60 miles from Texarcana. It's mostly a large vegetation-filled cypress swamp, but you wouldn't know it from the map. A "caution box" in the map margin advises us:
"CADDO LAKE is excellent for fishing and beautiful scenery, but it also has many boating hazards. Texas and Louisiana have approximately 88 miles of marked "boat roads". These boat roads are not completely void of hazards, but they are the best way to traverse the lake … Be aware of hazards such as submerged stumps, wood and metal ruins just below the surface. Also dense underwater vegetation and sand bars. Above, water hazards also such as oil rigs and drums, duck blinds, lone cypress trees, etc."
Soon, the fun begins.
We go to the CADDO LAKE State Park Ranger Station to get our paddle permit. We are required to provide the following information:
• Name, sex, address, phone number
• Driver's license number
• Date of birth
• Height, weight, hair color
• Social security number
Social security number?!
I express outrage and a DNR guy with a gun points to a sign overhead that says you MUST provide your social security number to obtain an entry permit. Some of my friends are smarter than me and gave a false number. I should have too! I'm shocked at the bureaucracy!
Entering all this information into the computer and issuing a paddle permit takes 10 minutes per person. I'm not joking! Earlier that day, 42 boy scouts registered — that must have been a four hour event! We just couldn't comprehend the amount of paperwork needed to canoe here. Did Texas suddenly succeed from the union? Surely, we must be in a different country!
We ask some questions:
1. What's the water level in Caddo Lake? -- No one knows.
2. Are the bugs bad? -- No one knows.
3. Can you camp on Goat Island. -- Yes, but they're not sure about the north side.
4. Can you build an open campfire? -- The clerk doesn't know; she turns to the DNR guy with the gun. He doesn't know.
No one can tell us anything about the lake other than "you wanna follow the boat trails". The clerk hands us a tiny Xeroxed map and waves us off. Being a belt-and-suspenders person, I purchase a Caddo Lake map for 8 dollars. Good thing, because as soon as we leave the "boat trail" to follow a narrow stream called "Clinton's Ditch" to access Goat Island, we become hopelessly lost. Well … not really. We have a map, compasses and two GPS's, but our canoes become mired in duckweed and floating vegetation. Shoveling through the mess, we can make maybe half-a-mile per hour. And the more we head towards what the map shows as open water, the thicker the mess becomes. After about two hours of pushing through weeds and cypress knees, we come upon a rivulet of open water which we follow to a minuscule bay where a fisherman is tending a trot line. He points us in the "direction out" and we're on our way.
That evening, as we sat around our "was-it-a-legal-or-not" campfire, we planned our next year's trip. We decided on the Rio Grand River on the Texas/Mexican border. It was incredibly spectacular, very remote and challenging. It is, by far, my favorite U.S. (er, U.S./Mexican!) river. I've canoed it twice, most recently in 2016 (220 miles) and it's always a rush. If you love paddling as much as me, put this river on your radar.
**Fun fact:
Big Bend National Park is the most remote and least traveled park in the National Park system. Very few people canoe the Rio Grande. Except for a 30-mile section near Rio Grande Village/Bouquilles Canyon, it's doubtful you'll see a soul. Only 380,000 people visited the park in 2016.

---
Cliff Jacobson is one of North America's most respected outdoors writers and wilderness paddlers. He is a retired environmental science teacher, an outdoors skills instructor, a canoeing and camping consultant, and the author of more than a dozen top-selling books. His latest is available as a free download at the following link: www.cliffcanoe.com

Related Articles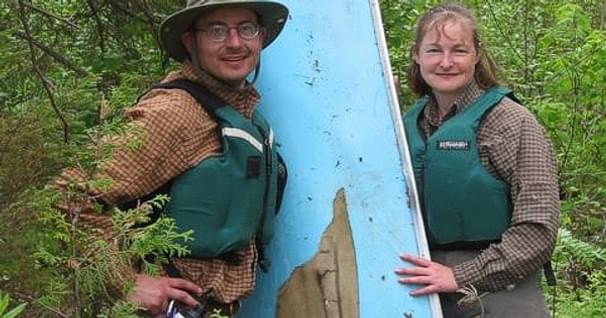 Ask folks what they fear most about canoeing a wild river - where help may be an airplane ride away -…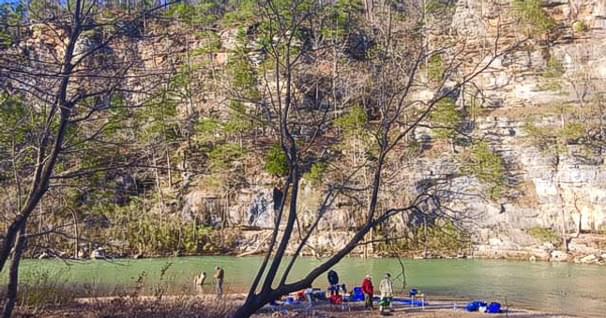 The national wild and scenic Buffalo River in Arkansas is one of the finest canoeing rivers in America.…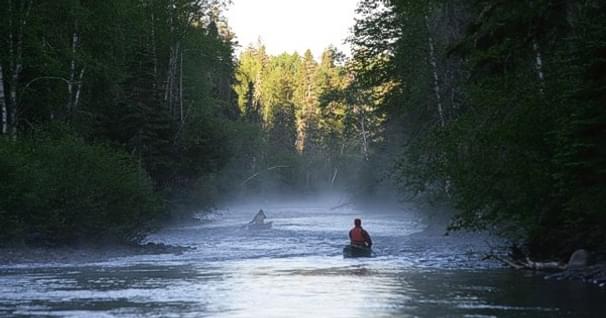 If you can canoe Class II, you can do these two wonderful Canadian rivers! STEEL RIVER There are no…