If you can canoe Class II, you can do these two wonderful Canadian rivers!
STEEL RIVER
There are no herds of muskox or caribou along the Steel River, and the strongest rapidrates Class III. Campsites are tight and the portages are mean and hard to find. The first carry-a one mile uphill grunt from Santoy Lake to Diabolo Lake-is the worst. It gains 300 feet in the first quarter mile! An optimistic view and a light-weight canoe are prerequisites for doing the Steel!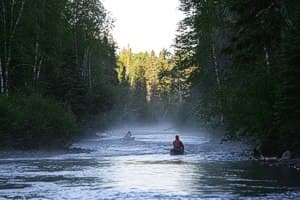 Given such glowing testimony, what makes the Steel so attractive?
For starters, it winds through the "Marathon high country"
This area contains some of Ontario's highest peaks. Look in any direction and you'll say wow!
Access is easy
A short drive from highway 17, near Rossport Ontario, brings you to Santoy Lake, where the route begins. From here, you circle 80 miles back to your starting point. Or, you can exit the river at the Dead Horse Bridge above Santoy lake and thereby save portaging some bad log jams.
The Steel is special because the lakes and rapids are down-sized to match the lightweight solo cruising canoes I love to paddle. Yes, there are some large lakes and long rapids, but all are manageable in a well-paddled open canoe. But make that canoe short and light! The river is narrow and twisty and many portages are overgrown.
You'll need 10 days for the entire route; seven if you stop at the Deadhorse bridge. A trip guide-the "Steel River Circle Route", tells all. It's available free from the Ministry of Natural Resources, Box 280, Terrace Bay, Ontario POT 2WO.
Maps needed (1:50,000): 42D-15, 42E-2, 42E-7
KOPKA RIVER
The Kopka River flows into the western end of Lake Nipigon. At Mink Bridge Portage, the entire contents of the river spill tumultuously downward 250 feet in three successive drops (you can stand at the top and see all three drops!), over a total distance of about a mile, creating one of the most spectacular white-water areas in Ontario. Getting canoes and gear around this cascade involves lowering everything by rope sixty feet down a shear canyon wall, below which, is a basin that allows only a birds eye view to the sky. My wife, Sue Harings, aptly named this place "the land of the lost". I've canoed the Kopka seven times and I remain in awe of the view.
Some 48 sets of rapids of varying difficulty and 11 waterfalls ensure you won't be bored. The Kopka features complete isolation, spectacular fishing, always awesome scenery and great campsites. Only one portage (over a huge boulder field) can be called difficult--and it comes at the end of the trip. Uneven Lake--accessible by bad logging roads or float plane from Armstrong, Ontario--is the best place to begin. I prefer to stop at Bukemiga Lake, near highway 527 (the Armstrong Road). Or, you can paddle right into Lake Nipigon, if you prefer.
You'll want a light-weight kit and a rugged canoe that's capable in rapids. Good map-reading and "hazard interpretation" skills are a must, as some of the rapids and falls are killers.
Mattice Lake Outfitters: [email protected] (tel: 1-800-411-0334) offers charter float plane and car shuttle service into the Kopka River. The Graham Area Canoe Route #8 (Kopka River), available from the Ministry of Natural Resources, Nipigon, Ontario POT 2JO, provides details.
Maps needed (1:50,000): 52 H-13, 52 I-3, 52 I-4.
Cliff Jacobson is a professional canoe guide and outfitter for the Science Museum of Minnesota, a wilderness canoeing consultant, and the author of more than a dozen top-selling books on camping and canoeing. www.cliffcanoe.com