---
When it comes to being visible in your kayak, the color of your boat and PFD play a critical role in how easily you can been seen under varying natural lighting conditions: time of day, atmospheric influences (fog, mist) and distance. Choosing the highest visible colors, prioritizing function over fashion, can be a critical advantage in an emergency situation.

In a survival situation, brightly-colored clothing or gear can be used as a signaling/flagging device. Likewise, a colorful PFD has a better chance of catching the eye of searchers - when worn at sea, or waved over head from shore.
Color visibility tests, both in labs and on-water have determined certain colors have higher visibility than others:
Fluorescent green and fluorescent orange had the highest luminance;
Similarly, green and orange were rated best against a simulated horizon;
Yellow ranked lowest in the simulated horizon test;
Fluorescent green was the most conspicuous color overall during on-water, low/high- intensity light testing;
Red was the least conspicuous color in those same on-water tests!
Although not tested, Robin's Egg Blue has been cited by SAR members as being a highly distinctive color, too. Both bright mid-day light and the diminished light of dawn/dusk affect the luminance of a particular color.
White hulls on kayaks will become completely "lost" during a capsize in which the boat overturns in rough seas where the wind-swept wave crest appears white from above - completely absorbing the distinct shape of the white-hulled kayak.
Consider bright, attention-getting colors not only for emergency situations but for being more easily seen in higher concentrations of boat traffic. Similar to the flags used to mark active diving sites, some kayakers use a colorful flag at the end of a flexible rod on the aft end of their kayak. However you choose to be seen, make sure you use a high luminance color.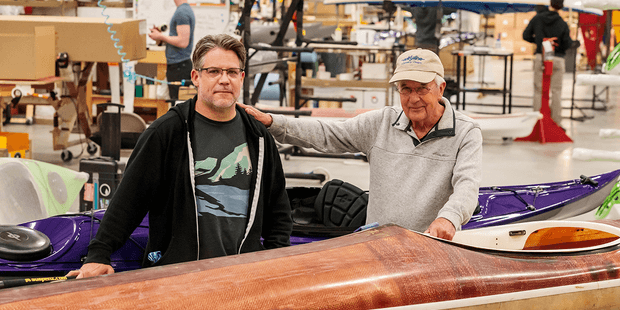 50 years of lightweight, maneuverable, high-performing kayaks.
Check out this interview with Tom Keane, Eddyline Kayaks Co-Owner, on their journey!