How to Plan for a Kayaking Trip
Being on the water, exposed to Mother Nature, means when things do go wrong, they can go very wrong, very quickly. Here's how to plan ahead in order to expect the unexpected.
Location
First off, you need to choose an appropriate paddling location for the skill level of your group, and this means accepting the fact that your group is only as strong as the weakest paddler in it. So what makes an appropriate paddling location? Well, if there's anyone in your group who can't physically re-enter their kayak with help, this is a major limiting factor, because if for any reason they flip and swim you'll need to tow them and their gear to shore.
In this case, you'll need to stay in water thats protected from wind and waves, and close enough to shore so that it's easy to reach. If everyone in the group can confidently roll, or re-enter the kayak after swimming, then it's reasonable to start traveling further from shore, but it becomes even more important that you assume a conservative and safety conscious attitude when making decisions on where you'll travel.
We're going to look at a few things to consider to make your trip safer.
Your Route
One important factor to consider when you're planning a kayak route, is what bail out or contingency plan opportunities are available. Having a Plan B in mind for getting out of the water is important, because there are a many factors that can make your original plan unrealistic, or even dangerous, and people often get into trouble because they think they have no other option than to stick to their original plan.
For example, what are your options if the wind picks up strongly, or a thunderstorm approaches? Or maybe there's even an uncomfortable amount of motorized boat traffic to deal with. Now once you've established a paddling route and have come up with some back up plans, it's important to create a float plan, and to give it to somebody who's not going to be on the trip. The float plan doesn't need to be a fancy piece of work, but it should communicate where you intend to travel, a general outline of your schedule, and your alternate or contingency plans in case something causes your plans to change. The value of a float plan for day trips or multi-day trips is that they'll give search parties a huge advantage if something happens and you need help.
When it comes to contingency plans or float plans, a lot of people won't go to the effort if they're just going on a day trip. But, in many ways day trips are more dangerous than multi-day trips, because paddlers usually don't go prepared to alter their plans, or spend the night out. This means you'll feel more inclined to push your luck to get back home. This is why for day trips, it's still very important establish contingency plans, and to draw up a float plan. This is also why you should always bring an emergency kit in your kayak.
Emergency Kit
An emergency kit is simply a dry bag with enough gear to make an unplanned night out a realistic option. Depending on where you're at and the weather conditions, your emergency kit should include things like a fleece jacket and pants, rain gear, heavy wool socks, a warm hat, a headlamp, energy bars, water matches and a lighter with some fire starter, and even a small tarp and some rope. Of course it's not going to make for the most enjoyable camp trip, but it's going to make camping out an option, which is the most important thing. Well, I hope you enjoyed this video and learned something from it.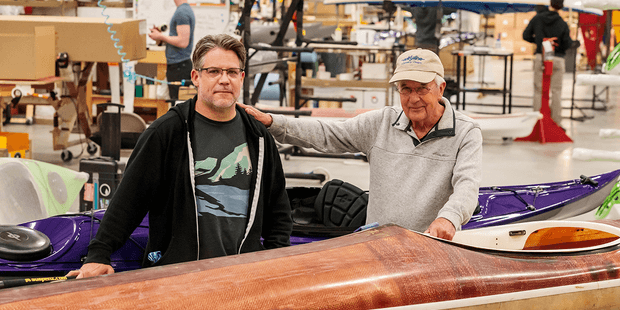 50 years of lightweight, maneuverable, high-performing kayaks.
Check out this interview with Tom Keane, Eddyline Kayaks Co-Owner, on their journey!