I'm very cautious about what song is playing on the radio just prior to reaching the access point of a long canoe trip, especially a long solo canoe trip. Why? I can absolutely guarantee you its going to be that particular song that will get stuck in your head during a lengthy, mundane and very painful portage; and if it's a song you necessarily don't like, then good luck to you staying sane through it all.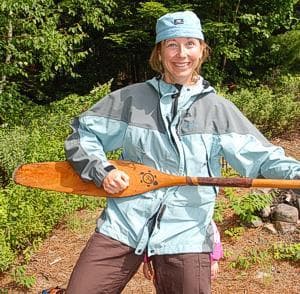 But why is it more likely a bad song in your head; a song you'd never omit to know the words to but for some reason you can recite even beyond the chorus? It's because most cultures have grown to think in simple time. For example: one-two-three go before a race or red light, yellow light and green light at a traffic stop. And it's usually bad songs that follow such a beat.
This idea about simple songs has been around for a long time. If you've seen the film Snow Walker (2005) where the main character is being lead across the Barrenlands by an Inuit woman who is singing a "simple" traditional song over and over again throughout the trek to help the monotonous walking. At one point, the main character can't stand listening to the song anymore and insists he sings a song instead - the song ends up being Pizza Pie (That's Amore). If you consider the song the Inuit woman was singing prior, her song is just as simple as his.
So, it's true a simple beat will get you across the Barrenlands, or a bad portage, but just make sure it's one you enjoy having in your head throughout the trip. Over the span of a 12-day canoe trip last season, my family and I all had different songs running through our heads. My wife, Alana had "Detriot Rock City" by Kiss, I had "Rocky Mountain High" by John Denver, and our daughter, Kyla had "On Top of Spaghetti."
Here are my favorite and least favorite songs to listen to prior to a trip. Have some fun with it and list yours in the "Discuss Article" section.
Top songs I recommend listening to prior to your trip:
"Poems, Prayers and Promises" - John Denver
"Early Morning Rain" - Gordon Lightfoot
"Shield" - David Hadfield
"Wood Smoke and Oranges" - Ian Tambyln
"Les Voyageurs" - Mike Ford
"I'm Gonna Be (500 Miles)" - Proclaimers
"The Rodeo Song" - Garry Lee and Showdown
"One Bourbon, One Scotch, One Beer" - George Thorogood
"Dancing Queen" - ABBA
"Cats in the Cradle" - Cat Stevens
Top songs NOT to listen to on the car stereo prior to your camping trip (or you'll have them in your head the entire trip):

"We Built This City (on Rock & Roll)" - Jefferson Starship
"Karma Chameleon" - Boy George/Culture Club
"Blowin' in the Wind" - Bob Dylan
"Everybody Wang Chung Tonight" - Wang Chung
"Pour Some Sugar on Me" - Def Leppard
"Barbie Girl" - Aqua
"Funky Town" - Lipps Inc.
"Ring My Bell" - Anita Ward
"YMCA" - Village People
"Mr. Roboto" - Styx
"How Do You Solve a Problem Like Maria" - Sound of Music Soundtrack
Anything by Elton John after 1972...
Kevin Callan is the author of 11 books including "The Happy Camper: An Essential Guide to Life Outdoors" and "Wilderness Pleasures" A regular keynote speaker at major North American canoeing and camping expos for over 20 years, he has received three National Magazine Awards and four film awards, including top award at the prestigious Waterwalker Film Festival. Callan lives in Peterborough, Ontario, birthplace of the modern-day canoe.