I have many fond memories of wandering along the North Eastern sea coast of Maine and Massachusetts with my older brother fishing in our little dingy and exploring a safe sea inlet in search of flat fish. I was 11 and gosh, was I proud when we came back to our campsite by the ocean (where the extended family spent the entire month of August each year) and were able to feed our group of 18 with four sole that we caught ourselves in the morning! My dad would clean and cook them quickly on the grill in aluminum foil with a bit of olive oil and we would devour it with fresh lemon wedges and a huge green salad! It was the best meal I'd ever had in my short years so far! Later on, big brother got his license for recreational lobster fishing and took me crabbing too. Again, we would come back from our expeditions feeling so enlightened because we were able to organize a nice clam and lobster bake on the beach for the entire clan. It was probably one of the main reasons why I later decided to make a career out of writing about the importance of real food in people's lives.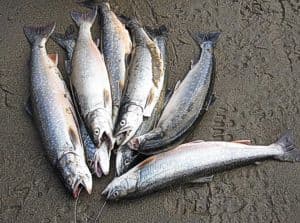 First Nations' Heritage
Nowadays, my brother lives in Washington State, where he has refined his skills for fishing and gathering seafood to perfection, with the help of some First Nations friends. It is quite impressive to see him bring a sockeye or steelhead salmon back home and prepare it in the traditional way, over a simple camp fire. He cuts and cleans it, keeps the head and bones for a delicious broth that he will use to make a seaweed and salmon chowder the next day, with some wild mushrooms, beach peas, onions, corn, celery and potatoes. But the real treat is to watch him cut his salmon in a butterfly technique, to place it on a wood trellis and to cook it over an open flame. He serves it with a seaweed salad. It is very simple, but so delicious! Too bad we are a continent apart (with me on the Atlantic coast and him on the Pacific), but when we meet, it is always a treat to go foraging together for wild foods. That's why I wanted to write about this up and coming trade, which seems to be all the rage these days.
Delicious seaweeds
Recently, my brother introduced me to all things edible from the sea when he joined my husband and myself for a kayak trip along the Maine coast that we designed to revisit our childhood fishing memories, in this magic place where the Kennebec River and the Atlantic Ocean meet. Not only did we go crabbing with a little crab basket, dig for clams and find delicious mussels on the rocky sea beds, but he taught me how to gather even more delicacies from the sea. My brother's wild garden not only includes forest treasures, such as morels and lobster mushrooms or edible flowers; it is complete with all sorts of sea greens, rich in iodine and minerals, such as arame, pickle weed, glasswort, kombu and wakame. They are all part of the seaweed family, they are all edible and delicious in a salad or sautéed with a bit of oil or butter and garlic as a green vegetable, as are beach peas or beach mustard.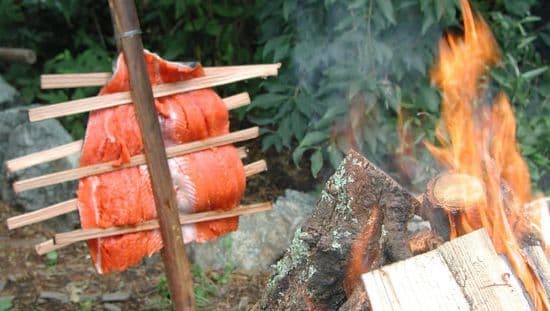 Fishing on a remote lake
Another amazing experience I've had was with my friend Jean-Luc, a passionate angler who organizes a kayak fishing expedition in northern Quebec every summer, where he brings along friends and teaches us how to live as much as possible from our wild surroundings. Jean-Luc is one of the best Canadian chefs and the proud co-owner of 2 restaurants in Quebec City: one a gastronomic French gem, Le Saint-Amour, and the famous Chez Boulay bistro boreal, which specializes in all things from the northern pantry, which is quite abundant (and still vastly unknown) in northern Quebec province (Eastern Canada). So instead of sugar he uses maple syrup, honey from his own bees or poplar syrup; instead of olive oil, he uses organic canola or cranberry oil; instead of black pepper he gathers dune pepper from a bush tree; instead of palm hearts and capers in a salad he gets cattail hearts and daisy buttons that he pickles in cider vinegar. He also finds all sorts of wild mushrooms and berries that go way beyond the usual field strawberries, raspberries, blackberries and blueberries that we all know from the farmer's market: wild cranberries, buckthorn, Saskatoon berries or beach plums are all part of his northern pantry. When he takes his lucky friends fishing, he prepares the trout we catch with juniper berries, a bit of balsam fir and he replaces lemon by a handful of chicoutai (cloudberry), a northern fruit that is a lovely salmon color and grows in abundance in the northern wilderness. With his awesome blueberry and maple creme brulee for dessert we sip a lovely herbal tea made with Labrador tea leaves.
Foraging: A trend that is here to stay
Foraging for your own food in the wild has become the rage recently, and the logical result of passionate chefs like Jean-Luc pushing the envelope to include this in the locavore movement. And given the amazing success of seminars as well as the many books on the subject, they have certainly succeeded. Many seafood foraging classes are offered throughout the world (eastern and western United States, Canada, Ireland, Scotland, New Zealand, Australia, etc.). The same goes for wild mushrooms, greens and berries from the forest. As we become more conscious of our fragile planet and its resources it is only logical to include wild food gathered with respect since it is readily available, sometimes in our own backyard, easy to prepare, organic and safe for the environment.

How to start foraging
Foraging classes and books are essential to learn to recognize, collect and prepare wild food, either from the forest, the open fields or the sea, just like the tips my brother and my friend Jean-Luc gave me. It is important to know how to properly harvest without harming your surroundings, to learn the rules and regulations for your regions concerning wild seafood harvesting as well as what can be potentially toxic. You also need to keep the seasons in mind: you won't find morel mushrooms in September or fiddleheads in the heat of summer. But when equipped with the right tools and information, forest and seafood gathering can be a real treasure trove and a lovely activity for the whole family! When you apply your new knowledge to your next paddling trips you will realize that you also have added an entirely new dimension to your expedition because of the feeling of accomplishment you get by feeding yourself from your natural environment. And, with a bit of luck, knowledge and practice, you won't have to cook much food bought at the grocery store.
In order to become a sea and forest forager, you need to obey a few rules:
Get the right training: follow a class offered by real professionals in seafood gathering and wild edibles (mushrooms are especially important since you need to learn which ones are safe and which ones are not.) Books are also an essential learning tool.
As for seafood, it is crucial to learn the rules and regulations in your region and to get the proper permits and licenses. You cannot just wander around collecting whatever crabs, mussels or clams you like without knowing and respecting the rules, which vary from one municipality or region to another.
Learn about the sectors where collecting seafood is not allowed, either because of pollution, red tide, nesting seasons or risks for the environment and look for remote locations to avoid certain pollutants.
Get the proper equipment: a raking tool for quahogs and clams, a regulatory basket for crab, the right fishing pole for the kind of fish you expect to catch. Don't forget a good knife for collecting mussels or cleaning fish.
Never gather more food than you intend to cook for your meal, even if the resource seems plentiful. Also try to use every part of the fish or seafood you catch: make a lovely fumet with the bones and head of the fish with onion, celery and carrot, for a sauce or a soup.
Pack in and pack out whatever you bring with you during your paddling trip.
Make sure that wood fires are allowed if you intend to cook your catch on a fire.
Even if you plan to catch your own fish and seafood during your five day kayak expedition, always consider that it might not go as planned and bring along enough food for the case you're unlucky.
Aluminum foil is your best friend when it comes to cooking what you catch: so, bring plenty of it.
Always think safety: collecting mussels on a rock bed or seaweed while snorkeling may be a fun activity after a day of paddling, but consider the tides, the currents and the water temperature and be careful about hypothermia or crashing waves.
Recipes for Paddlers
Trout or fish fillets in foil (4 portions)

Ingredients
4 trout or whitefish fillets
Aluminum foil
1 large onion, finely sliced
4 teaspoons of butter or olive oil
Fresh sprigs of thyme
Fresh sprigs of curly leaf parsley
8 tbsp white wine
Lemon slices
Salt and pepper to taste
Prepare 4 pieces of foil long and large enough to make a packet. Place a few onion slices on the foil. Generously salt and pepper the fish and place over the onion slices. Sprinkle with butter or oil, add thyme, parsley and lemon slices on top. Salt and pepper again. Fold the aluminum foil to make a packet and pour 2 tablespoons of white wine in each packet. Close tightly and cook over the fire until the fish is cooked (10 minutes for fillets and 20 minutes for a whole trout). Serve with potatoes baked in foil and a salad.

Easy seafood paella (4 portions)

Ingredients
A few handfuls of seaweed (to cook the seafood)
1 pound of clams
1 pound of mussels (or whatever seafood you gathered)
4 tbsp olive oil
1 spanish onion, finely chopped
2 cups long grain white rice (or Spanish paella rice)
4 garlic cloves, finely chopped
1 cup white wine
1 dried chorizo sausage, finely chopped
1 pinch saffron
1 pinch chili pepper flakes
4 cups chicken broth (either made with cubes or in Tetra Pak)
1 small can of tomatoes (with juice)
1 red bell pepper, finely chopped
4 tbsp curly leaf parsley, finely chopped
Salt and pepper to taste
In a large Dutch oven, place the seaweed. Thoroughly clean mussels and clams and place on the seaweed. Add ½ cup of water (or white wine), cover and cook until they open. Put aside in a bowl.

In the same Dutch oven, cook onions in olive oil over medium heat until translucent. Add rice and garlic and cook for 2 minutes. Add white wine and cook, stirring constantly, until wine is almost evaporated. Add chopped chorizo, saffron, pepper flakes, salt and pepper, chicken broth and cook, stirring often, for 12-15 minutes. Add tomatoes and bell peppers and cook 5 mores minutes. Add seafood and reheat. Sprinkle with parsley and serve.