In an ideal distress situation - if there can even possibly be such a thing - a kayaker unable to self-rescue would simply flip a switch on an emergency radio and have that signal immediately go to everyone on a coastal communications network. That signal would initiate a response system that, besides alerting commercial vessels and other recreational boaters, would immediately notify the appropriate Search And Rescue (SAR) center who could then provide the nearest rescue team with a specific bearing directing them from their launch site right to the exact point of origin of the distress signal.
Rescue 21 is such a network.
Officially, Rescue 21 is the U.S. Coast Guard's "advanced command, control and direction-finding communications system". The USCG describes R21 as providing greater agility and efficiency to the existing National Distress Response System that has been in place since the 1970's. Besides better coverage and response capabilities, the new system will replace obsolete radio communication equipment, consoles and remote transmission sites and older networks. It has been described as the "recapitalization" of the Coast Guard's maritime communications infrastructure.
This new system is still in the process of being implemented along the continental U.S. coastline as well as along our northern Great Lakes border with Canada. Over 38,000 miles of coastline will be under the R21 coverage umbrella and will utilize 26 "sector stations" located in cities along that coastline.
The earliest deployment of the new system began in the Puget Sound area in 2006. Since then the entire coastline of the contiguous United States is covered by R21. In 2012, the OCONUS Island groups (San Juan, Hawaii, Guam) will be included. The coverage on the Mississippi and Ohio Rivers will be upgraded by 2014, leaving Alaska (Anchorage and Juneau) scheduled for inclusion by 2017. General Dynamics Corporation has the contract to bring the system up to speed along the 26 coastal sector stations while the USCG is the system integrator for Alaska and the two river systems.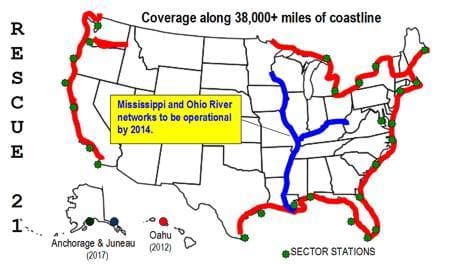 Rescue 21 - Capabilities:
The basic advantage of this network is that it facilitates better communication between commercial, government and public vessels within about 20 miles of the U.S. shoreline (it is primarily a maritime system, not a land-based rescue network). A key advantage of R21 is its capability of generating lines of bearings to locate distress victims by utilizing standard VHF Channel 16 communications. The determination of bearings directly to the victim is total independent of any garbled voice transmissions thereby reducing search times significantly. It also provides GPS coordinates for Digital Selective Calling (DSC) transmissions (A crucial and limiting factor in full utilization of R21 capabilities, see below).
Other capabilities of the system include determining hoax distress messages more easily, enhanced clarity, recording and playback of all communications, simultaneous monitoring over multiple radio frequencies, portable tower communications during emergencies and national disasters and also automates transmission of maritime information broadcasts.
The integration of sector stations along the coast offers several advantages as well. The VHF-FM system had over 60 coverage gaps that will be now be closed through the R21 network. Increased channel capacity will allow for simultaneous communications on five channels. The new system is expected to improve system availability to 99.5%! The system's inter-operability will enable other federal, state and local agencies to communicate with each other. Also, rescue ground stations can track the exact location of all USCG-SAR teams in the field at any given moment.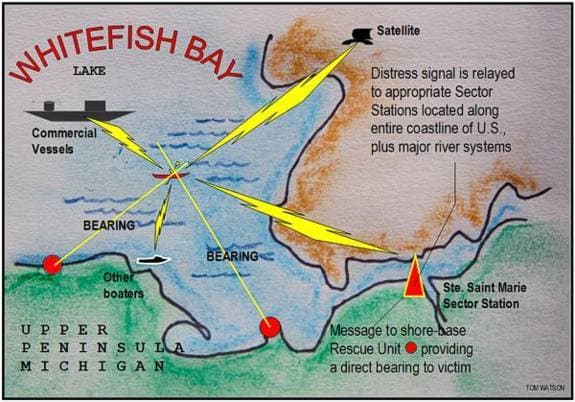 Digital Selective Calling (DSC)
The significant factor in the utilization of the Rescue 21 network, especially for recreational boaters, lies in radios with Digital Selective Calling (DSC) capabilities. DSC is part of the latest global marine radio technology upgrade of maritime distress communications. It has been used on commercial vessels for years and is now available to recreational boaters as well.

The DSC can be thought of as a paging system that automatically transmits and receives vital information on VHF marine radio channel 70. The advantages of the DSC radio are many. First of all you can simply buy a VHF radio with DSC capabilities, no other equipment is necessary. Connect a GPS to your radio and the system is at full capacity as an emergency/distress communication device.
The "MayDay" capabilities of a DSC radio are probably its most critical capability. The universal distress call is sent automatically when a DSC-capable radio unit is linked to a GPS. The signal identifies the boat and sends the vessel's location. It functions as an EPIRB (Emergency Position Indicating Radio Beacon) signaling overhead SAR system satellites. It sends a continuous, encoded signal (even if operator is disabled) and sends a call to other vessels with DSC radios.
The link-up with GPS greatly enhances DSC's capabilities. Besides being necessary to establish the bearings used to direct route to distress call origins, most DSC-GPS radios can send out that bearing repeatedly via short interval signals (every 5 minutes for up to one-half hour) and then at longer intervals until the battery runs out.
Another feature is Position Polling. This is a feature that enables another equally equipped station to auto request your GPS location. This would be a benefit to keep track of fellow paddlers in low/non-visibility conditions. Most radios provide a means of disabling this feature for your own control of position privacy. With a DSC radio, the user can also place private ship-to-ship calls to other vessels with DSC radios (kayakers, each with DSC handhelds, for example).
DSC is part of the Global Maritime Distress and Safety System in place throughout all international sea-going nations. These functions are all possible through yet another particular caveat to the advantages of the DSC system: your MMSI registration!
MMSI
In order to properly utilize all components of DSC technology, a radio must have a Maritime Mobile Service Identity (MMSI). Similar to a cell phone number, the MMSI is issued by the FCC. Since 1996, recreational boaters have not had to register their VHF radios with the FCC. However, you must register your DSC radios. It is boat specific, not radio specific, therefore each vessel has to have its own MMSI number. That number provides specific vessel information entered in the U. S. Coast Guard's national distress database.
The MSSI is a unique nine digit ID number (the first three digits designate country of origin) permanently programmed into DSC equipment and sent out automatically with each transmission. The data on file for each particular vessel includes a physical description of the boat, contact details for next of kin and other relevant SAR information. All radios, whether installed or handheld, for the same vessel, have the same MSSI number.
Boaters staying within U.S. waters can obtain an MSSI number from BoatU.S. (www.boatus.com/mmsi/instruct). However, these are only good for US waters. Paddling in international waters will require that your MSSI be issued directly from the FCC (wireless.fcc.gov/services/index).
DSC Radio Features to look for:
Several companies offer quality DSC programmed hand-held radios. An example of favorable/necessary features in a unit suitable for most paddling environments is Standard Horizon's model HX85Os. This is by no means an endorsement, just an example of the positive features you should have in a quality radio.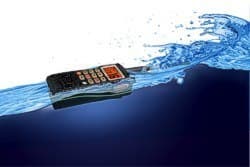 Foremost, it should be waterproof. Waterproof cases are okay, but not totally reliable. Anything labeled water-resistant usually isn't, at least for long. This particular model floats and is submersible (remember, the DSC system, once initially engaged, sends a repeating signal automatically…even as its bobbing out of reach beyond your capsized boat.
A variable power control enables you to select full power to limited power (usually in the 2-6 watt range). A rechargeable lithium battery would be a plus as well. A strong housing and flexible antenna will ensure it will withstand more abuse than more fragile radio cases.
You will want a broad menu of capabilities as well - but not a lot of lesser vital bells and whistles. Some good program options include: all DSC functions such as distress, ship-to-ship, individual/group call, position request/report and GPS/waypoint features. Basic channels include the monitored Channel 16 and Channel 70, NOAA channels and other communication/information channels are also useful.
Also consider illumination features such as strobe lights, displays and such. Too many electrical do-dad features draw on battery power; so if you want them, make sure they can be deactivated at your discretion.
The Coast Guard's Rescue 21 is a welcome upgrade and enhancement to our maritime emergency rescue network. When completed over 40,000 miles of coastline and navigatible riverways will be under its SAR umbrella. It is important to note that this is a maritime network, and illegal to engage from any inland location due to possibly interrupting maritime SAR communications and transmitting misleading information.
Hopefully none of us will ever have to rely on this network. However, preparing for distressful situations have become a little more hopeful thanks to this nation-wide system designed for just one thing - saving lives!
Tom Watson is an avid sea kayaker and freelance writer. He also posts articles and thoughts on his website www.wavetameradventures.com. He has written 2 books,"Kids Gone Paddlin" and "How to Think Like A Survivor" that are available on Amazon.com.