---
Protecting your feet from cold and abrasive/rough surfaces are the two primary functions of paddling footwear. Because of the water environment, it is usually much easier to cool feet down than it is to warm them up. Venturing ashore with protective footwear (strong ankle support, thick, slip-resistant soles) means selecting gear designed and constructed for such use - and in both cases, fit well!
Footwear comes in four basic styles: 1) Sandals; 2) anklets/shoe; 3) boot or; 4) knee-high. The range of material used in the body of the footwear oftentimes matches the anticipated use/environment in which the shoe will be worn.
Sandals are warm-water footwear and often made of very light neoprene or more commonly from fabric that aerates easily, enhancing cooling and drying;
Anklets/shoes are typically 2-3mm-thick neoprene uppers with a rubber sole and usually a strap or draw string type of lacing to secure the fit;
Boots offer more ankle protection and are 2-3mm-thick as well. Thick, vulcanized rubber soles (and sometimes toe and heel caps) provide addition insulation against temperature and abrasion;
Knee-high or calf-high boots are often associated with much colder water use than regular footwear.
Here's a tip for all neoprene footwear: Wearing a thin, silk/synthetic under-layer stocking can make wet neoprene footwear slip on easier.
Regardless of the style of footwear, the structure of the sole surface is critical for safety when ashore. Thicker soles for jagged/rugged rocks, etc.; treaded soles for slick/smooth surfaces, and a snug but not tight closure to keep out sand and other debris (a well-fitting paddling shoe should fit like a proper sized sock or glove, not loosely).
Too large a heel, too stiff/non-flexible, and larger sizes can also affect your use of rudder/foot pedals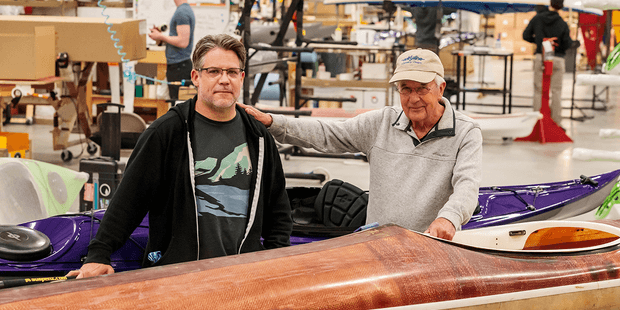 50 years of lightweight, maneuverable, high-performing kayaks.
Check out this interview with Tom Keane, Eddyline Kayaks Co-Owner, on their journey!