---
While the motivation for a kayaker to venture out alone is individual and personal, taking proper precautions and assessing one's abilities is a prerequisite for anyone embarking on a solo paddle.

Think about it. Paddling alone: totally dependent upon your own skills, no assistance, no safety net - just you and the elements!
Here are some important considerations for a prudent, solo paddler:
Skills
Gaining and become proficient in skills is critical when paddling alone:
Reliable self recovery skills, practiced and perfected for self rescue;
proficiency in paddling, boat handling, launching/landing on different beach features;
Knowledge of area, routes to consider, currents, tides, marine features;
Able to recognize and assess weather/sea patterns;
Prior trip experience in same area, or pre-trip research;
Gear/Equipment
Much of the same gear you'll carry at all times and when paddling in a group, but it's most critical when paddling solo:
Emergency/Survival/Ditch Kit - adequately stocked and appropriate for environment (clothing, shelter, fire starter, etc.);
Signal Kit: VHS radio/PLB or similar; pocket flares; smoke flare
Float Plan on file (personal contact/authorities).
First and foremost, when it comes to kayaking solo, is being a competent paddler, with proper gear, a range of appropriate skill sets and a positive attitude and respect for the water. Start with shorter, protected water trips within familiar areas and/or on waters shared by others in close proximity. As your skills and comfort zone develops, you can push your own envelop and venture out in increments.
It's important to know your own your strengths, limitations and improve on skill sets, abilities and attitude as needed to keep you safe and having fun.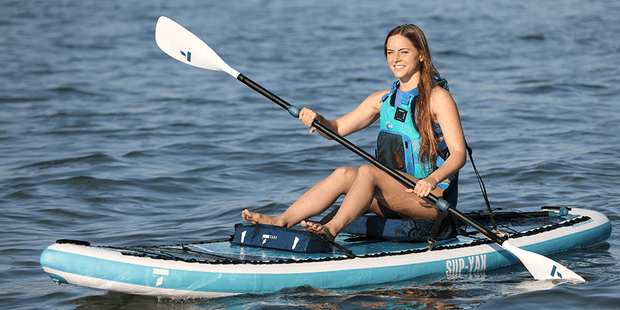 TAHE 10'6 & 11'6 SUP-YAK Inflatables
2-in-1 Kayak & Paddle Board complete packages for single or tandem use.