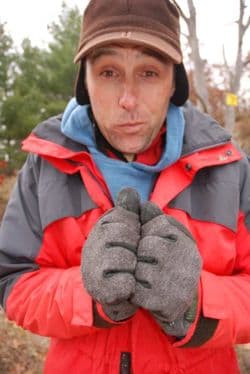 Kevin Callan offers some tips (and a video!) on layering and suggestions on what to wear, and what to avoid, when you're active in the outdoors when the temperatures may dip below 40.
I realize a man shouldn't judge his favorite clothes by the ones his wife keeps stealing from him, but it's something I've grown used to. Not sure if it goes under the same physiological reason of why my wife insists on taking my last French fry off my plate, or finishes my every sentence at any social gathering. I think it's simpler then that - I tend to choose better outdoor clothes then she does, therefore she steals them from me. Embarrassing part is, to have your wife routinely dress up in your stuff and then have someone think you're wearing "girls" clothes when you eventually steal the clothes back and wear them yourself.
In any case, it's still the way I've become accustomed to judging good outdoor clothing; and with the late-season upon us, good clothing is essential. Good news is, my wife can't fit into my pants, which means (I guess), I still wear the pants in family.
I trust everything on a good layering system. Wearing the big Michelin-tire Man puffy jacket just doesn't cut it when it comes to keeping warm in the outdoors. It might be an okay way to get from your parked car to the shopping mall, but not a sufficient way to keep the chill out while spending quality time outdoors.
Here are the steps you should take, and my choice of gear (or what my wife steals from my closet):

Next to the skin: This is the base layer, and the most important element to fight the chilled-clammy feeling. What it comes down to is to wear something that doesn't make you sweat. Cotton is bad, very bad. A two piece long underwear set made from fabrics such as polypropylene, silk or even that non-itchy wool that's new on the market.
My Choice: Level Six's Hot Fuzz layering short and bottoms. This under layer definitely gives a lot of warmth and wicking power.
Insulating Layer: This is the layer you're putting on and off all day and night to keep warm or to cool down. Wool is perfect, especially the new stuff that's not as big as something your mother knitted you for Christmas (it's also eco-friendly since it's renewable); fleece works great and is lighter then wool; and a down jacket or vest will never fail you.
My Choice: Outdoor Research's Transcendent Sweater. It's not a sweater but a super light-weight (17 oz or 482 gram) down-filled jacket that fits perfect under the main layer. It's my favorite clothing item this year and the one thing I can't stop my wife wearing, especially when she heads out for her nightly run (Alana is a marathon runner).
Main Shell: This should not be your main insulator; save that job for the insulating layer. It also shouldn't be a big puffy jacket. The outerwear must be "breathable" and must protect you from the cold wind, which is why Gore-tex type material works so well. It should also come with an assortment of zippers to allow ventilation.

My Choice: MEC's Juggernaut Jacket, which comes equipped with PrimaLoft insulation and Gore Windstopper Zao membrane, or Level Six's Gaspe 3 Ply Canoe tripping Jacket.
Pants: Wearing blue jeans is just a bad idea. You'll freeze. You need something that will dry fast but not too light of a fabric to allow the cold wind through. And they have to be loose fitting so you can wear long underwear underneath, or not.

My Choice: No question about this one. Outdoor Research's Exos Pants. These things are fantastic; made of Cordura fabric they're super durable, super light and super warm. The only way I made sure my wife didn't wear these pants when I bought them, was to wear them as long as possible. It was seven days before they were thrown in the wash.
Hands: I got frost-bite on three of my fingers during a winter excursion along Lake Superior a number of years ago, which is why my hands are more sensitive to the cold. And wearing winter gloves just doesn't cut it, until winter that it.

My Choice: Level Six has a brand new glove out called the Anti-Freeze Glove. They match their advertisement perfectly - "keeps your hands warm without turning your fingers into four thumbs".
Hat: Yes, your mother was correct. Don't forget your hat. By covering your bonnet you not only retain a lot of heat, but create heat as well.

My Choice: Outdoor Research's Yukon Cap (pictured above). It has a wool exterior, soft-pile fleece lining and Elmer Fudd ear flaps. Best part about this hat is that it looks so silly on me, there is no way my wife will steal it for herself. Too bad, she's going to freeze.
Check out Kevin Callan's web site: kevincallan.com
Kevin Callan is the author of 11 books including "The Happy Camper" and "The New Trailside Cookbook". A regular keynote speaker at major North American canoeing and camping expos for over 25 years, he has received three National Magazine Awards and four film awards, including top award at the prestigious Waterwalker Film Festival. Callan lives in Peterborough, Ontario, birthplace of the modern-day canoe.