American paddler, Cliff Jacobson, and I love to debate about camp tips and gear. It's what we do while hanging around together at all the outdoor shows where we present. Most of the time he usually wins - or I simply give in. After all, Cliff has a few more years of wilderness travel under his belt than I. I respect him dearly for that. But there's one topic that we disagree on that I simply won't budge - what to wear on your feet during a canoe trip.
Cliff's Preference
Cliff claims that lightweight boots or sneakers are better. He backs that up with the idea that clunky and heavyweight boots will sink you to the bottom of the rapids or lake if you ever find yourself being tossed out of the canoe. He's definitely got a point. Heavy footwear would be somewhat disastrous while trying to swim free of boiling whitewater or a wind-blown lake. However, I'm more inclined to twist an ankle on the portage then to find myself being tossed out of the canoe on most of my remote wilderness trips. A badly sprained ankle can cripple you out on a trip, which is why the amphibious soft boot or tennis shoe just doesn't cut it out there - at least in my opinion.
My Preference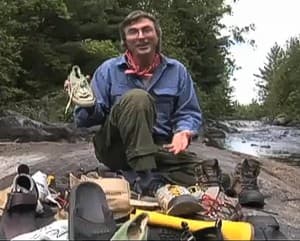 I prefer something solid - an ankle-high hiker made of leather or Gore-Tex. Leather is best though. The idea behind the Gore-Tex, which is more expensive, is that it will keep your feet dry. Forget it. Your feet are never dry on a canoe trip. Get used to it. The Gore-Tex, however, is more breathable then the leather. I also make sure the leather is not foam-lined or the boots will take forever to dry. Un-lined leather boots are the way to go, with soles that have some bend in them so I won't curse wearing them while kneeling down in the canoe.
My preference for a number of seasons has been Chota's Quicklace Mukluk. Its actually a design that Cliff introduced me to. They're especially designed for canoe trippers treading through a mud-filled portage or wading in and out of a portage take-out and put-in. The Chota is a top seller, being a knee-high rubber or neoprene boot which laces tight up top to stop water flooding in. They're amazing during a foul weather canoe trip. I do find they get a tad hot and uncomfortable to wear if the weather warms up and can create a nasty case of stinky feet. They also have limited ankle protection compared to an all-leather hiker.
Keen's Glarus boot is a new design I picked up for this season. I like Keen boots because they have a wider fit then most. This all-leather traditional looking boot is solid. My pair not only survived the almost 70 km of portaging I completed while taking on Algonquin's Meanest Link this season, but they also continued to excel on the numerous trips I did after. They're lightweight but rigid, saving me more than once from a nasty twisted ankle.
An interesting thing happened on that crazy canoe trip around Algonquin Park. Another pair of canoeists were attempting the Meanest Link a few days before us and had to abandon their trip two days into it because the one paddler broke his foot while lining up the rapids of the Big East River. He was wearing low-cut foot wear. I survived because of my tough leather uppers.
Footwear Around Camp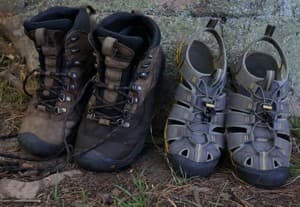 What I wear around camp is similar to all canoeists I think. I wear old sneakers or closed-toed water sandals. I usually prefer sandals. They're light weight in your pack and comfortable. Only problem is mosquitoes figure out how to bite you through the exposed skin areas. Of course, you can wear socks with your sandals but that goes against fashion.
Whatever you choose, however, make sure you realize how important camp shoes are. So many paddlers spend the day trying to keep their feet dry, even spending a fortune on waterproof boots. You're wasting your time. I can guarantee your feet will get wet. The first few minutes of the trip, I'll walk straight into the water and just get it over with. Dealing with wet feet during the day is just a part of canoe tripping. But so is changing into a dry pair of camp shoes or sandals at the end of the day. It's a perfect system - until you have to put on your wet boots before leaving the campsite in the morning.
Kevin Callan is the author of 15 books including "The New Trailside Cookbook" and "The Happy Camper." A regular keynote speaker at major North American canoeing and camping expos for over 20 years, he has received three National Magazine Awards and four film awards, including top award at the prestigious Waterwalker Film Festival. Callan lives in Peterborough, Ontario, birthplace of the modern-day canoe.