One of the best things about kayaking is that it's a healthy and fun activity to share with your whole family. Not only is it a fun physical activity where everyone can expend excess energy, but it's also a wonderful way to connect with the natural world.
In this day and age of 'nature deficit disorder' due to overexposure to video games, computers and the internet, kayaking can be a welcome outdoor activity that allows all members of the family to connect with each other and with nature.


In fact, some researchers, "...theorize that the 'soft fascination' we experience when spending time in nature helps us recover from the mental fatigue caused by periods of overstimulation." (Yoga International Magazine)

Perfect For All Ages
Since kayaking doesn't require a lot of strength it's the perfect activity for family members of all ages. Children can start riding in your kayak as infants. I've seen many infants perfectly happy riding in the cockpit in front of their parents. Once they are big enough to start paddling their own kayak a children's sit-on-top is a good way to go. Not only are sit-on-tops great for paddling around the lake, but they also make really fun platforms from which to jump into the water and swim (always remembering to never dive, but to jump in feet first). They're easy to get back on after a swim and they aren't restrictive which will make children feel at ease.
Infants & Children
When dealing with infants and children, as with adults, it's important to take the necessary safety precautions. The first step is to buy a children's or toddler's life jacket that fits properly, and to make sure that the child wears the life jacket at all times on the water. Infant and child life jackets are available at most good outfitters. Be sure to ask for options and to have the child try it on before you buy. You don't want to buy something that is too big or too small. The jacket should fit snugly and properly.

It's also a good idea to take the child to swimming lessons first so that they'll be familiar with the water.
Dressing children appropriately is also very important. Because children are smaller, they are more likely to get cold quickly, so make sure that they have enough layers to stay warm, especially in case of immersion. Neoprene wetsuits are inexpensive and do a great job of keeping kids warm, wet or dry.
Never tie or strap your child into the kayak. You might think that it's obviously a bad idea to do this, because if the boat capsizes the child won't be able to get to the surface, but I have seen and heard of parents doing it with best intentions! A good life jacket will quickly float a child up to the surface and keep their head above water, so that you can help get them to shore.
Be more conservative about where and when you paddle when you've got children with you to really minimize the chances of capsizing or running into bad weather or lack of sunlight. Always remember to bring enough food, water, extra layers, first aid kit and cell phone (turn it off unless you need it for an emergency). Just like anything, if you use common sense then the whole family will enjoy the outing!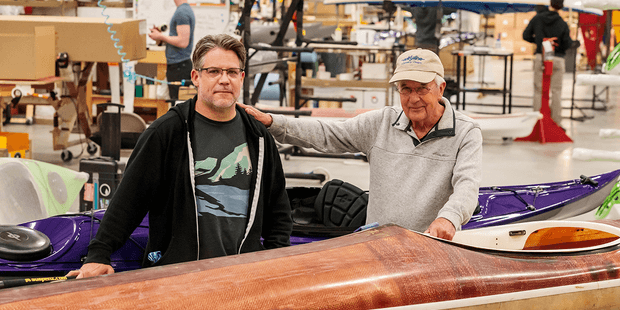 50 years of lightweight, maneuverable, high-performing kayaks.
Check out this interview with Tom Keane, Eddyline Kayaks Co-Owner, on their journey!
Elderly
In addition to getting kids out on the water, it's also fun to get the elder members of your family kayaking as well! Kayaking can be enjoyed at any pace and people of all ages can have a good time kayaking, especially on protected, calm waters.

Tandem kayaks are good for family outings, because they seat two people. These are great for sharing your kayaking experience, especially with someone who doesn't want to do all of the paddling themselves. The stronger paddler should sit in the rear, where steering is easier to do. When paddling together, the stern paddler should try to match their stroke to the one set by the person in the bow.

Dogs
Since we're talking about the entire family, let's not forget our canine friends! Some dogs love the water and will have a great time with the family on a kayaking trip.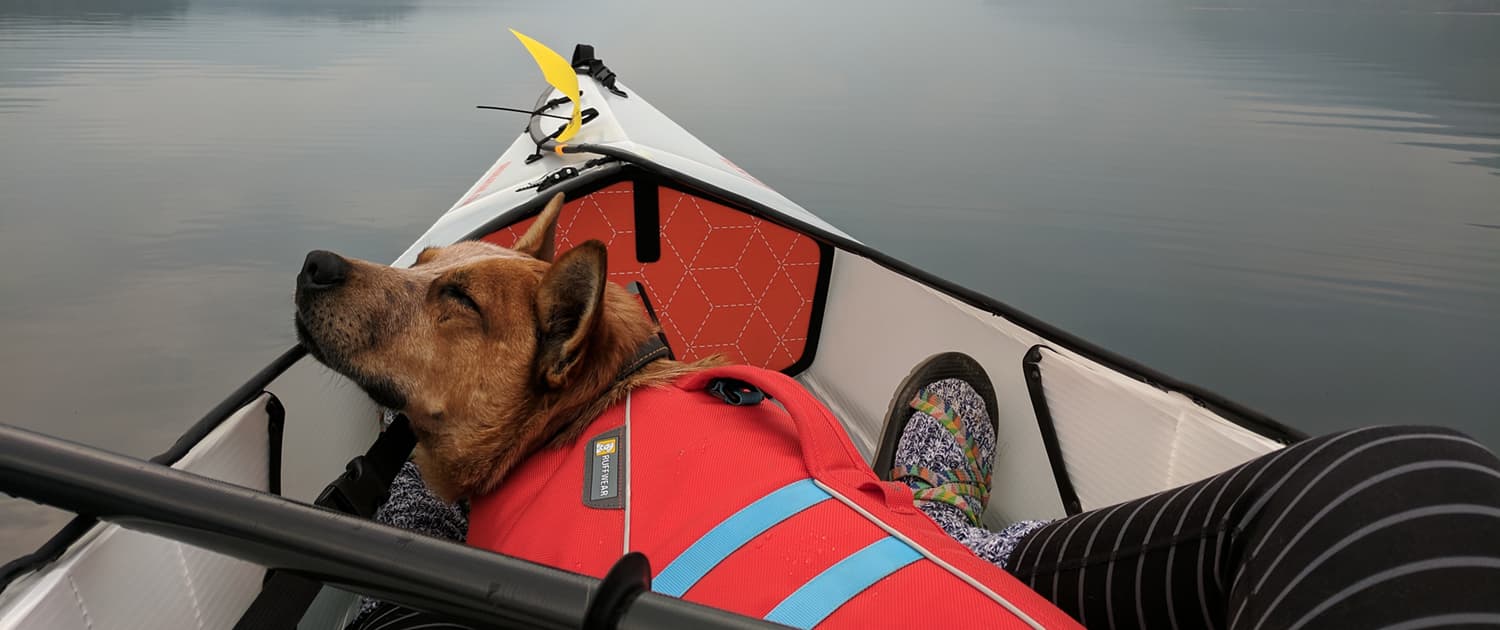 If your dog is not a strong swimmer or you'll be paddling in current, consider a doggie life jacket to help them swim. Dogs are happy sitting in front of you in the cockpit, although it is harder to fit them in sit-inside kayaks with smaller cockpits.
If you are bringing your dog along to paddle where a lot of people are enjoying the water, please be conscientious about the fact that not everyone is comfortable around dogs.
You're only as strong as your weakest paddler...
When you do venture out with the whole family, remember to be conscientious of the group's ability.
And speaking of the entire group, be sure that everyone has a properly sized and fitted life jacket.
You're only as strong as your weakest paddler so don't drag your kids on a 15 mile paddle if they're not up for it. If you try to get your paddling workout in while going out with the family the whole experience could turn sour for everyone. To help make the outing fun and pleasant for everyone drop your agenda and set the intention to relax and be present with your family and the beauty that surrounds you.