Sprayskirts are made from neoprene and are designed to keep water out of the inside of your kayak so that you keep floating. The skirt fits securely around the cockpit rim and has a pull cord or grab loop that stays on the outside of your cockpit so you can pull the skirt off if you want to get out.
Wearing a Sprayskirt
Most women find it easiest to step into the skirt and pull it up over their hips. It's important to accept that there's no graceful way of pulling the small tunnel over your hips, you'll get used to it. You want the tunnel to fit snugly around your waist.
Tips for Fit
Putting your sprayskirt over your cockpit for the first time can be one of the most frustrating things about learning how to kayak. Here are some tips to make it easier: Firstly, when neoprene is dry it shrinks up and becomes stiff so if you dunk your skirt in water it will help it stretch out.
Putting It On
So here's the best way to put on your sprayskirt. The first thing you want to do is put the back of the skirt on the back of the cockpit rim. So you have to lean back a little bit to make sure that you can get the skirt around the back. Once it's on the back, you want to continue to stretch the skirt forward using your palms and your thumb making sure it's on all around, making sure my grab loop is on the outside, and I'm ready to go.
---
Anna Levesque is a world-class kayaker who has a passion for inspiring and teaching women. Her experience as an accomplished international competitor, author, instructor and business owner has placed her as the leading expert in her field. She combines her international expertise in kayaking with her experience as a yoga instructor and student of meditation, to inspire women in confidently creating success and happiness in all aspects of their lives. She offers women's paddling retreats, clinics and trips in Mexico through her company, Girls at Play, and the Nantahala Outdoor Center. For more information please visit www.watergirlsatplay.com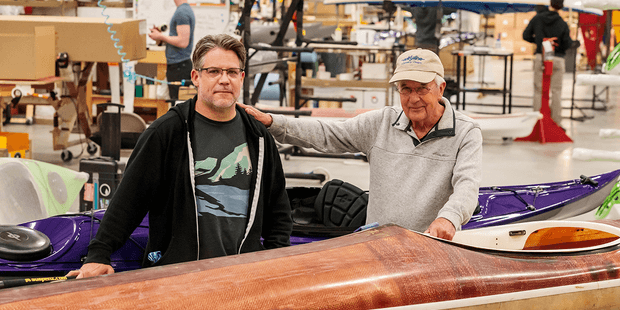 50 years of lightweight, maneuverable, high-performing kayaks.
Check out this interview with Tom Keane, Eddyline Kayaks Co-Owner, on their journey!