Before we talk about how to hold the paddle, let's take a quick look at the parts of the paddle. The very tip, or tip of the blade is called the tip. This whole area is the blade. The back face is convex, the power face is concave, or spoon. The blade comes down to the shaft and where the blade meets the shaft is called the throat.

When you are paddling, you have a right way up. The long edge is on the top, the lower edge is on the bottom. To hold the paddle, you want to use a light grip, not squeeze. When you grip tightly, you have a bend in your wrist, which isn't good. When you release that, the wrists straighten out.
You're going to be pulling on that paddle, and when you pull on it, you're much better pulling on something that is straight rather than something that has a kink in it. So, keep the kink out of those wrists by having a nice, light grip on the power shaft.
You'll want to line up the knuckles, your big knuckles with the edge of the blade. And, on a paddle that has no feather, the knuckles on the right hand line up with the right blade, the knuckles on the left hand line up with the left blade.
On a paddle that is feathered, you line up the knuckles on the right blade with the top edge of the blade, and maintain a loose grip on the other side.
The width of the grip is such that when you put the center of the paddle on your head, you'll have pretty close to a right angle on your arm. I'm trying to have about a right angle, and that will give me the spread that I want for taking paddle strokes. I'm looking for a combination of leverage and reach.
This has been Mike Aronoff with Canoe Kayak and Paddle Company (CKAPCO). I hope we'll be seeing you on the water!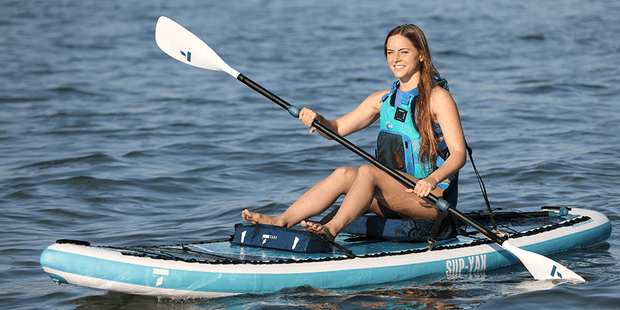 TAHE 10'6 & 11'6 SUP-YAK Inflatables
2-in-1 Kayak & Paddle Board complete packages for single or tandem use.