It was just an hour before a full moon rise on the north Pacific. I was out kayaking beyond the town's breakwater in a small bay surrounded by rocky hills and towering spruce trees. The water and sky met as a seamless ink black void. I headed to a known shipwreck and adjusted my headlamp at an angle that would direct the light about ten feet beyond my bow.
Sometimes night "vision" is more sensing than actually seeing. Something told me it was time to turn on my lamp.
It was as though a lightning bolt had zapped my immediate surroundings and then decided to hang around! The brightness was blinding. Twenty yards in front of me loomed the barnacle-covered bilge of the overturned ship. A gaping hole in its side glowed from the light and the rusted framework well within its bowels reflected back even more light.
The glare off the water's stilled surface made me feel as though I had been caught in some gigantic tracker beam from an overhead alien mother ship.
What was equally fascinating was that everything outside that directed shaft of intense light from my headlamp had disappeared. Blacker than black! My entire visible world was limited to an arc of intense light about twenty degrees wide. Needless to say, my "night vision" took many, many minutes to return.
Despite that glaring experience, some of my most memorable paddling experiences have occurred after the sun went down. Twilight and nighttime cruises reveal an entirely new world to the intrepid paddler. But despite all that can be found within those realms of darkness, there are times when casting a little light onto the situation is necessary or at least quite helpful.
While a good waterproof flashlight is an indispensable source of illumination a sometimes more convenient source is a good headlamp. It frees the hands, helps direct light to exactly where you are looking and is always out of the way yet within immediate reach at the same time.
Headlamps come in a variety of sizes and, therefore, weights. They are completely waterproof as in the diving models or "weather resistant" in the more generic "outdoor" varieties. For the purposes of a good paddling lamp, a few compromises on complete "waterproofness" may have to be made. A completely waterproof headlamp tends to be heavier than those that are merely resistant to the water it might encounter from rain or spray or even moisture in the air.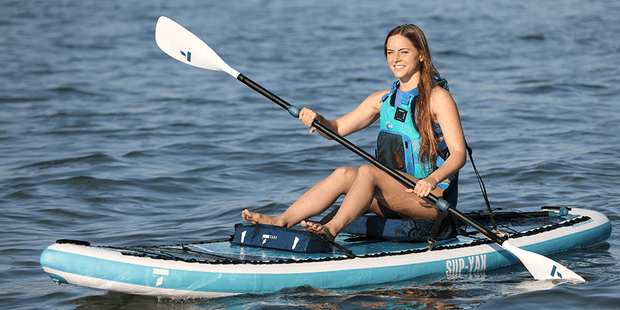 TAHE 10'6 & 11'6 SUP-YAK Inflatables
2-in-1 Kayak & Paddle Board complete packages for single or tandem use.
When shopping for a headlamp keep in mind what situations you'll need light for in the first place. Will you be working your way through a hull-grinding rock reef at low tide, seeking a slalom course through dark channels? Will you be scouting the shoreline for a specific landmark or will you just be scanning the near distance for security and course correction?
For those fortunate enough to paddle in super clear waters, sometimes a headlamp is like a spotlight your kayak is an aircraft hovering over an alien - scanning the foreign sea floor not so far below.
At other times you may be checking a chart or changing film or some other form of close-up work. At those times you don't need a spotlight, you need a dimmer, broader wash of light in order to complete the task at hand. A beam that is too harsh will bounce glaring light off nearby surfaces and in some cases nearly blind you from seeing anything beyond the bow of your kayak.
Additionally, a headlamp can be a good tool to use to keep you visible to others. Either blinking interludes of your primary white light or flashing red light options can be used as a helpful signal to keep a flotilla of paddlers within close proximity to each other.
Lastly, for those of us who have to wear glasses when we paddle, some of the models are designed in such a fashion that as the light is tilted downward (or in some cases, any position) there can be an annoying "back glare" that comes from some of the light reflecting off the inside of your lenses and creating a subtle but persistent visual annoyance. It's like driving at night with the dome light on inside your car!
Here are a few of the headlamps on the market today all from companies well known for their differing styles and models. Like anything else, check it out before you buy for fit, weight and general comfort; for intended uses (does it have or need multiple brightness settings?); waterproof vs. water resistance; and whatever other criteria you may find important. Unfortunately the most critical and definitive test how does it work in the dark may be the hardest one to perform.
eQ Multi Light by eGear
The eGear "eQ Multi Light" is definitely an effective little light literally. It weighs less than an ounce! It's very simple: one small 1.8 lumen LED on a narrow 1/2" wide elastic band. Yet it burns for about 60 hours on two coin type lithium batteries. You can wear it via the strap or alone via a strong spring clip.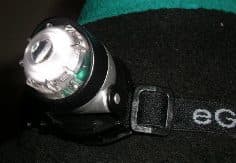 It's only "weather resistant" but for a retail price of $15 and the fact that it produces a very tidy and tight light, it may be wise to buy a few of these for around camp, too.
My concern is the twist "on-off" light lens itself. It's small and could be hard to grasp with wet hands but overall a cool lamp!
Triode by Gerber
The Gerber Triode headlamp has a futuristic, side-by-side triple lamp that offers a low and high brightness level. The switch sits atop the lamp and is simply pressed, once for bright, again for a dimmer output. It reaches out about 50 feet with its LED powered by one AAA battery.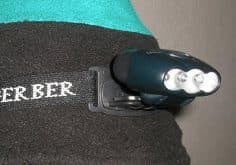 Like most headlamps, this one pivots upward or downward from the forehead enabling the light to be aimed at a desired angle. The Triode clips to the strap or can be easily pulled away to attach to a cap brim or strap. It also features a comfortable and adjustable elastic strap headband.
2680 HeadsUP by Pelican
A mouthful of a name, the Pelican 2680 HeadsUP Lite LED is befitting this huge headlamp. This is a heavy-duty diving headlamp that would serve well as a foul-weather, nearly "everything-proof" headlamp. It's nearly 2" diameter lens uses 4 AAA batteries to kick out 25 lumens of light. It features technology that sends the light back onto a reflecting plane that then directs the light outward in a tight pattern.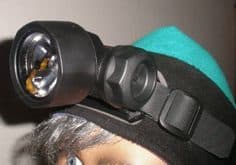 The 2680 HeadsUP is like wearing a flashlight on your head, both in the intensity and size of the beam and the fact that it weighs almost nine ounces. The wide rubber strap and solid, tight housing rightly suggest that it's waterproof. The switch is rotated by means of a flange on one side of the lamp could be a bit frustrating with cold fingers. Otherwise it's a simple rotate on rotate off. Pelican offers a lifetime guarantee you break it, they replace it.
EOS by PrincetonTec
I have always been a fan of PrincetonTec products and continue to be with their EOS headlamp. It offers a moderate distance of light with its 1 watt LED, powered by 3 AAA batteries. It uses a collimator/lens system that balances the beam from its luxeon bulb to achieve a good flood of distant light.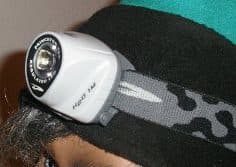 What's extra cool about this light is that it offers two brightness modes and a blinking signaling/locator mode, too. Repeated pushes on a button atop the lamp chances the output from brightest to bright to flashing. While it is labeled as "water resistant" it is good down to one meter better than many not fully waterproof.
It, too, like all the others, is a very comfortable rest. It has 1" wide elastic adjustable strap and the lamp pivots vertically for directional options.
Flex-A-Lite by PremierLight
Compared to the others, the PremierLight, Flex-A-Lite is the most elaborate system of the lot. Lens, cord, battery pack and three-way strap are all components of this otherwise nifty headlamp. Its got a 7 LED, 2 watt system that runs on 4 AAA batteries. Its marketing department says that means this light can be seen from 3.5 miles away. It features two levels of brightness from three and seven LEDs respectively and also flashes out S.O.S all from a very small button atop the housing. Like the others it swivels vertical through four positions.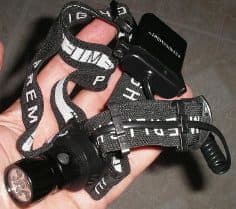 Unlike all the rest cited, this one has an external battery pack attached to the back of the head harness. When the unit is on, a tiny but bright red light let's those behind you know you are there. It is waterproof and PremierLight offers a lifetime warranty.
Mini Lights
Besides these headlamp units there are a few mini lights out there that are neither flashlight nor headlamp. They are mini strap/brim lights that are simply a spare light that always handy.
Just-In-Case by Princeton Tec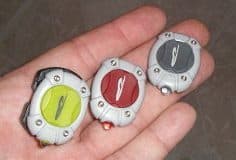 Princeton Tec's "Just-In-Case" light says it all. They attach to any accepting strap (headlamp, backpack, belt pouch) and by a simple twist of the head, they unclip to become a simple pinch-on/off light source. PrincetonTec offers these minis in white, red or green emissions. They don't cover a long distance but if inside/close work needs a wink of light, these minis are the answer.

Hat Light by JDGear
Another source of mini lamps that were actually designed to clip onto the brim of a hat is from JDGear. Streamlined and fashionably designed, these sleek toggle switch lights can be attached to anything offering a thin edge such as the brim of a baseball cap. These are best suited for close-in work. These and other minis are great for stashing in jacket pockets, fishing or photography bags.

All of these are among good headlamps that are on the market. Make sure they fit well and are going to stand up to the rigors of your activity. Double check that water proof option, too.
Paddling at night is a wonderful experience, having a light handy adds to the pleasures and provides an extra margin of safety, too. Like all things, however, don't abuse the light by blinding other paddlers, and don't become ultra dependent on having to use the light excessively there's a lot to see out there in the dark.
Tom Watson, an avid sea kayaker and freelance writer is also the author of "How to Think Like A Survivor" available on Amazon.com and most major bookstores.