Gift guides are a great way of sharing a cool find with friends, and help fatten a paddler's wish list from a treasure trove of new products. Here are some accessory products most paddlers would find useful. Some are one-of-a-kind treats while you can never have too many of some of the others. If you're like most paddlers, you will probably end up buying a gift from this list for …yourself!
Laser Lights
The Greatland Laser Light is an effective and handy rescue aid for paddlers. It projects a concentrated beam of light farther than does the regular dispersing light of a flashlight and at a higher intensity or brilliancy. Use it to signal rescuers or to find reflective signs/markings at great distances.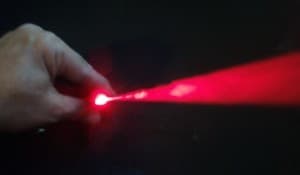 The smallest of these units (there are three available from this manufacturer) is 3.5 inches long and housed in a waterproof (down to 80 feet) cylinder made of anodized aircraft aluminum. It is powered by a standard 3-volt lithium battery. It comes in the small Rescue Laser Light/40 hour. They also produce two up-grades: a 72-hour light ($110) and a day/night mega-light (green) for $250 (Check out this article for a full write-up on the Greatland Laser Light).
Bug Repellent Devices
The ThermaCELL Patio Lantern is a great "two-fer" gift offering both a close proximity light source and 98% effective mosquito and black fly repellency. While the butane powered heat source may keep it out of your tent, it clearly can be of use in the dining tent or around the picnic table. The repellent keeps the bugs away within a 15' diameter "comfort zone."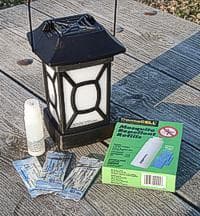 The unit is powered by 2 AA batteries and comes with butane fuel cartridge and three repellent wafers. The active ingredient is pyrethrin, a synthetic copy of a natural insecticide found in the pyrethum flower, a member of the chrysanthemum family. There is no open flame and the unit shuts off if tips over.
The lantern, with one cartridge and two insect repellents is $29.99. A refill kit sells for about $6.
Originally introduced a couple of years ago, the ThermaCELL repellent "appliance" does everything the lantern does (see above) except the light. Add the convenience of a holster and straps for carrying the unit into the field and its primary utility is revealed. One could tuck this under a deck bungee while fishing or napping in windless bay. Hunters have the added choice of using scent pads that mask the human scent as well. Two side pockets can hold extra cartridges and insecticide/scent pads.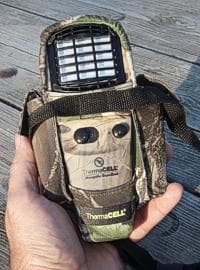 The holster is $9.99 in plain olive or $12.99 in Camo. A re-fill pack with one butane cartridge and three insecticide mats is available for under $6.
Dry Bags
Anyone who's used a dry bag knows that they are equally good at keeping moisture in if contents are damp when stored. It doesn't matter with the Harken Roll-Top Wet/Dry Bag for it has a dual personality. Not only can you use straps and a purge valve to really compress the contents, you can put both dry and wet gear into the bag without worry of moisture invading the dry area.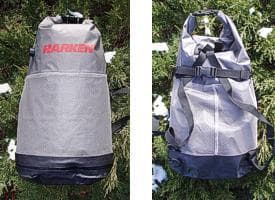 The dry bag is aligned inside the mesh "wet" bag and compresses independently of the outer mesh shell. As one fills, it acts like a piston and causes the other volume to decrease – while never coming in contact with the other chamber's contents. Sweet! The bag is waterproof TPU-coated nylon and also includes shoulder straps, and roll-down closure buckles. It's currently only available in one color and one size (31" x 15"). Suggested retail price: $45. Harken Sailing Gear.
Socks
One item no stuff sack should be without is a dry, clean pair of Merino wool socks! Like Dad's tie, a good pair of socks is the ubiquitous holiday gift – especially for outdoors enthusiasts. Paddlers should always carry a pair in their emergency pack and we all know how good it feels to slip into a fresh sock after a long day of hiking or moving about in sweaty boots.
Whatever brand you choose (Cabela's Ultimate Wool Hiker is shown) make sure it has a majority of its fiber from Merino wool. They will wick moisture away and dry quickly. Typically wool shares the content billing with nylon and Lycra spandex. I personally like the wool content to be at least 60%-80%, but this can vary greatly and oftentimes reflected in the price. Look also for reinforced toe and heel areas. These run about $16/pair.
Pressure Cooker
Do you know a kayaker who loves to cook? GSI's Hard Anodized Pressure Cooker sounds ominous but works great! The 3.5 pressurized pot is compact for easy packing but makes it possible to whip up fantastic meals in record time – using less fuel than most basic recipes. Clean up is easy because anodization is not a coating, it's a treatment that makes the pot non-stick!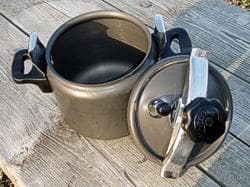 Even if, like me, you've never even used a pressure cooker before, you'll find this one very simple. You need to use a camp stove, not a campfire. If you bring fixin's for a stew already processed and ready for final prep', you simply add ingredients, seasonings and water and seal the lid. The pot starts steaming, the vent pipe starts the cap dancing and that's it. Little bursts of steamer escaping tell you the unit's working. I used a beef stew recipe that came with the kit and created a very delicious meal – start to finish – in one half hour, enough for three or four hungry paddlers.
GSI offers a wide range of cookware. The Pressure Cooker weighs a mere 4.26 pounds; is 10" wide at the handles and stands 9.5 inches tall. It operates at up to over 12.76 PSI. Retail price is $59.95.
Camera Tripods
Photography is a side venture whenever I paddle and there are a few nifty gadgets on the market that make great gifts. The BOG-POD is basically a telescoping mono-pod that helps steady a camera, or spotting scope, or with adapters, even a rifle (for the serious seal hunter out there!).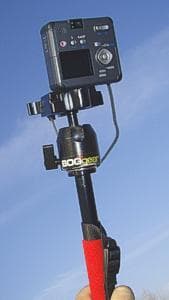 The BOG-POD has come in handy by providing a steadier platform for even small point-and-shoot cameras. At its shortest contraction, the telescoping pod is like a long handle on the camera. Lengthen it to needed height for support and it steadies the camera more than mere handholding can. With cameras with timers, it's convenient for extending the view above the reeds or closing in on a subject too high (or too low) to reach. Just set the timer, extend the pod and you can modify your "eye level."
The unit comes with a three-sectioned, calibrated telescopic tube (22" to 68"), foam grip and hand strap. A companion attachment called the Switcheroo is a 360-degree swivel head, camera base tab and camera mount with leveling bubble which snaps off so you can insert a "V" mount than comes with the monopod for use with a spotting scope or rifle. The entire unit fits into a shoulder sling bag.
Retail prices: BOG-POD/$39.95, Switcheroo Head/$59.95.
While we're on the subject of photography, I've got to introduce you to Joby's GorillaPod. It's an incredibly easy-to-use, sturdy mini-tripod that will work literally anywhere. There are several sizes to match different camera weights. I've been using the Gorilla Pod SLR (for camera weights up to 1.75 pounds).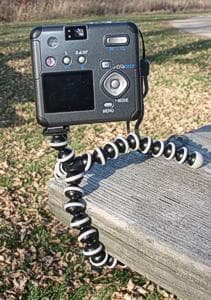 Each prehensile leg has ten articulated ball and socket joints made of high-quality plastic for a snug, yet pliable fit. A Slim Line base stays on your camera enabling you to quickly remove it from the tripod. There is also a lock ring on the base of the platform to further secure your equipment.
I've seen this thing cling to the thin edge of a car window, grasp a tree limb like a squirrel monkey or wrap around the corner of a picnic table like an octopus. Possibly the most versatile mini tri-pod out there! Retail: $44.95.

Gear Bags
So, where are you going to put all this neat stuff? Sometimes even a Duluth pack isn't big enough. That's when you call in the Base Camp Hauler by MountainSmith. This huge, modular packing system let's you organize and store/haul all your gear in one large, bombproof bag. I intend to use mine as a soft-sided Kitchen box.
Each of the precisely fitted inner bags (clear top and zippered closure) let's me sort out utensils from settings, spices and condiments from canisters of flour and sugar. One could even pre-plan meals and have each modular bag hold a day's support. The bag features inner fins that help hold its soft sides up. Sides, by the way, that are bright yellow in case you need an emergency signal of sorts.

Books
And lastly, don't forget the readers on your list. I'd like to recommend two books that I am particularly fond of because I wrote them. OK, a liberty I can take as the author of this column and of these books. "Kids Gone Paddlin'" is the latest in a series of outdoor books by Creative Publishing, International developed to help kids 8-12 years old learn about outdoor activities such as fishing, camping, and now paddling (This book earned a 2nd place award in the Best Outdoor Book category at the annual Association of Great Lakes Outdoor Writers annul conference, 2008).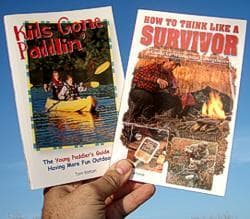 "How To Think Like a Survivor," also published by Creative Publishing, looks at ways to hone skills and confidence to keep a positive mental attitude in survival situations. It's not about snaring rabbits with coat hangers or eating bark off trees, but about mentally being prepared and understanding what needs to be done, why and when during a survival situation.
Hopefully this list, just the tip of the paddling gifts iceberg, will give you some ideas on gifts for your favorite paddler. There are some great stockings stuffers out there and don't forget to consider gift certificates, too.
Here are a few articles from the archives if you wish to explore some more gift suggestions for paddlers:
Holiday Gift Ideas for Paddlers
Starting Your Paddling Library
Safe Paddling and Happy Holidays.