I just couldn't resist having just one more trip before the season ended and the lakes froze. So, on the third weekend of October, when everyone was glued to their television watching the special news reports about the calamities of Boston and Fort Erie shoveling their first major snow, I invited a neighbor to go on a post-fall canoe trip. I'll admit it was darn cold, and the sun only came out once or twice. In fact, it rained, and then snowed most of the time we were out. But we were out, and that in itself was worth numbing our fingers and toes.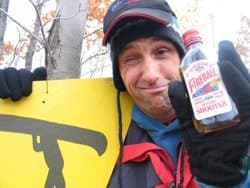 The worst weather condition we had to deal with was the rain; a cold rain that tried desperately to soak ever piece of gear we had brought along. And then, once we stopped for the day, preparing a dry camp was the ultimate reward. Here are a few tips that kept us comfortable.
Waterproofing Gear I found the best way to keep everything dry, especially while out paddling and portaging, is to first store items in a number of waterproof bags. I don't mean garbage bags. Even if you're using heavy-duty plastic bags, they will eventually tear open. I'm talking about solid dry bags you buy from high quality outdoor stores, or, to save you money, heavy-duty plastic placed between two nylon sacks.
I start off by placing my waterproof liner inside my regular pack, with the liner over-sized for the pack to give plenty of length to roll up and secure at the top. Or better yet, I use a totally waterproof NRS Bill's Dry Bag. Then, in a number of separate color-coded stuff sacks I place my cloths, sleeping bag, first-aid kit/repair kit, and anything else that's important to keep dry.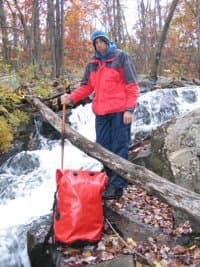 My food is either stored in a regular barrel pack or one or two of those smaller olive barrels slipped inside a Duluth-style pack, The large blue barrel is my wife's favorite, as long as she has a top-of-the-line harness for it. The smaller olive barrels stuffed in a regular pack, with a sleeping pad placed between the barrels and your back, is a much cheaper way though. You can buy these barrels at some outdoor stores or find your own, free of charge. I visit any place that buys olives in bulk (ie. large-chain grocery stores, delicatessens, or restaurants) and either ask for them, or wait until garbage day and pick them out of their recycle bin. Make sure to stay away from mushroom barrels. They look similar but will leak if submerged.
Cameras have to be the worst to keep dry on a trip. I've tried everything over the years, from ammunition boxes to roll-tope rubber bags. I once even made my own out of a small plastic pail. Five years ago, however, I finally splurged and bought a Pelican Case. It's the best solution, not only for keeping your camera dry, but to keep it from getting knocked-about. I've had mine go down three major rapids and everything inside was still dry and intact. The medium-sized box was perfect for one camera body, three lenses, and six rolls of film. It also makes a perfect solo seat for my canoe.
Rain Tarp
My tent is only used for sleeping in, basically because it's smaller than a dog house. So when it rains out, I depend on a good tarp to shelter me. I started off with one of those big blue nylon-reinforced plastic tarps. It actually worked quite well, but was a real pain to carry. The material was extremely stiff and bulky. And the cheap corner grommets had a tenancy to snap in heavy winds. Eventually I upgraded to a light-weight, polyurethane coated, rip-stop polyester tarp (you can get them in the even lighter nylon material). I love it. As soon as it rains, I erect the 10' x 12' (2.9m x 3.9m) tarp, build a small fire under it, and sit, relax and cook up a pot of tea or hot soup. There's nothing like it.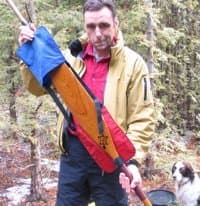 There's no specific trick to putting up a tarp. It's just that some campsites have a better arrangement of trees than others. The perfect scenario is a tree for each of the four corners. More than likely, however, you'll have to unpack an extra length of rope and extend one or two corners to a nearby exposed root or alder bush.
The most common shape the tarp should be placed in is a "lean-to" style. This consists of having two ends placed up high, preferably attached to a rope strung between two trees, and the other two placed low to the ground, towards the prevailing winds. Make sure it's snug or the tarp will flop around in the wind and irritate you to no end throughout the night. I've attached small bungee cords on each corner grommet to help keep the ropes tight. A center pole also helps keep the tarp taunt. However, rather than searching all over for a tree limb to place in the center of the tarp, purchase a paddle strap. This neat device was designed by Thomas Benian of Outdoor Solutions and works by lashing two paddles tightly together to act as a solid center pole.
Bed Time Warming Techniques:
You will rarely have difficulty staying warm during the day on the trail, but the night air brings a bone-numbing chill. Here's a few ways to keep yourself more comfortable.
Daylight is greatly shortened during the off season and it usually takes much longer to set up camp, so be prepared to end the day early.
Avoid making camp on designated summer sites; with the heavy use they receive throughout the prime season, they are usually far too exposed and have limited wood for a fire. Choose a well-protected forested area, well away from the wind.
Make sure to provide a lot of ventilation inside the tent. Condensation will quickly form from your breathing and cause the interior of the tent to become damp.
The moment you finish setting up camp, change into extra dry pair of long underwear and socks (keep a spare set in the front pouch of your parka so they are nice and warm to put on) and wear a wool tongue to bed.
Sleep on a thick foam pad or Therm-a-rest (not an air-mattress). Your body will definitely lose more heat to the cold ground than the air.
Fluff your sleeping bag (a top-of-the line, high quality four-season design) before crawling in. The action creates more air space between the fibers or feathers.
Use a liner to increase the efficiency of your sleeping bag. Or better yet, double up two sleeping bags and share your warmth with a partner.
Munch on high calorie snacks just before bed time. The fuel your body has to burn off will help you stay warmer.
If you find yourself shivering inside your sleeping bag, put on your rain gear to act as a vapor barrier and hold in your body heat.
Keep an empty (well-labeled) water bottle inside the tent to pee in. A full bladder robs the body of more heat than an empty one; and besides, who wants to crawl out into the cold night air to relieve themselves at two in the morning.
Kevin Callan is the author of eight books including 'The Happy Camper: An Essential Guide to Life Outdoors'. He is a recipient of the National Magazine Award and a regularly featured speaker at North America's largest paddling events.