Spring is here, the weather is warming up and it's a great time to shop for a new kayak. There are so many good makes and models on the market, how do you tell the difference and choose the best one to suit your needs? As women, our body shape, our knowledge about the boats, our ability to know what type of kayaking we want to do, and the weight of the kayak are key factors in our decision. I've put together this article to assist you in choosing the perfect kayak so that you can comfortably get outside, enjoy the water and have fun!
To start out I'd like to explore the basic differences between Recreational and Touring kayaks. These two types of kayaks are often lumped together because they differ from pure Sea kayaks. However, there are some major differences between them. In general, recreational kayaks are wider, shorter, and have larger cockpits compared with touring kayaks. The larger width and shorter length of the recreational kayak makes it more stable, slower, more maneuverable and lighter than a touring kayak. Recreational kayaks, especially entry-level ones, are much cheaper than touring kayaks because they aren't designed for long journeys and don't have as many 'bells and whistles'. Recreational kayaks are ideal for outings of a few hours on calm lakes or easy-going rivers and are great for paddlers who are very new to the sport.
Sit-on-top kayaks are often considered a type of recreational kayak. They handle in a very similar way, are easy to use, are durable, versatile and very stable. They're great for families, kids and fishing because they're so stable you can often stand up on them and they're easy to climb back onto if you want to take a swim. Sit-on-tops are wonderful alternatives for people who don't like the feel of sit inside kayaks. The down side is that sit-on-tops can be heavy and awkward to carry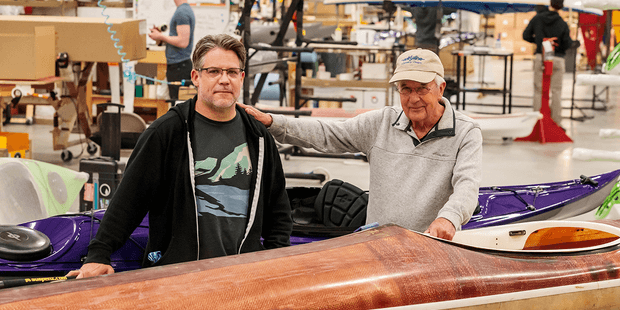 50 years of lightweight, maneuverable, high-performing kayaks.
Check out this interview with Tom Keane, Eddyline Kayaks Co-Owner, on their journey!
Touring kayaks are longer, narrower and have smaller cockpits. These boats are designed to be fast, to track straight and to deal with a wide range of conditions. Touring kayaks are more expensive because they often include higher end and more complex outfitting for the seat, thighs and feet, as well as storage hatches, compartments for gear and tracking features like rudders and skegs. The outfitting allows for greater control, a snugger fit and higher performance. Because touring kayaks are designed to go straight they're longer and narrower. The length and extra outfitting can make them heavier and harder to carry on your own depending on the weight.
Now that we know more about each type of kayak we know that recreational, touring and sit-on-top kayaks can all be used on flatwater, in protected shoreline areas and on easy-flowing rivers. And, we also know that some are better suited to specific conditions and types of paddling than others. So, the first question you want to ask yourself when shopping for a kayak is: "What type of paddling do I want to do?" You want to know what kind of water you'll be paddling the most and what kind of kayaker you want to be.
By knowing the type of paddling you want to do you'll avoid mistakes like buying a 16ft kayak when you're local easy-going river is narrow and windy. Going with a really long kayak in this case you'll probably end up running into the banks a lot because you won't be able to turn quickly enough! Or, if you want to paddle long distances, but decide to save money by getting a shorter, less equipped kayak, then you have nowhere to store your gear and you won't be able to travel as far without getting tired.
Everyone is different and has different goals and the type of kayak you buy should reflect your intentions and goals, not your friends', husband's or boyfriend's. This is an important point to remember when you feel like someone else is trying to influence your decision. A classic example is a husband who wants a new boat and is trying to make it look like he's buying it for his wife, but really he plans on using it too. This can work with some people because the body shapes and sizes may be similar, but if she's a small person and he's big then it's just not a good option. For a lot of women it's in our nature to want to help and take care of others and so we put our own desires on the back burner to accommodate others. If you choose to do this it's important to recognize that you may not be getting the best choice for you and kayaking may not be as enjoyable as it could be.
It's possible to consider information given to you by people you trust without allowing yourself to be talked into something you're really not interested in. Being honest with yourself about your ability and your interests is key. You don't want to get dragged onto a fast flowing river if you're scared of waves. You'll end up having a horrible time and probably won't want to kayak again. The same type of thing can happen when choosing a boat. It's not that you'll get scared by choosing the wrong boat, but maybe it'll be so uncomfortable for you that you decide that kayaking isn't your sport. You want to set yourself up for success and part of that is being confident in expressing what you want.
Knowing your body is another important part of choosing the right boat. So far the kayak manufacturers have produced some kayaks for women, but they're for women who are very small. This is great for small women, but not so great for bigger, curvier women. The parts of our bodies that need to feel comfortable when we sit in a kayak are our hips, butt, thighs and feet. Some seats feel great for your hips, but the width of the cockpit and fit of the thigh braces may feel too restrictive for your thighs. You may need a kayak with fancier outfitting or your hips may prefer a boat with a very large cockpit, simple seat and very little outfitting for more room.
It's like trying on a pair of jeans. Sometimes they feel great in the waist, but are practically ripping at the seams along the thighs and butt. You want a pair of jeans that fit you well everywhere, not just in one place on your body. It's the same with a kayak. As you sit in kayaks on the show room floor be sure that you're taking fit and comfort into consideration. If it doesn't feel good while you're sitting in it imagine what it'll feel like after two hours on the water! And just because a boat is 'designed for women' doesn't mean it'll work for your body. Every body is different so what fits your friend may not necessarily fit you too. Be patient when trying kayaks and sit in as many different models as possible before buying. If one feels just right then you'll know it's a good catch!
Kayaks designed for smaller paddlers and women are lighter, and in my experience, the weight of the kayak seems to be a big concern for most women. Especially for those who want to be able to carry and load their boats themselves. Most plastic kayaks weigh between 38 lbs and 70 lbs. Not everyone feels like they can carry a 40 lbs boat and I encourage all women to learn proper technique and at least try it because we build strength and stamina over time. And it really does get easier for a lot of women, I swear! If carrying the weight just isn't an option don't get discouraged. There are plenty of rack systems, carts and other tools for ease of carrying and loading. Being able to carry your own kayak is nice, but it's not absolutely necessary for you to be able to enjoy kayaking. Finding friends to paddle with and to help with your kayak is always my favorite alternative!
When choosing a boat you'll want to consider that factors in weight are length and material. The longer the boat, the heavier and more awkward they are to carry. Plastic boats will be heavier than kayaks made of lighter materials such as fiberglass. The down sides to the lighter materials are that they are fragile and very expensive. Most paddlers benefit from a plastic boat that won't break if it's dropped or dragged. You'll get a lot more out of your plastic kayak, won't have to baby it so much and it'll be much cheaper. Some manufacturers have durable light materials with names such as 'Airlite' or 'Duralite' that you can look into. This is a good middle road because, although boats made out of these materials aren't as durable as regular plastic boats, they're lighter, more durable, and cheaper than fiberglass kayaks.
Whew, that's a lot of information so let's sum it up! If you're a woman who is shopping for a new kayak be sure to be familiar with the different designs and what type of conditions their made for so you can get the right kayak for your interests. Also know your interests and goals and don't allow yourself to be influenced by the interests or desires of others. Find a boat that feels good and is comfortable for your body type. Look for kayaks that weigh less so that they're easy to carry or get the tools you need that will assist you in carrying and loading your own kayak. There's a lot to consider when buying a kayak and following these guidelines as well as advice from people whom you trust and who want the best for you can assist in the process. Good luck and happy paddling!
Anna Levesque is a world-class kayaker who has a passion for inspiring and teaching women. Her experience as an accomplished international competitor, author, instructor and business owner has placed her as the leading expert in her field. Her top accomplishments as a whitewater athlete include a bronze medal at the 2001 World Freestyle Kayak Championships, a spot on the Canadian National Freestyle Team five years in a row, and many top 3 finishes in both Freestyle and Extreme Racing. Anna combines her international expertise in kayaking with her experience as a yoga instructor and student of meditation, to inspire women in confidently creating success and happiness in all aspects of their lives. She offers women's paddling retreats, clinics and trips in Mexico through the her company, Girls at Play, and the Nantahala Outdoor Center. For more information please visit www.watergirlsatplay.com