---
Assisting a capsized paddler to get back upright into a stable, water-free boat is the main purpose of a variety of assists, alone or in combination with others.
Among these variations are procedures that 1) empty the boat first and then have the paddler climb in; 2) re-enter the cockpit while boat is capsized and then assist in uprighting, and 3) never exiting the cockpit in the first place (failed roll attempts could put you in this position). These methods can be performed solo or with the assistance of one or more rescue paddlers.
A non-exit assisted rescue requires that the rescuer's bow is presented to the capsized paddler who then uses that bow support to pull upright again - like a pool-side rolling exercise. Variations include a side approach with rescue paddle placed across the deck bridging both rescue and capsize kayaks, providing a pull-up, bar support for the capsized paddler.
A paddler utilizing this rescue can remain in the boat if this method has been thoroughly practiced and understood by all members of the paddling party. Climbing back into the overturned kayak is easy and actually expends less energy than trying to re-climb aboard an upright boat.
Assisted re-entries include a variety of along-side climb-up methods using the rescue boat as the support platform (bridged paddles, two boat straddle, paddle stirrup, etc.).
Emptying boats involves raising the bow (on a bulkheaded boat) to drain water from cockpit area or bringing the boat up onto paddles or the deck of rescue kayaks. Completely submerged boats can often be at least partially drained by curling/rolling boat up sideways.
Kayakers preparing for group paddles should practice these options before venturing out. Keep your paddle secure and keeping your kayak from drifting away are two critical components of a successful capsize assist.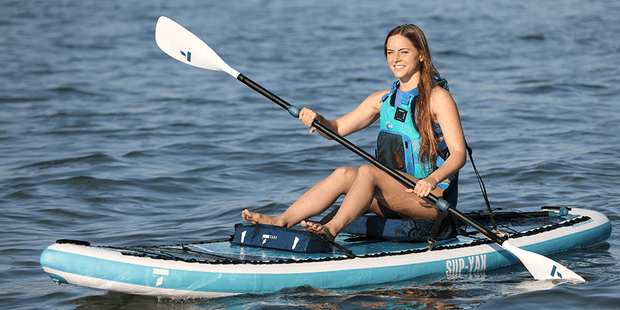 TAHE 10'6 & 11'6 SUP-YAK Inflatables
2-in-1 Kayak & Paddle Board complete packages for single or tandem use.