How to Safely Paddle as a Group
Whenever you're paddling, there's safety in numbers and so it's generally not a good idea to paddle alone. That being said, travelling as a group has it's own challenges and safety considerations, so that's what we're going to look at in this video. When you decide to paddle as part of a group, even if that group is only two, you need to realize that you're becoming part of a team. If you're spending a long day on the water, or paddling on the open ocean or anywhere else that's exposed to wind or waves, you need to work as a team to get where you're going safely.
Know the Goals of the Group
The first thing to know is that the paddlers in your group might have different goals for the day, and these goals can conflict. For example, someone might want to have a relaxing day out on the water, while someone else in the group might want to really challenge themselves. This is why it's important to talk about your goals before heading out, and it might mean finding someone else, or other people, to paddle with. Either way, when your group does hit the water it's important that you accept the fact that your group is only as strong as the weakest paddler in it.
Know the Skill Level of the Group
On a similar level, it's also important to know the different skill levels of the people in your group and any limitations that paddlers might have. For example, can everyone in your group get back into their kayak from the water with help? If someone can't, this definitely should impact where your paddling trip takes you.
Communication
Another key part of group travel is communication on the water because it's easy to get spread out so that your voices can't be heard. You need to have another form of communication available. Whistles do a great job of getting people's attention, and it's generally accepted that a single, long blast is used to draw attention, while three consecutive blasts are used to indicate an emergency. The paddle can also be used as a very simple means of communication. You can tell someone to stop by holding your paddle in the air horizontally, or tell someone to go ahead by holding your paddle vertically.
Have a Radio
Of course the best way to communicate when your regular voice won't do the trick is with radioes. You can get simple and cheap two way radioes that work great, but the ideal communication device is marine VHF radios, which not only let you communicate with each other, but you can reach other boats and even the coast guard if you need to signal for help. You can even hear the latest marine weather forecast for your area, so you won't get caught off guard by nasty weather.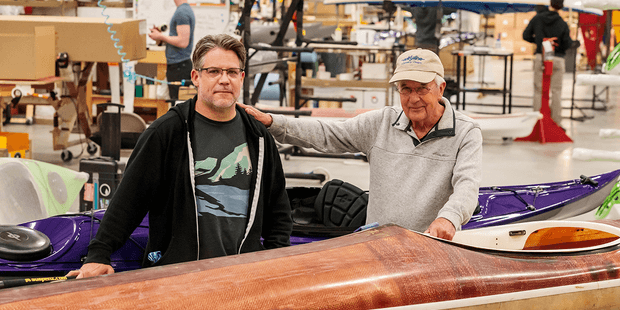 50 years of lightweight, maneuverable, high-performing kayaks.
Check out this interview with Tom Keane, Eddyline Kayaks Co-Owner, on their journey!