Canoeing in The Everglades
Canoeing Locations in The Everglades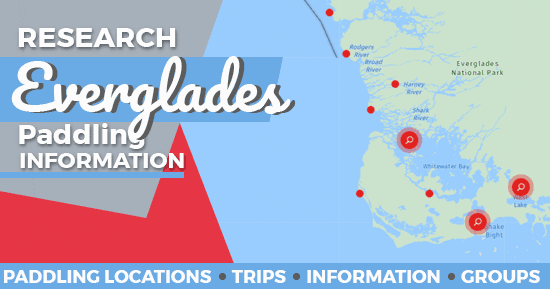 All of our Everglade paddling locations are from paddlers like you. Search thousands of put-in and take-out locations on our locations map!
Guide to Canoeing in The Everglades
Read on for guides to planning your own canoeing trip to The Everglades, seeking out an outfitted trip, connecting with other Everglades paddlers, and many other resources! Find canoeing info on popular spots like:

Rodgers River
Broad River
Harney River
Shark River
Whitewater Bay
Plan a Canoeing Trip to The Everglades
Over the years, many of our paddlers have paddled in the Everglades and were so generous to share their paddling experiences with us in a community trip report. Read a few examples of Everglades community trip reports or view all Everglades community trips below:
Have you paddled in the Everglades? Post Your Trip and share with the community!
Connect with Canoeists in The Everglades
Looking to connect with other paddlers in the Everglades? Below are a number of resources to help get you started:
Other Resoures
The Everglades are apart of Everglades National Park and are one of the most iconic spots to canoe in Florida.