Canoeing & Kayaking in Monterey
Paddling Locations in Monterey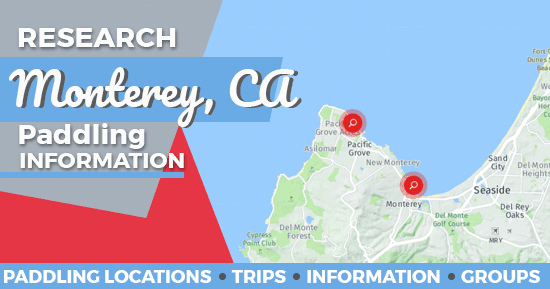 All of our Monterey paddling locations are from paddlers like you. Search thousands of put-in and take-out locations on our locations map!
Guide to Paddling in Monterey
Read on for guides to planning your own Paddling trip to Monterey, seeking out an outfitted trip, connecting with other Monterey paddlers, and many other resources! Find info on must-paddle destinations like:

Monterey Bay
Elkhorn Slough
Salinas River
San Benito River
Monterey Harbor
Articles About Monterey Paddling
Encounters are going to happen whenever and where ever we share the planet with other creatures and critters. Avoidance is the preferred action but sometimes those critters may be just as curious as we are - it's a big ocean out there that can become mighty cramped and full of surprises at times.
Connect With Paddlers in Monterey
Looking to connect with other paddlers in Monterey? Below are a number of resources to help get you started:
Other Resources
Monterey Bay is an amazing place to paddle with lots of sea creatures and crazy rock formations. We hope you enjoy what Monterey has to offer!