If there is one piece of camping gear that I would never leave behind, it is aluminum foil. That is probably because I have many fond memories of occasions when it was the key to a memorable camp meal. Of course, "papillotes" or foil packages is a wonderful and flavorful way to cook easy meals in a minimal amount of time by creating small packs of proteins, veggies, herbs and spices perfectly sealed and cooked together on the grill.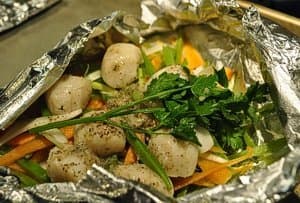 But I will always savour the memory of my dad's fresh scallops cooked simply in melted butter on the camp grill covered with aluminum foil and finished with a splash of lemon or orange juice and fennel seeds. Not to mention his amazing French toast cooked the very same way and served with apple slices caramelized with dark brown sugar. Later on, a friend from Vancouver Island taught me to smoke freshly caught salmon with sticks and aluminum foil. It works wonders.
Emergency measures
More recently, I found myself in a state of near panic when I realized that someone in our group, kayak-camping on a deserted island on Lake Superior, had forgotten pots and pans! To make a long story short, my cousin and her husband were responsible for bringing a large skillet and a big pot for our group. But they cancelled at the last minute, and in the rush that followed none of the four remaining kayakers thought to bring along the pots and pans. So, off we went, unloading our cars at the launching site and uploading our sea kayaks without even thinking that our four-day camping trip would be seriously jeopardized if we couldn't cook our meals properly.
Thankfully, I had brought along a large roll of heavy duty aluminum foil that saved the trip. With a bit of creativity, I could serve a nice stir-fry, prepare gnocchi pasta with tomato and parmesan sauce, master a new version of my popular all-veggie omelet, serve corn on the cob with cumin and cilantro-lime butter, satisfy my husband's sweet tooth with an apple and caramel bread pudding, serve some yummy roasted nuts and warm olives, not to mention a sausage paella with homemade smoked mussels that I made in honor of my friend Miguel Alfonso, visiting from Barcelona. To smoke the mussels I created 4 large packets big enough to allow the mussels to pop open when cooked. Instead of placing some liquid in the pouches, I just used fennel seeds, fresh thyme and garlic cloves with a few slices of lemon and I placed the mussel packages on a grill placed very close to the hot coals, turning every minute or so. In 5 to 6 minutes they were perfectly cooked. I just added them to the rice that was simmering with broth, saffron, chorizo, bell peppers and tomato in an improvised large flat pan made with four layers of foil. The important thing is to make sure that the sides of the "pan" are carefully folded two times (making an 8-layer solid edge) that prevents the mixture from spilling out. Who says pots and pans are essential?
Many easy techniques to master
Aluminum is a great heat conductor, is easy to use and because It's also very sturdy, in certain cases it can be used again. Of course, during this particular trip, I had to be very savvy with my precious roll of foil; so, I managed to reuse some of the pieces I had cut to make sure I would have enough for the entire trip. For instance, the 4-layers of foil used to assemble a "wok" for my tofu, broccoli and cashew nuts stir-fry were thoroughly rinsed and transformed into 4 individual pouches in which I could cook the potato gnocchi with tomato-parmesan sauce. The small recipient in which I roasted the almonds for the Saturday night appetizer had a second life as a roaster for the olives that I would add to the paella I would serve that night. Only the foil used for the potato-leek and bacon gratin and the apple bread pudding was too messy to be reused.
Because it folds easily in multiple layers and keeps its shape, it is also possible to give foil many different forms: bowls, packages, rolls, a wok, a roasting pan or a smoking container, etc. This means you can use it on a camp fire to roast, simmer, sauté or grill to your heart's content. But for better results and to make sure you won't get burned while handling this delicate cookware, don't forget to carry long tongs and a pair of barbecue mitts, not to mention a good cooking grill. My favorites are foldable because they take less room. Of course, you need to camp in a place where camp fires are allowed for cooking. Also make sure that when you mix, stir or flip your preparation in these improvised pots and pans you make gentle movements to avoid tearing the foil or spill the content of your dish. Choosing heavy duty aluminum and acrylic or plastic tools rather than metal will make your life much easier. It is also important to remove the container from the fire with the support of a wood plank to stabilize the dish quickly. One can say that "handle with care" was certainly my motto that week-end. But the fun part was that it opened up a world of new camp cooking possibilities to me.
Adjust with quicker, simpler recipes
In order to succeed in cooking only with foil I also had to adjust some recipes. For instance, one morning, I had planned to prepare my hearty oatmeal with dried fruit and nuts but found it much easier to transform it into an easy granola mix by simply tossing rolled oats with butter, maple syrup, pecan nuts and cinnamon and place the mixture on a grill covered with two layers of aluminum foil over a nice camp fire. After 20 minutes and a bit of gentle mixing to prevent burning I added the dried cranberries and mangos and served the warm preparation with soy milk. Everybody loved it! Preparing wild blueberry pancakes was also a breeze but I had to make the batter thicker and kept the pancakes smaller to ease the flipping task and shorten the cooking process. Finally, for the last day of our trip, instead of serving a veggie and feta cheese omelet, I substituted scrambled eggs with veggies and feta. Using the same technique of a double layer of foil tightly wrapped around the grill as a griddle, I simply sautéed onions, bell pepper and broccoli in olive oil, whisked the eggs in a bowl with soy milk and poured it over the veggie while gently stirring the mixture with a spatula. When the eggs started to coagulate I quickly added the feta and removed the grill from the heat by placing it on a wood plank. In three minutes scrambled eggs were ready to devour with toasted English muffins. Delicious!
So why chose to cook with aluminum foil instead of good old pots and pans when you're not in an emergency situation like the one I found myself during that week-end on Lake Superior? Because it's simple, fun and also brings wonderful flavors to many dishes."Papillotes" also allow an amazing blend of flavors in a unique way because all ingredients cook in their own juice. Finally, it is quick and it reduces the mess to a minimum, which is more than practical on a camping trip when washing dishes is a bit of a chore… Enjoy!