It's late on Sunday, and you've been out on the water for nearly four days, paddling through country that you haven't visited in 15 years. Needless to say, you're tired, you're sore, and you're ready to put this trip behind you. But the river won't let you off that easy; there are still three miles of tough (OK, moderate-plus) rapids standing between you and the shuttle.
You hear the rumbling before you see the water, the current dragging your boat downstream with surprising strength. You pull hard for a nearby eddy but miss it, instead swinging 90 degrees out into the flow. Before you know what's happening, you're heading stern-first down the drop. Your boat makes a satisfying 'crumple' sound as you hit the rocks, pain shooting through your shoulder.
Sound familiar? None of us wants to face a situation like this, seriously injured out in the backcountry. But with some know-how, a little preparation, and a well-stocked first aid kit, weathering unpleasant turns like this one can become less of a gamble.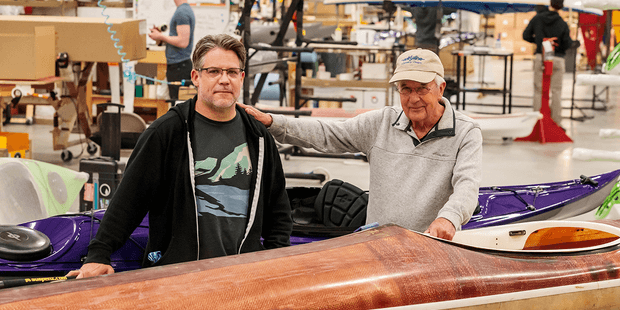 50 years of lightweight, maneuverable, high-performing kayaks.
Check out this interview with Tom Keane, Eddyline Kayaks Co-Owner, on their journey!
PREPARING FOR THE WORST
Few things in a paddler's gear are as important as a well-stocked first aid kit. Wound dressings, cleaners, splints, medicines, and other assorted hardware ­ mundane items that can often add up to the difference between an enjoyable trip and a painful, unending nightmare.
But, as with anything, the items in a first aid kit are only as useful as the paddler who knows how to use them. Ben Woodard WEMT, Executive Director of Wilderness Medical Associates (WMA) ­ a Maine-based training center that certifies outdoor professionals in emergency medicine ­ has over 20 years experience as a ski patroller and backcountry ranger in upstate New York, and agrees that adequate experience is the key.
"WMA gets phone calls and requests all the time like, 'I am going on a two month paddling expedition in the Arctic Circle and want to buy a book on first aid, maybe buy a first aid kit,'" he says. "What the person should have been doing was asking about getting some medical training, like a Wilderness First Responder for that level of trip. Having all the automotive tools in the world doesn't make someone a mechanic." For those just getting into the sport, the basic first aid and CPR courses offered by the Red Cross are a good starting point.
Proper preparation, he advises, also extends to physical fitness. Sure, we all say that we'll get in shape while we're out there, but the fact is, overuse injuries are shockingly common among paddlers, especially those that like to head out on long trips that their bodies aren't ready for. Remember, the best way to stay safe in the backcountry is to avoid getting injured.
THE KIT
That said, Woodard does have a list of "staples" that he recommends every paddler carry when they head out on the water. Like all things, the contents of a first aid kit vary from paddler to paddler, so think of this list as a general outline. Depending on the size of your group, the distance you'll be traveling, your group's first aid experience, and other variables, you'll need more or less of certain items.
Wound care: It's the part of the kit that's likely to see the most action:­ bandages (stretching, self-adhering), dressings (several sizes, you can cut larger pieces to fit), gauze pads, duct tape, Band-Aids, and medical tape.
Cleansers: Proper cleaning of cuts and scrapes is crucial in the outdoors, especially when you're splashing around in bacteria-infested waters. Woodard recommends pre-soaked iodine pads ­ they're easy to pack, easy to use, and can be mixed with water to form an iodine bath in a pinch. Be sure to bring plenty, as wound cleaning is an ongoing process.
Medicine: Let's face it, a headache is a headache wherever it happens, and having the right medication on hand to take care of it is a luxury among luxuries. Beyond that, it's a good idea to bring along some topical creams, pain tablets, and other medicines to treat itches, scrapes, and other assorted unpleasantness. An antibiotic cream such as Neosporin can also be useful when cleaning wounds and protecting them from infection.
Splints: Usually an afterthought (paddle shaft splint anyone?) but there are a number of packable splints on the market that are worth bringing along, especially if you're heading out for an especially long trip. And don't forget some heavy-duty bandages to hold the splint in place.
Tools: According to Woodard, this is "the stuff that can make someone a hero" in the backcountry ­ tweezers for pulling out splinters, scissors for cutting bandages and gauze, survival blankets for keeping warm or for creating emergency shelter, twine or cord for assorted repairs, pins for securing slings, and plastic bags for everything else. This list could go on and on.
Carrying case: When you're paddling, there really isn't a good excuse for not using a waterproof container such as a dry bag/box to store your kit. And be sure to include some latex gloves and a CPR mask for your own protection, they're standard first aid equipment in this day and age.
Woodard also recommends packing a small "boo boo" kit that can be kept close at hand for those little cuts and scrapes that always seem to pop up on the river. A few Band-Aids, some iodine pads, maybe some antibiotic cream; just enough for basic care.
"I work on the Raquette River in New York State in the summers as a backcountry ranger and I am [constantly] cleaning and fixing pocket knife cuts, cut feet, and the occasional axe bite or impaled bass lure," Woodard says. Having that basic kit close at hand has made life on the river much easier, he says.
Tim Sprinkle is a freelance writer whose work has appeared in Seakayaker, Paddler, and other publications.