Do I need a dry suit?
If you paddle in cold weather and/or cold water, you may want to invest in a dry suit. Wearing a dry suit increases safety, enjoyment and the time you can spend on the water. If water and air temps combined are less than 120° F, a wetsuit or dry suit should be worn. If water temps and/or air temps get below 50 degrees a dry suit is highly recommended. The great thing about a dry suit is, you dress for the water and air temps by wearing layers of insulation underneath and the suit keeps those layers dry, making it useful for almost any water/air temperatures.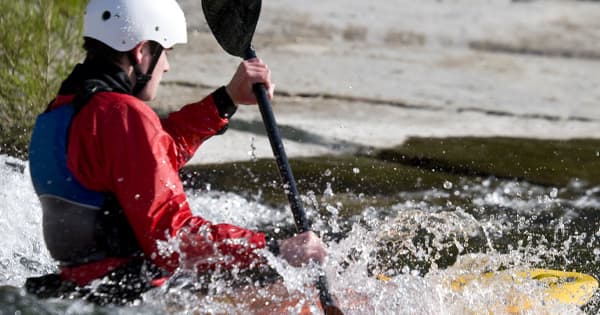 What material should my paddling dry suit be made from?
Drysuits for paddling are generally made from one of three materials: Gore-Tex®, other waterproof-breathable fabrics or Coated nylon.
Gore-Tex®: The original (and in my opinion, the best) waterproof breathable fabric. If you have ever owned a 3 Layer Gore-Tex®jacket you know what I'm talking about.Gore-Tex®is 100% waterproof, windproof and amazingly breathable. Which means the moisture your body creates when you're paddling hard is able to escape through the suit. This leaves you dry in your suit so you don't get cold when you stop for a break. A Gore-Tex®drysuit will cost you well over $1000 but if taken care of, it can keep you dry for 10-15 years of regular use.
Other Waterproof/ breathable fabrics: There are many "waterproof, breathable" fabrics of varying quality on the market. Buyer beware, some are not even waterproof off the rack! The brands I have tested, Kokatat's Hydrus and NRS's Eclipse™, both work well, but neither compare to Gore-Tex®for breathability and durability. Available for under $1000 a Hydrus or Eclipse™ suit will serve you well for occasional use and is a good option if you can't stomach the price tag of a Gore-Tex® drysuit.
Coated Nylon: These are the most economical suits; essentially a rain suit with gaskets at the neck, wrists and feet. The suit may be waterproof but, as soon as you are active, you end up soaked from sweating in the suit. The waterproof coating also wears out and slowly the dry-suit will be less and less dry. Affordable and useful for short stints where you're not active for too long. If it's all you can afford, it's better than a wetsuit.
What kinds of features should I look for in a dry suit?
Neck, Wrists and Feet: Your dry suit should have latex gaskets at the neck and wrists, ideally those gaskets are covered by cuffs/collar to protect them from the sun and add another defense against water sneaking in. A snug neoprene cuff on your wrists is key to keeping water out when paddling.
Some suits also have neoprene gaskets at the ankles; built in socks are more comfortable than gaskets and they are less likely to leak. Socks made from the same material as the suit (as opposed to latex socks) are best. Wear a pair of neoprene socks or booties over your dry suit socks to protect them from abrasion and future leaks.
Waist belt/ tunnel: Most suits have some kind of cinch at the waist. This is important so that the suit does not become a sea-sail when you are swimming. If you are kayaking in your dry suit, get one with a tunnel built in that covers the top edge of your skirt and closes around your waist.
Zippers: Entry zippers are either across the shoulders on the back, shoulder to hip across the front, or around the waste in the case of dry pant/dry top combo suits. I prefer the shoulder to hip zip. You can open and close your suit without help, as opposed to the back zipper, which only Houdini can get out of without the help of a friend. I have always stayed away from the combo suits; it just doesn't seem necessary.
Relief zippers (in the front for males and across the butt for females) are well worth the extra cost.
Pockets: A small zipper pocket is nice, but don't get too excited about fancy pockets. Stuff in pockets creates drag when swimming and potential pressure points while paddling. Remember, you will be wearing your PFD that probably has a pocket already.
Top 6 Dry Suits for Kayaking, Canoeing and Stand Up Paddling
How should my paddling dry suit fit?
Ideally you will have the opportunity to try on the dry suit you are going to purchase. Your dry suit should fit comfortably for maximum movement but not be too baggy. Remember, you need to account for the layers of clothing you will wear underneath the suit. Make sure it is not too tight in the arms and shoulders when you reach high above your head or cross your arms in front of you. Check the legs, butt and back by bending over to touch your toes or doing a few Yoga poses.
Gaskets should fit tight but not too tight. They can be cut or stretched but not made smaller, so too tight is better than not tight enough. Make sure the feet fit comfortably. If you can't try the suit on, try to find someone who has the same suit that you can try or get help being measured at your local paddle shop. If that fails, pay close attention to the sizing charts and recommendations on the manufacturers website, if you are unsure, give their customer support a call.
A dry suit is an expensive piece of gear but well worth the investment if it increases your access to paddling opportunities. Let's be real... being warm and dry while ripping on a wave is far more enjoyable than being cold and wet.
Inspired by wanderlust and a passion for rivers, Adrian's paddling addiction has taken him across the globe. After pursuing his degree in Outdoor Recreation and Tourism Management, Adrian eventually settled in Palmer Rapids, Ontario. Here, he has worked for over a decade as the Director Of Operations at The Boundless School.