Because kayaking and canoeing include other activities such as camping, hiking, bird watching, fishing and so on, I am always on the lookout for new gear, new "toys" to bring along to enhance those activities that are tied into my paddling enjoyment. Here are a few of the new and improved items that have come to my attention (and use) in the last few months.
Navitas Naturals
has taken trail mix to a tasty alternate level with their assortment of organic "power foods" – blends that include exotic fruits and grains super high in vitamins and minerals. I personally am not a big granola fan, nor do I especially love most trail mixes. Navitas Naturals left tantalizing tastes in my mouth – fruity aftertastes that lingered on pleasantly. One concoction, one of their super blends is called Trail Power and charges your taste buds with goji berries, mulberries, cacao nibs and raw cashews. Definitely not your generic GORP ("Good Old Raisins and Peanuts"), besides tasting great, it provided 50% daily vitamin A requirement, was low in sodium with 3 grams of fiber with each 120 calories per serving. The pint-sized trail canister kept my sample fresh for literally weeks!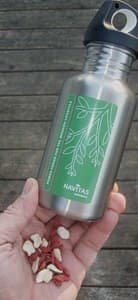 Browning "Outdoorsman/Level 4.0" First Aid Kit
I collect first aid kits like some people collect fanny packs or whatever. Point being, I have lots of them. All seem to be adequate albeit not always organized in a manner I'd consider convenient. The trend these past few years has been the activity-specific kit – targeted to a particular activity with items most likely to be needed for first responder/field caregiver. Trekker first aid kits contain more moleskin and ointments for abrasions while those for campers might have a higher inventory of bandages and burn ointment. Others are general, all-around kits that offer a decent range of first aid tools to get a variety of jobs done.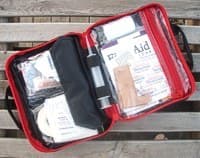 Such is this four-person kit produced by Browning. Obviously targeted at Browning's hunter audience, the kit is an across-the-board cache of handy first aid items: instruction booklet, scissors, tweezers, protective gloves, syringe, various ointments, dressings, bandages and medications. Yes, there's some moleskin, too. It all fits in a little nylon pouch – not at all waterproof or even water resistant so paddlers would want to improve on that aspect. Otherwise its size and range of items makes it a kit that a wide range of outdoor enthusiasts, including paddlers, could count on.
Streamlight Polystylus
I'm one of those people who feel that you can never have enough flashlights. Luckily, Streamlight knows there are many of us out here. Their latest product is a multi-colored LED light that takes up no more space than a ballpoint pen. It's rugged FiberWrap fiberglass epoxy housing won't bend or break. Its tail cap push-button switch makes for easy ops. Beyond that, it's basically yet another small light suitable mostly for close in work, reading maps or novels at night and for foraging through dark backpacks.

It comes with a standard clear lens as well as blue, red and green screw-on caps. Unfortunately these are free-flying satellites that would have to be carried separately somewhere conveniently close at hand – no place to attach to the main unit for easy interchange. I can see these being misplaced frequently – a negative vote on this otherwise well made flashlight. Claims on the package assure up to 48 hours of power on AAAA batteries. Its "O" ring seal suggests that it's waterproof.

"Birds of Eastern/Western North America – A Photographic Guide"
I am an avid birder and have my library stocked with scores of bird birds. Dog-eared field guides are tucked into my book bin in my van for immediate use when in the field. As I have suggested in past columns, a complete library needs both books of illustrations and photos. Lighting varies so much outdoors that colored drawings don't always depict the colors you'll see in low light or bright light outside – so actual daylight photo books become critical for identification.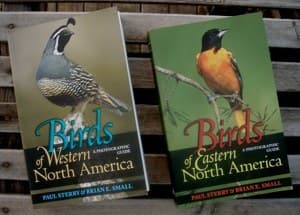 These two books by Paul Sterry (author) and Brian E. Small (photographer) are clear, precise and point-on bird books of the highest quality. The photos are sharp and provide an accurate presentation of daylight plumages. Comparative descriptions of very similar species (greater and lesser scaups, for example) are made to help novice and pro alike confirm the identification of similar species gathered together. I never think of one book replacing any of the others I already have, I just welcome new books onto the shelf or into the backpack. If you are birder at any level, welcome these two books with open arms.
Vermont Organic Camping Soap
"Coconut, olive and jojoba oils" listed as ingredients on the side of the canister might cause a disoriented camper to spread its contents onto a hot skillet! Wrong! (Unless your goal is to thoroughly wash it!). These oils are part of what goes into Vermont Soap Organics "camping soap". Added to the mix are natural essential oils, organic aloe vera and rosemary extract. They are combined to form a "pure natural soap product" – no additional artificial colors, fragrances or preservatives. No animal products either.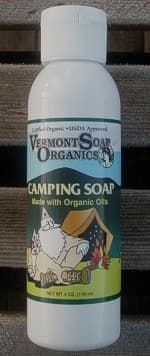 These soaps can be used as hand and body washes, for shaving, as a shampoo and as a laundry concentrate. Use them in the kitchen for dishes – for most anything. My only negative thought on this product was that because it is so thin, the first time I squeezed some out of its flexible bottle, it came out way too fast, spewing way too much liquid out across my palm and onto the ground beyond. It doesn't take much to get the job done and it smells refreshingly natural. Their 4-ounce squeeze bottle should last nearly a week with conservative use.
The luxuries of gadgets around camp continue to temp use with aids and accessories that make our adventures that much simpler. Some are gimmicks while others are time-work savers we come to appreciate dearly. Now's a great time of year to check around for new gizmos and gadgets.
Be safe and have fun out there.
Tom Watson is an avid sea kayaker and freelance writer.
His latest book, "Kids Gone Paddlin" is available on Amazon.com. He is also the author of "How to Think Like A Survivor"