Dream, Plan, Save and Go
The end of a trip can mark a hard transition back into the real world. Days on the river offer quiet moments, and as soon as you turn your phone back on, the inevitable flood of texts, emails, missed calls and world news slaps you in the face. My mom is the only person who gets a quick reply of "off the river," and I push the outside world away for a little bit longer and reach back for that sense of anonymity that the river offers.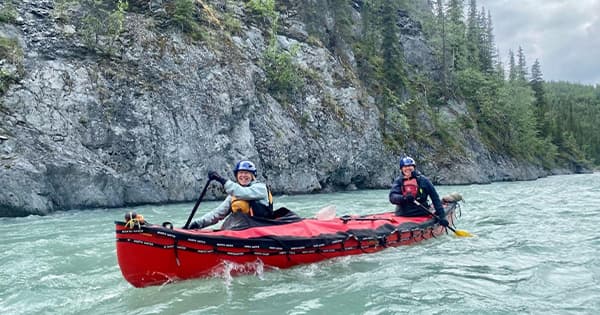 It comes down to this simple idea: the longer that you are out, the harder it is to come back. On a short weekend trip, you may only catch a glimpse of these quiet moments, especially if you are paddling somewhere that still has cell service. If you head deeper into the wilderness, you are likely going to be gone for a longer period, and will be setting your email to an automatic reply. Every time I come back from a trip, I start thinking about my next.
If you are thinking about doing a "once-in-a-lifetime" trip in the next couple of years, get the ball rolling now. Gone are the days of just showing up at the park office and getting a campsite the day of. Most national and provincial or state parks in Canada and the USA open their booking systems in the late winter for the upcoming paddling season, and the high priority sites are scooped up in a matter of minutes. Some rivers are impossible to access without entering a lottery system, and paddlers apply year after year with hopes of getting a permit. Now is the time to make your next trip actually happen by dreaming, planning, and saving for it.
Dream
Start by making a list of your top trips. The sky's the limit - add every river you have ever hoped to paddle. My list includes rivers from as far south as the Grand Canyon to the Firth River in the high tundra of Ivvavik National Park. Don't hold back when you make your list. Maybe you saw an article in National Geographic about the Nahanni River 20 years ago, or you heard inspiring stories of the Middle Fork Salmon River from someone who just paddled it. Hold off choosing your top options until you do some research and planning.
Plan
Start by answering the following questions - be realistic about what you can do, and be sure to consider what are the most important things you want out of your trip:
How long are you going for?
What is your budget?
How many people are you going with?
Who do you want to go with?
What time of year do you want to go?
What is your skill level?
What kind of terrain are you hoping to see?
Do you want to see specific wildlife?
If you have clear and specific desires of what you want out of a trip, when you start researching your dream trips, you will have an easier time narrowing down to a couple of trips that check most of your boxes. Reach out to the paddling community for beta, read old trip reports and talk to commercial companies that operate in the area. Remember to pay attention to details like access points and how you get to them - your trip costs will greatly increase if you require flights in or out.
Save
As an example, if you are planning a 3-week trip that you have budgeted $4800 for, you need to be realistic about how long you can save for your trip. Maybe you have a dream to go next summer, but you will actually need 2 years to save for it. If you are trying to save $4800 over 2 years, you will have to put away $200 each month. Depending on your financial situation, your cost of living may not allow you to set aside that much money.
If you have committed to a group of people for a trip, you need to make sure that you can also meet the financial commitment. Maybe you are an avid Starbucks fan or you have a ridiculous cell phone plan that you pay an arm and a leg for. It is a great time to assess your spending habits and see if you can reallocate some of your income and start a trip specific savings account.
Go
There is never a perfect time to go, but the "once-in-a-lifetime" trip does not get its name for nothing. It never hurts to start thinking about your next trip. Pick your dates and actually book it. You may regret it for a split second, but remember the sense of anonymity, the feeling of connection to place and the quiet moments that you have felt before. Happy planning and happy paddling!
A teacher, whitewater canoe guide, and volunteer firefighter, Allyson Saunders lives in the Madawaska Valley in Ontario with her exceptionally perfect dog, Honey. Nature inspired, Allyson can be found on a river, in her garden, on a ski trail or with a paintbrush or a cup of coffee in hand.