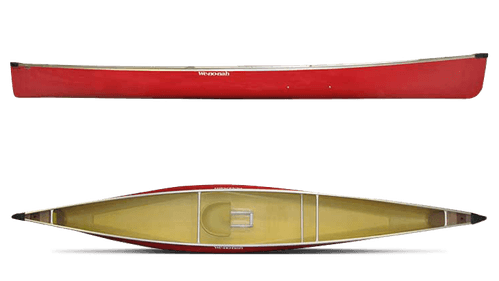 Encounter Options
Encounter Description
Go ahead, plan your trip - circumnavigate Prince Edward Island, or cruise the St. Lawrence to the sea. The Encounter was created for long, solo expeditions with ample gear. It tracks straight and carries weight easily over rough water. Roomy enough for large people and buoyant enough for heavy loads, the Encounter is a specially engineered craft. But it's engineered for comfort, too - with the standard sliding bucket seat and foot braces, you can easily adjust the canoe to fit you and your load.
Read and submit reviews for the Encounter.
Encounter Specs and Features
Structure: Rigid / Hard Shell
Seating Configuration: Solo
Ideal Paddler Size: Average Adult, Larger Adult
Skill Level: Intermediate, Advanced
Ideal Paddler Size: Average Adult, Larger Adult
Skill Level: Intermediate, Advanced
Read reviews for the Encounter by Wenonah Canoe, Inc. as submitted by your fellow paddlers. All of the reviews are created and written by paddlers like you, so be sure to submit your own review and be part of the community!
I paddled a kevlar Encounter…
I paddled a kevlar Encounter for several years before an old shoulder injury and carpal tunnel caught up with me. I loved it for trips, but it had one minor drawback for recreational paddling. It was designed as a freight/expedition canoe, and even with my 220 pound carcass on board, it was pretty tender. It also would not track particularly well UNTIL you got it moving, at which point it would settle down. For recreation and practice sessions, I got around that by finding a couple of old 5 gallon water jugs. I would fill them with water, leaving enough air so that they would float high enough for easy recovery in the event of a spill, and the additional 80 pounds tamed the beast. When I was done, I emptied the jugs and they were no problem to stow away.
I took the first trip in mine…
I took the first trip in mine last week(wild and scenic Missouri.I had paddled it empty to check trim and speed.I knew I would load my heavy gear in the bow so I could run the seat all the way back.I am not big ,just 165lbs and short waisted so I wanted to set back.The only trouble I had was with a bad tail wind it would try to broach.I have owned several J boats from J180- J201 So I knew how to handle that.I probable just needed more weight,but it was only a 3 day trip .Paddled the second day 34 miles into a brutal head wind no problem.The boat is rock solid stable and glides good(fast)This boat is made for long trips on just about on any kind of water.
This craft was designed for…
This craft was designed for big people, carrying big expedition loads. If you are an average sized human being, carrying less than expedition loads......what are you thinking? Thank you Wenonah for designing a real expedition craft.
This canoe excels at what it was designed for.....heavy loads, long days.....day after day in all types of weather with a large paddler. The seat placement is fine. Fifty or a hundred pounds is not enough to trim this boat. If you don't have a minimum of 400 pounds in the boat you are missing the point.
Where has the Encounter been…
Where has the Encounter been all of my life. I've paddled and owned a lot of different solo canoes searching for the perfect boat for me. I have some ww experience but mostly paddle slow moving rivers up and downstream. I especially like paddling flooded streams with lots of turns and obstacles. Of course you must be able to handle boat well to survive in these situations.
I probably won't use the Encounter much for its intended purpose of loading it down with lots weight for expedition work. I haven't paddled it in much wind but noticed that the wind would push the bow down and make it more difficult to control. I'm sure a cover would take care of this problem for most paddlers. For me the seat is in the right spot no trouble manuvering this fine craft.
Yes it is a big boat and incredibly stable so its not as exciting as a narrower hull. This boat turns incredibly well if you know how to lean the boat on the opposite side of the turn and use the right strokes. I usually kneel in a canoe but I can make this one turn sitting almost as easily. She is effected very little by the current even when going upstream around tight turns.
If I only had one boat for wilderness travel this would be my pick. Its too bad its only listed as just an expedition canoe, paddled light shes a gem in my opinion.
I love this boat for it's…
I love this boat for it's purpose. No the Encounter is not my choice for a day tripper, unless the day trip may include packing out a field dressed white tail deer. It is faster than a solo-plus, and easier to load than a voyager. This is a LARGE solo and in my experience needs to be stern loaded for best performance. I am 5'8" and 165 lbs and love the way this handles loaded.
This boat also does well for weekend lake camping trips. I can't think of another solo boat that handles a 70qt cooler, 4 man tent, fishing tackle, and a folding lounge chair across a large windy lake with the ease and grace of my Encounter. I have other boats for other uses. No boat can do all things well.
Just returned from a 5 day…
Just returned from a 5 day solo trip to the BWCA in my kevlar ultra lite Encounter. Loved the boat. At 54 years old and 225 lbs, it opened new lakes and portages. 35lb canoe is a beautiful thing. As others have mentioned, I trimmed with weight aft for better tracking and manners in wind. The potential of this boat is exciting. This is also my cold water solo exercise boat due to it's stability.
I have the ultra light Kevlar…
I have the ultra light Kevlar Encounter. I'm not impressed, but perhaps I am using it wrong. I used it for a 5-day BWCAW trip. It was way too much boat! It never sat down in the water for me. It always felt like it was bobbing on the surface and caught way too much wind. Perhaps it needs to carry 3 months of gear plus trade goods (like a Franklin stove). I guess I should have better heeded Wenonah's classification as it being an expedition canoe.
To come close to trimming the canoe I had to slide the seat as far back as it could go plus put my large pack behind me. Those that say the seat needs to be mounted 12" further aft are correct. Furthermore, the placement of the foot brace is all wrong. With the foot brace moved as close to center as possible and the seat move forward as far as possible, my feet barely reached it. Granted I am not tall, but to have the seat set to where it trims the canoe (ie as far back as possible) you'd need to be seven feet tall to reach the brace even with it set as close to center as possible.
I found the canoe to be neither efficient nor fast. I found it be non-responsive and a tug to paddle. I will say Wenonah is correct saying that it is buoyant and stable.
To those thinking I have a grudge against Wenonah, I don't. I am a happy owner of a Wenonah Prospector 16 (great boat), am a former owner of a Sandpiper, and have enjoyed paddling the Vagabond, Solo Plus, Spirit II, Adirondack, and Escapade. The Encounter is one of the few Wenonahs that I haven't liked.
If you are looking for a solo, work boat that needs to carry a very large load, this may be right boat for you. If you want a tripping boat for canoe camping for less than a month, this boat is too big.
Encounter ultra-light 2004…
Encounter ultra-light 2004 model factory listed wt 38lb mine 32lb. Perfect for hunting and fishing and camping. Even fly fishing. Have hauled two deer and gear. Did not notice any differance in performance.
The Encounter is a fast,…
The Encounter is a fast, stable and well balanced boat with endless capacity and incredible buoyancy even with my 6', 220# weight.
This boat is a 58# fiberglass tuff weave hull with aluminum gunnels. The boat's weight is magnified by the narrow aluminum gunnels when handled by a solo paddler on land. Wider wood gunnels would greatly improve balance and handling during portage and loading.
The severely curved midships flex to the point of cracking the gelcoat when lifted from the center as a solo paddler would when portaging or loading. The cracks are cosmetic but heartbreaking. Getting up from the center seat is best done by grabbing the forward thwart rather than pushing down on the midship gunnels. A pair of midship half ribs would solve this problem. The hull is quite stiff with absolutely no flex evident while on the water.
Although the Encounter can be leaned all the way to the letters before going over, the 7" wide pedestal seat base in that ample hull gives an unnecessary feel of instability. I cured this by widening the pedestal base 9" and lowering it 5/8". As delivered, the Encounter solo seat assembly is positioned to accommodate at 220-230# paddler at the maximum aft seat position in an empty boat. A heavier paddler would be at a loss without ballast. Moving the entire seat assembly back an inch or two will allow a heavier paddler to trim an empty boat without ballast. Further repositioning of the seat aft will require the thwart to be repositioned.
Considering the dimensions and buoyancy of this boat I began to believe the Encounter could be paddled as a tandem. A major concern was that balance and handling would be lost as paddler weight was shifted fore and aft. This was unfounded even with my weight of 220#. In fact the 100# weight difference between myself and my daughter could be appropriately trimmed for best efficiency. As a result we just placed 3rd in an 11 mile flatwater race beating a Kevlar Wenonah tandem boat that had always beat us.
The modifications to allow tandem or solo paddling were simply to attach brackets to the hull in the three possible paddling positions to which the two sliding seat assemblies were pinned for easy repositioning or removal. The stern/solo pedestal seat assembly was widened 2" and lowered 5/8" for a more "seat of the pants" feel of stability. The forward seat assembly was left at the stock width but lowered 5/8". I also added a footbrace and thigh padding to tie the stern paddler into the hull making for a totally integrated feel of boat control.
I am very pleased with the performance of the Encounter as a solo and especially as a tandem. My preference would be for a lighter weight Kevlar version modified as described above. This Encounter is a "sleeper" among dedicated boats and would enhance Wenonah's lineup as the ENCOUNTER II. Truly the best of both worlds, a competitive race boat and an all around tripping/ fishing/ hunting boat with good handling and stability for any reasonable conditions encountered. As delivered, the boat is a 7. As modified it comes close to a 10. Great design just needs some tweaking.
My Kevlar encounter has the…
My Kevlar encounter has the sliding seat and sliding foot brace. Sliding the seat forward or back can make trimming much easier. I took an 1,800 mile canoe trip from Ohio to New Orleans paddling an encounter. Much of the trip was paddled on the Ohio and Mississippi rivers with a decent load. The biggest downfall of the encounter is the way it handles in the wind, or should I say fails to handle. The stability is better than what I expected. The tumblehome was a good idea for the encounter. It can handle large waves well. Tow boat and ocean ship wake did not trouble the encounter.
With no tracking to mention sharp steering is hard to do, but on big waters there are few sharp turns. I paddle the encounter empty on small rivers, but the encounter was not designed for this use. I would not recommend buying an encounter for small water.(to much work) After about 70 days of paddling the seat welds welded to the sliding bar began to break. Before my trip was over all the welds broke. The seat has a ridge on the back and I had a habit of sitting up high on the ridge which put stress on the front two welds.
OK, here is the up-date…
OK, here is the up-date (sorry it took so long). Have used Encounter on two trips, now. I shifted the seat 9" toward the stern. Now she paddles like a dream - loaded with 90 lbs of gear, or just me and my tackle box and rod. Does well in rough weather, with flared bow. Added a canoe cover from Cook Custom Sewing, and it moves thru the wind nicely, too. Also, my 140 lb. son has paddled it empty with no problem. Note that I could move the seat because I ordered the canoe with the cane seat, not the pedestal.
DEG's comment about needing…
DEG's comment about needing extra weight is exactly right -- but, that's what Wenonah designed the canoe for. I'm about 270 lbs, and without added weight behind me, the Encounter handles like you're trying to stear from the bow seat. I added about 60 lbs of sandbags in the stern to trim it out, and then it's great. I'm planning a seven day trip to the BWCAW in a couple of weeks; I'll update after that trip.
Mine needs about 50# of…
Mine needs about 50# of ballast added to the rear to trim it out. Tailwinds of under 10 miles/hr can be very annoying when empty. Same w/ the solo plus. The sliding seat needs to be back about a foot. Put a load in it & it's a nice canoe. It's fast & tracks well when trimmed properly.