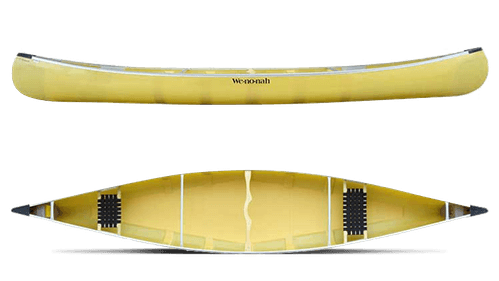 17 Wenonah Options
17 Wenonah Description
The boat that started it all, the original, the 17 Wenonah. The first canoe ever designed by owner and founder Mike Cichanowski in 1965, this instant classic was originally built out of wood strip and fiberglass in Mikes parents backyard shed. Available in the state of the art composite materials and layups, the 17 Wenonah displays lines similar to the classic wooden hulls built in the early 1900's. A great general use, canoe camping, and family boat with a unique look and storied past, the 17 Wenonah is a must have for serious canoeist.
Read and submit reviews for the 17 Wenonah.
17 Wenonah Specs and Features
Structure: Rigid / Hard Shell
Seating Configuration: Solo
Ideal Paddler Size: Smaller Adult/Child, Average Adult
Skill Level: Intermediate, Advanced
Ideal Paddler Size: Smaller Adult/Child, Average Adult
Skill Level: Intermediate, Advanced
Read reviews for the 17 Wenonah by Wenonah Canoe, Inc. as submitted by your fellow paddlers. All of the reviews are created and written by paddlers like you, so be sure to submit your own review and be part of the community!
I have rigged my Sundowner to…
I have rigged my Sundowner to sail by gluing in a mast step that allows me to raise a 45 sq ft boom/spar lateen sail while adding homemade lee boards & a tiller. The seaworthiness of this canoe has proven itself in ventures to the Voyageurs Wilderness, Isle Royale, & the Turtle-Flambeau Flowage.
We have enjoyed our Canoe…
We have enjoyed our Canoe for some time now. It is light weight, sturdy, and fun to paddle! It is perfect for two people, and easily fits on top of the SUV. It is highly maneuverable and fairly stable. It can be paddled easily by one but I usually paddle it backwards since it makes for better balance.
The 17 Wenonah has a big boat…
The 17 Wenonah has a big boat feel with good glide, stability and momentum. It is superb for long distance travel on saltwater bays and big rivers here in Midcoast Maine.
The boat we purchased was constructed in Kevlar Flex-Core. It has proven to be a strong and relatively stiff hull. The gel coat is easily scratched, of course, but the scratches are mainly superficial and can be repaired with a little bit of work if one desires to acquire the skill. We ordered our boat in Smoke, a white color in which scratches are not so obvious.
Here is a description of what we mean by the big boat feel of the 17 Wenonah.
1. The vessel is slow to gain speed but maintains good glide and momentum once underway. This has many advantages in dealing with rough water and strong currents. However, for the same reason, the boat may seem hard to stop or turn once it reaches full speed. The solution is to anticipate how the boat will respond in advance and then use shorter and easier strokes to change direction and speed more gradually. This technique becomes second nature once you understand how the boat performs.
2. A single paddler in the stern can manage the boat well on his own with enough weight in the bow to maintain proper trim. I weigh 165 pounds and have paddled the boat solo with success in winds up to 8 or 9 mph by placing all of my gear and ballast weighing about 100 pounds in front of the bow seat. The ability of the boat to perform like this can solve many problems while camping, fishing, transporting family members and so on.
3. Our average speed in this boat on calm water with two paddlers is 3.6 mph. That is fast by our standards. However, maintaining proper trim and developing a synchronized stroke between both paddlers is needed to achieve these results, but this is true for all canoes.
4. The boat is superb for poling and we have written a separate review on our standardized test for this reason. The boat is good for poling because of its stability, glide and momentum. These qualities are needed in order to carry the boat forward against a strong current. In addition, the boat's stability greatly improves the safety of poling in quickwater and rapids whether or not the boat is heavily loaded. For example, when the pole gets stuck on the bottom of the river, which happens quite often, the poler is not thrown off balance easily. Instead, he or she remains in control and has a choice whether to release the pole quickly with a sudden upward thrust or to simply let the pole go and retrieve it later.
5. The 17 Wenonah handles well in wind and waves. The stem and stern are narrow, which is good because this feature helps the boat slice through small oncoming seas smoothly. On the other hand, the hull widens quickly toward the center and provides good lift in large waves when needed. This is the best of both features. As a result, we find that the 17 Wenonah is quite comfortable and relaxing when crossing large bodies of water like the saltwater bays and big rivers that are common in our region.
People will want to know what the 17 Wenonah doesn't do well. The answer is that it will not be as useful or fun in situations where a smaller and more maneuverable canoe would be better. For us, that includes small bodies of water like beaver ponds, rocky rapids, surf and intertidal areas along the coast consisting of rockweed covered ledges. In those situations, we prefer the Wenonah Prospector 15, and so in our family we keep two of them on hand for use under those conditions.
We have some minor objections to the 17 Wenonah due to its construction. These are listed below for convenience.
1. Because the seats are suspended on hangers and do not provide support to the hull, there is a thwart right behind the bow seat that we think sometimes gets in the way.
2. We think the foot brace for the stern paddler should be an option and not standard equipment. We paddle mainly on our knees and do not use it. More importantly, it gets in the way while poling, stowing gear and climbing back into the boat during deep water rescues.
3. Like many canoes today, the thin ABS end caps on both the bow and stern are a little flimsy and have wrinkles where they are riveted to the hull. We think that a more attractive solution should be possible.
In spite of these minor irritations, the good qualities of the 17 Wenonah stand out. The hull provides a smooth and comfortable ride even under difficult conditions. Indeed, the more we use this canoe on our journeys here in Midcoast Maine, the more we rely on it for speed and safety.
The 17 Wenonah was designed…
The 17 Wenonah was designed by the founder of the Wenonah Canoe Company in 1965. Although the hull was originally constructed in wood and covered with a layer of fiberglass, it has since been adapted by Wenonah for construction in modern materials. The canoe reviewed here was constructed in Kevlar Flex-Core.
It is a true old-fashioned symmetrical hull with 2 inches of rocker, a maximum outside width near the waterline of 36.5 inches, a shallow arch bottom, and a short, round chine. The depth is only 13 inches at the center, which saves weight, and so the sheer rises gracefully to the bow and stern, which are both about 20 inches deep.
I have taken this boat out onto the Androscoggin River here in Midcoast Maine for a series of standardized tests and my impression so far is that it is an excellent boat for general canoe travel. It is very stable, with good glide and momentum, and turns quickly when needed. In some ways, it reminds me of the Old Town Tripper, which was also a very versatile boat, except that the 17 Wenonah is much lighter and faster.
My first tests have dealt mainly with the poling qualities of the 17 Wenonah, since poling is an essential skill for upstream travel on the many small streams here in the Midcoast region. The standard test I used was a 3.0 mile round trip on the Androscoggin River between Brunswick and Topsham, Maine. The river here is tidal but freshwater, and during the last two hours before low tide the water level falls to create some interesting riffles and quickwater over gravel bars.
In the table below, the boats are ranked by speed in mph. Note that the wind was blowing about 8 mph with gusts up to about 12 mph in all these tests and that the distance upstream and downstream was equal. The 17 Wenonah was the clear winner in this group for sheer speed and ease of handling as a poling boat.
Wenonah, 17 Wenonah, Kevlar Flex-Core, 17 ft, 62 lbs., 3.3
E.M. White, built 1931, Wood and Canvas, 18.5 ft., 75 lbs., 3.1
Wenonah, Prospector 15, Royalex, 15 ft., 59 lbs., 3.0
Old Town, Penobscot 16, Royalex, 16 ft., 65 lbs., 2.9
Wenonah, Prospector 16, Kevlar Ultralight, 16 ft., 40 lbs., 2.3
I will report on the paddling qualities of the 17 Wenonah once we have taken it out on longer trips and more varied conditions.
I should mention that the boat we received was much heavier than its advertised weight of 55 lbs., so Wenonah is graciously replacing it with a new one at no cost to us.