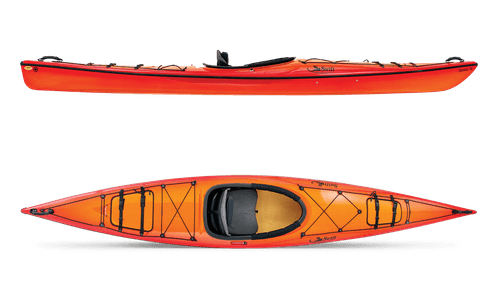 Saranac 14 Options
Saranac 14 Description
The Saranac 14 offers a secure non-confining feel in the cockpit and performance that thrills all who paddle it. It's mid range length and rounded chines make it an excellent vessel for the adventurous day paddler or weekend tripper.
Saranac 14 Specs and Features
Structure: Rigid / Hard Shell
Cockpit Type: Sit Inside
Seating Configuration: Solo
Ideal Paddler Size: Average Adult
Skill Level: Beginner, Intermediate, Advanced
Ideal Paddler Size: Average Adult
Skill Level: Beginner, Intermediate, Advanced
Additional Attributes
Contour Rubber Handles
Stainless Steel Security Bar
High Back Seat with Lumbar Support
Perimeter Deck Lines
Comfort Side Pads
Adjustable Foot Braces
Read reviews for the Saranac 14 by Swift Canoe & Kayak as submitted by your fellow paddlers. All of the reviews are created and written by paddlers like you, so be sure to submit your own review and be part of the community!
I have found my swift Saranac…
I have found my swift Saranac 14 for two years now and think it is great.It tracks well and it is fast because it is narrow and light weight. I like that I can carry it on my shoulder to and from the water because it is lightweight and the cockpit is padded. The only drawback is that it has a rounded hull and is less stable than a kayak with a v-shaped hull.
We bought 2 Saranac 14 kayaks…
We bought 2 Saranac 14 kayaks new in 2009. They are the Trilon version boats. Weigh 48 lbs. We use Werner adjustable carbon paddles. I am 6 ft. and my wife is 5, 9". We have paddled lakes, rivers and some sea waters with them. Some trips as long as 6 hours or so. With extra clothing, food, water, folding carry dolly etc we have never had shortage of cargo space. We have the tight fitting rubber round hatch covers and no leaks ever. Some condensation forms inside bulkheads if very humid days. We opted for the adjustable high back seats and they are ideal. My wife sews and she made cushions with quality foam and Sunbrella covering which we use regularly to add a little extra padding as we both have back issues. After paddling for hours no issues, ideal! We rented sit-on type kayaks at a campground and got hooked on kayaking. After shopping for months we attended a Swift Paddle demonstration and show at Guelph Lake in Ontario. The Swift folks were very helpful and knowledgable. Was really nice to try different boats in one day to get a good comparison. There was only 1 Saranac 14 left at the show so they gave us the sale price on 2 new Saranac 14 boats. Only drawback, we had to wait some weeks for them to be built. Totally worth the wait! The Werner paddles made a huge difference too! We tried a few paddles and could quickly experience the advantage of a quality adjustable pitch carbon paddle. These boats slice through the water with ease. Easy to steer without rudder. Ours only have retractable skegs which we use often. I considered ordering rudder kits but not needed as we do not kayak in rough conditions. We have been cought in some good chop, about 2 ft but boats took it easily. No spray skirts and barely one cup of water splashed into cockpit. I have to set the foot rests at maximum forward for long legs but still a bit more room to stretch. Easy to get in and out also sit with knees up to stretch move about a little on longer trips. I am slim and my wife is regular build and lots of room. No water bottle holder, but I sit water bottle on floor in front of seat or tuck in beside seat. Ours have some minor beach rash on underside from years of use but hardly noticeable. No colour fading or any other issues. Still shine like new! A bit heavy to carry longer distance if much gear packed in so we use a 2 wheel kayak dolly sometimes. It folds and fits into a bulkhead or leave it in our truck. We are 64 and 65 years young so prefer not to carry the boats very far. I built a custom kayak rack for our small utility trailer so we only lift the boats waist high to load/unload. Used to lift onto roof rack on tall pickup. Still a lighter boat though at 48 lbs. Paddles beautifully loaded or empty. I use a front deck bag which lets me have snacks, towel, camera, map, etc right in front of me. I highly recommend one! Only boat better in my opinion would be a carbon fusion version just for the weight factor. Our boats were about $3,000 brand new from Swift in Gravenhurst Ontario. After 11 years no plans to sell them... Also tried paddling one of the Swift Pack Canoes. Very nice. If looking for a canoe would probably buy... Tip: your kayak has to fit YOU so try lots and experience all the differences... and take a self rescue course. Well worth the cost and time!
Have had for 2 years -…
Have had for 2 years - paddled in Long Island sound + Connecticut river + one trip to Acadia - has handled all water comfortably so far. Replaces WS Sealution - Swift feels steadier in wind and waves - less apt to be pushed round. Have not paddled with loaded hatches to date - hence just the 4 stars.
I have had the Saranac 14 LV…
I have had the Saranac 14 LV in Kevlar Fusion two months now, after picking it up used. It's a 2014, with skeg. I almost dismissed it after having tested a new one, but realized I was testing it with an awful paddle that made it appear the boat had an issue. NOTE TO DEALER: Don't hand the paddler a $50 paddle to test a $4000 boat. For reference I am a 180 pound 5 ft. 8 in. 63 year-old male. The Saranac 14 is truly a dream, and while it is fine without employing the skeg, I find that setting the skeg at half position makes a noticeable difference. My only complaint is that Swift continues to innovate, and I wished I had the newer carbon seat base that is epoxied to the hull, as the older style plastic base has an annoying squeak! The seat itself is the most comfortable one I have ever sat in, and is the low back version. I was on the water four hours yesterday with a 15 minute break. Workmanship is first class, and Swift has come a long way since their early thermoformed boats. HIGHLY RECOMMEND!
It becomes part of you
ordered my Saranac 14 from Collinsville Canoe in Sept 2015 and it was picked up in November. This is my first Kayak but not the first I paddled. I borrowed and tried a few for a 5 years before I settled for a Swift. I admit that it was above my experience but now I feel so comfortable paddling it. The Saranac made me a better paddler. I feel completely in control. I use it mainly on the Delaware River and converted it into a fishing kayak. It's so light I carry it with 1 hand and other gear at the same time. The extra money will save my back over the long run. The first time i threw it on my Outback, it bounced back off at me. I'm use to 50 plus pound kayaks and this is just 34 pounds. Thank you Bill Swift for your knowledge. I made the right decision.
Recently purchased a Swift…
Recently purchased a Swift Saranac 14 from Collinsville Canoe and Kayak in CT, and rate both the boat and the retailer a solid 10. This is my fourth sea kayak and the comfort of the cockpit is, by far, the best I've ever experienced. Also, the wide coaming around the cockpit makes securing a spray skirt remarkably easy. Padded seat, knee and side braces and lumbar support afford a really pleasant ride. The seat back might feel a tad too high, but it keeps you in an efficient paddling position. Advertised at 34 pounds in Kevlar Fusion, the boat is light enough for an old guy like me to carry with relative ease. The folks at Collinsville were a pleasure to work with.
I purchased the Swift Saranac…
I purchased the Swift Saranac 14 Kevlar Fusion due to the ideal combination of size, weight, comfort and handling. Additionally I like that the boat is manufactured in North America.
This kayak is a pleasure to paddle with excellent glide and maneuverability. The cockpit size enables me to enter and exit the boat comfortably in spite of a hip issue. Loading, unloading and portaging the boat is manageable due to the balance and weight. I have paddled the boat in both large and smaller bodies of water in upstate NY with confidence. In general I have found that the skeg is needed only in windy conditions.
My initial Saranac (14 LV) was problematic due to aging issues (mine not the boat.) Bill Swift worked diligently with me to resolve the issue. In the end the Saranac 14, standard volume was the best option.
Aside from thoroughly enjoying this boat (and the Kiwassa 14 in our household) Swift Canoe and Kayak get my '10' for outstanding customer service.
We bought a barley used Swift…
We bought a barley used Swift Saranac 14 about three months ago and could not be happier. We first tried them at the Mountain Man Paddlefest in Saratoga Springs NY and fell in love with them. We really had never been kayaking before the Paddlefest. I tried it on some lakes here in the Berkshire Mountains of Western Massachusetts and this past weekend we went to paddle off of Essex Massachusetts and then through the harbor of Marblehead and around Marblehead Neck.
The boat handles very well, tracks straight, it was easy to paddle through a strong tide (it was over 10 feet this past weekend). It is a light touring model and the hatches fit quite a bit. The hatches easily fit our soft cooler and beach gear. I feel the boat can handle extended tours and was comfortable and stable in sea. I would recommend a Swift Kayak to everyone who wants a high quality kayak.
I reviewed this boat in 2011,…
I reviewed this boat in 2011, and just wanted to send an update. I paddle a lot, and every time I get into this boat, I still want to holler out how much I love it. The 3 years since buying "Flame" have not diminished my enjoyment. It is still a great pleasure to paddle each and every outing. The finish has held up beautifully, although there are a few scratches here and there. But that means the boat is getting used! The seat is extremely comfortable, even after 4 or 5 hours on the water.
I paddle the open waters of the Hudson River, which can get tricky and windy. The Mohawk River, streams, and lakes that I frequent have allowed me to experience this boat in many situations. It tracks well, and I still use the skeg sparingly. It carves turns, has great secondary stability and looks great on my car and on the water. The carbon fusion is strong and light. I still try to be very careful with it, as I mentioned in my first review. But this boat has kept me happy and satisfied for 3 years now, even though my paddling skills have improved and the variety of destinations continues to grow. This is about as perfect as a boat can be!
I have the Kevlar composite…
I have the Kevlar composite 14ft LV (low volume). I love the handling, responsiveness and stability of this boat. I truly feel I am in sync with the water. Highly recommend. The weight and portability of the kayak is wonderful as well.
Honestly...my carbon fusion…
Honestly...my carbon fusion Swift Saranac 14 w/ skeg is the best all round kayak of the six high end (priced) yaks I've owned. At 34 pds it's light but durable. So easy to carry it from water's edge, then lift to the top of a van. Never needed the skeg. It tracks flawlessly. Handles very well in all weather. "Stable and bobs like a cork in rough water" I tell friends. The only downside is that I am used to boats 2-3 feet longer so did need to adjust to a slower rate of travel. If you are looking to upgrade to a composite the Swift laminates are the difference between night and day.
After owning three other…
After owning three other kayaks, and paddling even more, I have finally found the perfect kayak for me, the Swift Saranac 14 Hybrid Fusion! This kayak meets all of my needs.
I first found Swift kayaks when looking for a light-weight kayak that I could transport on my own. At 5'5" tall, with a damaged neck, weight and portability were my first priority. I can easily load and unload this kayak from my car and carry it to the shore or dock.
The Saranac 14 turned out to be a great fit physically as well. The seat is comfortable and the cockpit is designed with plenty of room for entry and exit, but not too high for hours of paddling. My typical trip is about 3-4 hours, with occasional day-long trips. The padded, adjustable seat and foot peddles allow to go on comfortably as long as I wish.
I have taken the Saranac on large and small lakes and tidal rivers as well as coastal ocean waterways, frequently in changing winds. In light winds and/or small swells, she handles well as is. In heavier winds, larger swells, or strong currents I find that she immediately tracks well with the skeg down. I have taken her out in some true waves just for fun and found her to be quite stable. In fact, in a recent rescue class I found it rather difficult to get her to actually tip, and much more stable than the other boat we were using in the class, making assisting with rescues much easier.
I was initially concerned about the durability of the boat and the finish with the number of shore landings I do and the rocky nature of the New England coast and lakes. Now, after paddling this boat frequently for the past 3 months, she does have a couple of light scrapes in the outside finish only, and none that appear to affect the function or durability of the boat.
I cannot imagine a more suitable boat for flexible use for light touring, coastal excursions, meandering along a river, and independence! Thanks to David Yost for designing this kayak, and for Bill Swift and Company for manufacturing it! I love my kayak! I can't wait for my next outing!
I Love This Boat! As an avid paddler for the past 10…
I Love This Boat!
As an avid paddler for the past 10 years, I finally saved enough money to buy the kayak of my dreams. I test paddled many, many boats at dealers and paddlefests before deciding on the Swift Saranac 14 in carbon fusion.
My prior boat was very heavy, so weight was a main concern. I also wanted a boat that would work well on lakes and rivers, but also short enough to explore smaller streams. 14 feet in length and about 33 pounds fit the bill perfectly. This boat is a pleasure to paddle. It gets plenty of glide so it can be great for a leisurely trip. But on those days when I want to race across a lake, the Saranac is fast and responsive. It will carve turns sharply, although I had to get used to the initial rockiness. Secondary stability is good and the seat is extremely comfortable.
I've paddled it in heavy winds, from many directions and with 3' swells, and in waters surrounded by many power boats with wakes creating "confused waters". The boat handled everything that came our way with ease. Since having a skeg is new to me I often forget to drop it, but when I do she stabilizes beautifully. Tracking is great, and waves and wakes handle with ease.
I am only 5'3" and weigh over 200 pounds. This boat fits me well, since the sides of the cockpit are lower so I don't feel like I am sitting in a hole and I don't bang my knuckles on each stroke. The hatches are very roomy and comfortably fit all my gear for a 3-day trip.
I did have a problem with the boat initially (hairline crack in the skeg box that leaked) but Bill Swift took care of it. His customer service was wonderful and he made several trips between his factory and where I live near Albany NY until I was completely satisfied.
On the downside, when you have a boat that is expensive you worry about it more. I saved my money for a long time to buy this kayak and so I have also invested in a good cable lock for it. The carbon fusion is strong, but if I go on a trip where I am apt to cross a beaver dam I take my plastic boat. The carbon fusion construction requires a little bit of TLC...but I am so happy with this kayak that I am happy to provide the extra care!
New to the sport, I demo'd 5…
New to the sport, I demo'd 5 or 6 kayaks and settled on the Swift Saranac 14 Sport in Trylon.
Wonderful craft. Tracks great! even with a cross tail wind, the skeg is perfect. Turns on a dime too. Light enough to car-top single handed, and I found it plenty stable in 2-3' wakes. The shape makes it handle like some 17' boats I tried.
My only issue is that I bought it new, but the bill of lading was over a year old.
In many ways, this is a…
In many ways, this is a terrific boat. It is lightweight, good-looking, and handles nicely in flat water. In waves and surf, however, the boat almost seems too light, becoming harder to handle and bobbing around (tracking is not what it could be, though perhaps a rudder would help?).
Furthermore, for a $2500(+) boat, the manufacturing is sketchy. For one thing, the bulkheads leak, which means that dry clothes, gear, and food become wet very quickly. In addition, the material is rough and unfinished, showing raw edges on the hull and cockpit, the latter of which actually scratch the skin of the paddler (a very irritating little problem).
Unfortunately, Swift isn't stellar in terms of customer service either, and concerns about these issues are received with hostility rather than interest in satisfying customers.
Overall, this is a company with good potential, but apparently slip-shod practices.