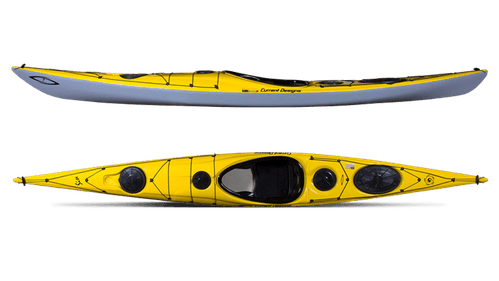 Sisu LV Options
Sisu LV Description
The second collaboration between Danish designer Jesper Kromann-Andersen and Current Designs brings the Sisu . Slightly wider and shorter than its predecessor the Prana, the Sisu is more nimble and maneuverable as well. The Sisu excels in rock gardens, tide races, wave faces and tours with ease. This exciting kayak is also extremely user friendly for aspiring paddlers to rapidly develop skills and elevate performance. Available in fiberglass and Kevlar composite constructions with exceptional outfitting throughout.
Read and submit reviews for the Sisu LV.
Sisu LV Specs and Features
Structure: Rigid / Hard Shell
Cockpit Type: Sit Inside
Seating Configuration: Solo
Ideal Paddler Size: Average Adult, Larger Adult
Skill Level: Intermediate
Ideal Paddler Size: Average Adult, Larger Adult
Skill Level: Intermediate
Additional Attributes
Composite Seam
Retractable skeg
Composite Colors
Read reviews for the Sisu LV by Current Designs Kayaks as submitted by your fellow paddlers. All of the reviews are created and written by paddlers like you, so be sure to submit your own review and be part of the community!
it's been a year since i got…
it's been a year since i got my SisuLV.... i'm 6'1 / 205 / shoe size 11, the LV fits me well, paddle 12 months / year in coastal BC last year the longest day was around 35km, longest crossing was 5 hours, & longest trip was 8 days self supported (my partner has a North Shore HV boat and carried the bulky stuff tho, so i was kinda cheating) things i like are: - the cockpit: no where near a tight as some other boats that i wedge into soldily, but the trade off there is all day comfort, sitting a bit more surfski style with knees up and together works really well for a long day in this boat - the seat: first boat i've owned that i did not need to make a custom foam seat, and never had my legs fall asleep, really good stuff - space for gear/food/water: loads of usefull space given the size of the hull, and the LV-ness, high front deck makes for a lot of room that is easly accessable, space for water behind footpegs - front day hatch: never in the way getting in & out, room for sunscreen / camera / 500Ml water bladder / energy bars - very agile / fun / responsive / light, 5 sweap strokes and a bit of edge turns it 360, loves a bow rudder/ just think about turning, and it turns for you - Trustworthy: in about any reasonable conditions, if it's too much for the boat, it's prolly a good day to sit on the beach wait out the weather ;-)- the less good stuff is: - this one is it's somewhat fragile, picked up some damage when rock gardening, fortunatly on the last day of a trip, so some tape over the missing gel coat got us home - if away from support, i'd look at self censoring the fun in return of haveing boat to return with - hatches are sorta / kinda dry, boat was built in 2019, and apperantly CD has upped the game with the mounting of hatch rims - front day hatch is bet thought of as an aquarium, use dry bags on anything and everything Sum it up? love the boat, lifetime keeper, will hang on to my Delphin to bounce off rocks with, tight for mutli-day trips, but workable with some lightweight camping gear and access to water every few days, light enough for a few hours splish-splash / workout in the winter would love a plastic Sisu or Karla tho
I'm am 6' tall, around 200…
I'm am 6' tall, around 200 lbs give or take, size 11 feet. I've had my Sisu LV a little more than a year. I'm a year-round sea kayaker, living at the coast of southeast North Carolina. I have the Kevlar heavy-water layup. The construction seems very solid. Time will tell if it's on par with some of my other Current Designs kayaks, a couple of which I've been paddling for 15 years. I haven't noted anything to suggest otherwise. I love the fit this kayak provides. It allows for a nice, comfortable, aggressive forward stroke. I haven't noted any directional control issues. It seems quite well-balanced in the wind. It is a very maneuverable kayak. It edges and rolls nicely. It has a nice stable feel to it that I think anyone wanting to progress in skills will feel comfortable in right away. It is a ton of fun in waves. It's not a speed demon. A strong paddler in a Current Designs Nomad would paddle near effortlessly next to a strong paddler pushing strongly in a Sisu. But speed comparisons are tricky, in that the Sisu will be more efficient than a P&H Aries or Delphin, and folks will purport boats like this to be fast, or at least not slow in any meaningful way. The point is, it depends upon you. The Sisu has nice efficiency for such a playful kayak, and that's about as good as I can give for having meaning to the masses. I highly recommend it for a playful boat. I also think folks who are happy with kayaks in the 14' range for spinning around ponds, marshes, creeks, and rivers would love this boat, as it gives them better efficiency, is still very easily maneuverable, and offers good reassuring stability suitable for most anyone I would think. Here is a video of me having some fun in my Sisu LV yesterday. https://www.youtube.com/watch?v=0to7RItbLrM&t=49s
I had the very pleasant…
I had the very pleasant experience of spending a couple days paddling a Sisu LV. The boat was light feeling for its size and nicely finished. It had good and comfortable outfitting with confidence inspiring primary and especially secondary stability. While it turns well with minimal edging, its really maneuverable when additional edging is initiated. Tracking was pretty good for a boat this maneuverable. The skeg was effective when needed. I really enjoyed paddling the boat and would be stoked to have one. The only reason I rated it below 5 stars was the sizing. I am not an LV sized guy and it fit perfectly with a nice low back deck. For reference I was larger at the time at 5'10" and 230lbs when I paddled it and it was plenty big for me. Hopefully there is an extra LV for the petite amongst us.
I upgraded to this kayak…
I upgraded to this kayak after getting started in plastic kayaks and searching for a nicer boat to upgrade to. I'm glad I found the Sisu -- it has nice initial stability, leans well, and feels really maneuverable, yet still tracks fine. It also seems like a fast boat when I'm out paddling other people, though I don't have any empirical evidence of that. I have size 13 feet and sometimes struggle finding something I'll fit in OK, and the Sisu LV has just enough room for my feet with water shoes on. Looking back, I'd rather have the non-LV to get just a tiny bit extra space. I've camped overnight, and had tons of space for gear, even in the LV. The front day hatch in front of the cockpit is really nice and convenient too.